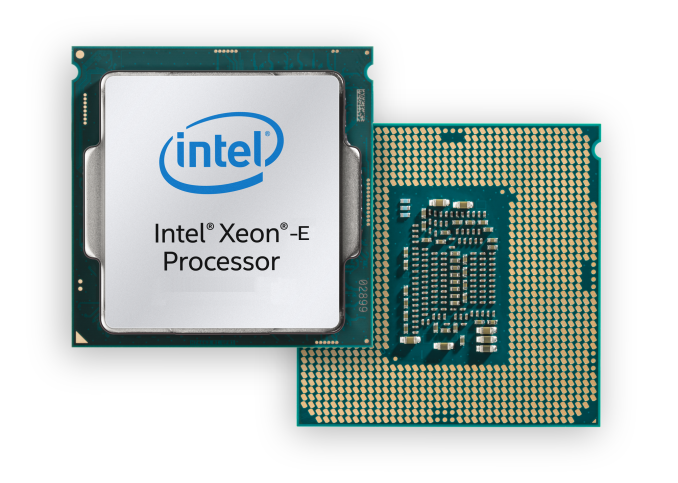 The last 12 months have seen an upheaval of Intel's enterprise processor naming scheme, with a distinct mix of positive and negative responses. In previous years, Intel followed a naming scheme that provided the processor positioning, some of the features, the generation, and if it was a special sub-type all in one number, which scaled from the bottom of the stack to the top. This scheme had been in place for five or six generations, but was then flipped on its head when Intel announced the change of the Xeon E5 and E7 processor lines to the Xeon Scalable Platform, Xeon-SP, using heavy metals as the naming. More recently, the workstation-focused Xeon E5-1600 line was also renamed to Xeon W, for workstation.
We have learned from separate sources that in the early part of next year, the next generation of entry-level Xeon E3-1200 processors will also be renamed to Xeon E, with E for entry. This is best summed up in a table showing how the naming scheme has changed from generation to generation:
Intel Xeon Naming Strategy
SNB
IVB
HSW
BDW
SKL
Future
Servers
E7-8000
'v1'
v2
v3
v4
Xeon SP Platinum
Xeon SP Gold
Xeon SP Silver
Xeon SP Bronze
E7-4000
'v1'
v2
v3
v4
E7-2800
'v1'
v2
-
-
E5-4600
'v1'
v2
v3
v4
E5-2600
'v1'
v2
v3
v4
E5-2400
'v1'
v2
v3
-
Workstations
E5-1600
'v1'
v2
v3
v4
Xeon W
E5-1400
'v1'
v2
v3
-
-
-
-
SNB
IVB
HSW
BDW
SKL
KBL
CFL
Mobile
E3-1500M
-
-
-
-
v5
v6
Xeon E
Consumer
E3-1200
'v1'
v2
v3
v4
v5
v6
Xeon E
Comms
E3-1100
'v1'
v2
-
-
-
-
-
Network
Xeon-D
-
-
-
D-1500
2018
Aside from some minor nuance in the numbering system, from Sandy Bridge to Broadwell the naming scheme had been stable, with each generation clearly marked and the processor number essentially detailed what sort of server it was: anything that started E5-2 was up to dual socket, E5-4/E7-4 was up to quad socket, and E7-8 was octa-socket, which each segment getting options from low numbers of cores to high numbers of cores. With the new naming scheme, Platinum is octa-socket, Gold is quad-socket (split into two variants depending on QPI links) and Silver with Bronze are both low core count dual-socket only. With the old system, if only a dual socket server was needed but with high core counts (or high memory), the system only needed processors capable of dual socket implementations. Today, the system needs to hold a Platinum if you want 28 cores, even in dual socket configurations.
Intel introduced the Xeon-SP and Xeon-W naming with Skylake, when the enterprise processors were almost two generations behind the more consumer focused E3 processors. At the same time we had Xeon-SP, which should have been the v5 series, Intel already had the E3-1200 v6 family on the market, with both mobile and socketed processors. Needless to say, this old numbering is system is now 'off message' compared to the rest of the product stack, and so are being brought into line by changing these processors to Xeon E. Specifically these will be the Xeon E-21xx series, matching the Xeon W-21xx series in numbers but being completely different with the microarchitecture underneath.
When Intel launches the processors, expected in the first half of next year, OEMs will be re-releasing their current entry level Xeon machines with ECC support using the new processor naming scheme, as well as undertaking a consumer re-education strategy to ensure that customers know what processors are being talked about. Most of the product info we have so far relates to the mobile processors, although OEMs have confirmed to us that it applies to the socketed parts as well.
In the public list last week of new Intel processors, the following mobile part numbers made an appearance:
Xeon E-2176M
Xeon E-2186M
M indicates the mobile family, and these parts are also given the '(Coffee Lake-H)' description, showing that they are replacing similar Xeon E3-1500M v6 parts that were built as 45W Skylake-H.
First Launch of Intel with Radeon Graphics?
Ever since Intel formally announced that it was buying chips from AMD's Radeon Technology Group to build an Intel processor with an onboard AMD graphics chip, the wire has been abuzz of how this product will be sold and marketed. As Ryan and I discussed in our latest podcast, given Apple's desire for products like Crystalwell with powerful integrated graphics and their relationship with AMD, a combination Intel with Radeon Graphics product sounds like a shoe-in for a future Apple device. For the previous Crystalwell parts, Intel made a small handful of consumer and Xeon parts to begin with, and it would seem that according to the leak that Intel may potentially be putting a foot forward with a Xeon chip to be the first with Radeon Graphics.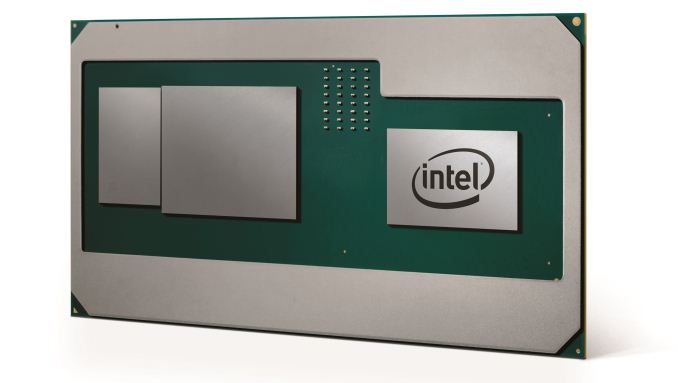 In the leak, it lists:
"Intel Xeon E-21xx(G) (aka Coffee Lake-S WS)"
So up until this point, the common theory is that the product being developed at Intel was nominally called 'Kaby Lake-G', with G for graphics. Looking at both the renders and supposed image leaks of the new chip, and by counting pixels for known die sizes, Ryan and I postulated in the podcast that we were dealing with a 6+2 Coffee Lake processor, perhaps paired with ~24 compute units of graphics in a single chip, which would fit in nicely with both a Xeon processor and something Apple might be interested in. The fact that it says 'Coffee Lake-S' would pay a dividend to the idea that it will be Coffee Lake based. Whether this is socketed or not, we do not know, although the fact it is 'CFL-S' usually does mean a socketed processor.
Of course, a number of users are hoping that the Intel with Radeon Graphics processors will make their way into the land of the consumer desktop. Still no obvious word on that front yet, and we might hear more at CES in the new year.
Related Reading
The AnandTech Buyers Guide Series
Best Gaming
CPUs
Workstation
CPUs
Best
SSDs
Best Gaming
GPUs
Motherboards
Best Gaming
Laptops
Productivity
Laptops
Best
HDDs
Mechanical
Keyboards
Best Power
Supplies