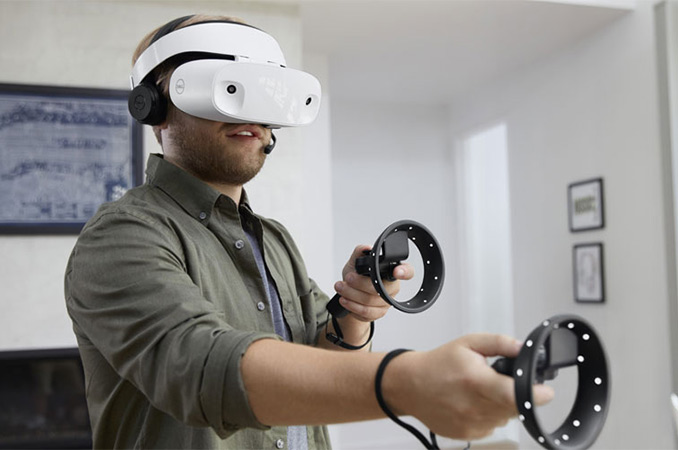 When Microsoft introduced its Windows Mixed Reality platform for productivity and gaming earlier this year, it was clear that in order to make it competitive, the software giant would need to either create its own VR marketplace or gain compatibility with an existing one. This week Microsoft and Valve announced that Windows Mixed Reality headsets are now compatible with the SteamVR platform and therefore dozens of VR games.
Microsoft's Windows Mixed Reality headsets will be available from multiple vendors, including Acer, ASUS, Dell, HP, Lenovo, Samsung and others for the price of $400 – $500 or so with controllers included. The head-mounted displays (HMDs) require a Windows 10 PC with the Windows 10 Fall Creators Update to operate as well as Steam with SteamVR and Windows Mixed Reality for SteamVR add-ons to access virtual reality games (there is a guide how to set everything up at Steampowered). At present, the WMR for SteamVR app is in Steam Preview stage, so it is not final with all the possible consequences.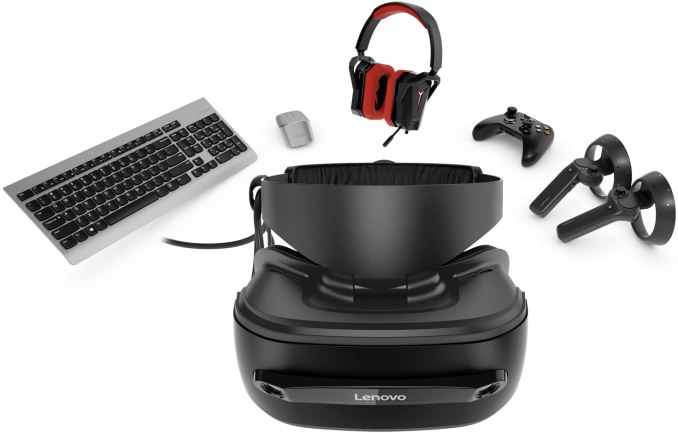 Besides specific software, Windows Mixed Reality headsets require high-end hardware to play VR games. Officially, Microsoft has rather moderate requirements for its WMR platform (a quad-core Core i5 CPU, a GeForce GTX 960/1050 or similar GPU, etc.), but to play VR titles comfortably, Valve advices its WMR customers to use a considerably more powerful system featuring at least Intel's quad-core Core i7 7700/7700K processor as well as NVIDIA's GeForce GTX 1070 graphics card. Such requirements do not come completely unexpected. Windows Mixed Reality HMDs feature two 1440×1440 LCD panels (for a total resolution of 2880×1440) with a 90 Hz refresh rate and running modern games at a 2880×1440 resolution at 90 FPS or higher is a tough job for a GPU. Since different games have different requirements, it is obvious that far not all titles need a high-end video card, but it makes sense to keep the recommendations in mind.
General Specifications of a Windows Mixed Reality Headset
Display
2x LCD
Resolution
2880x1440 (combined)
1440x1440 (per eye)
Refresh Rate
90 Hz
FOV
95°
Sensors
Gyroscope: 6 degrees of freedom tracking
Accelerometer
Magnetometer
Proximity
Position Tracking
Inside-Out Camera (x2)
Audio
3.5mm Audio Jack
Controls
Microsoft Motion Controllers
Launch Price
$400 - $500, depending on manufacturer, bundle, etc.
At present, SteamVR has about 30 - 40 titles that support Microsoft's Windows Mixed Reality HMDs, which is a lot more than Microsoft itself sells in its own online store. When compared to other VR platforms, WMR is considerably behind HTC's Vive and Facebook's Oculus Rift that support hundreds of titles, but keep in mind that both HMDs have been available for well over a year now. In any case, the number of games that support Microsoft's AR/VR headsets will grow over time as developers validate their titles for the new HMDs, so gaining Steam/SteamVR support is a big deal for the Windows Mixed Reality platform.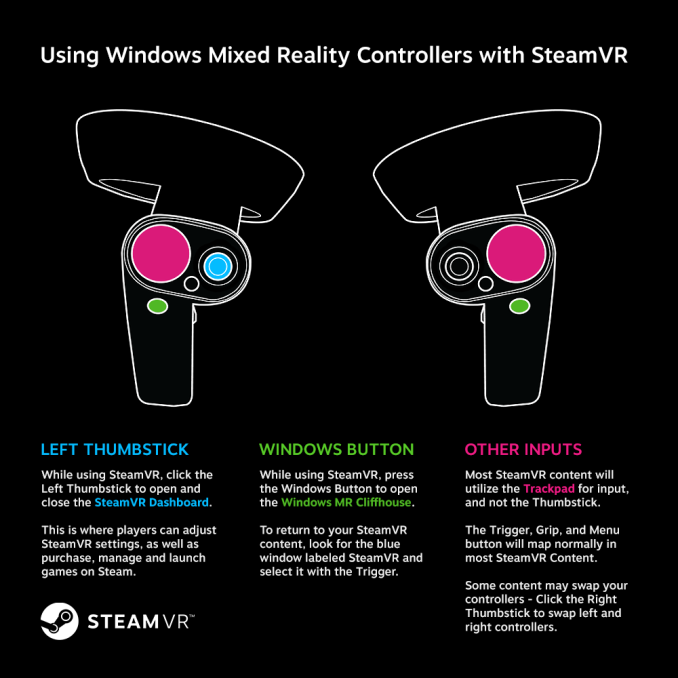 Related Reading:
Source: Valve