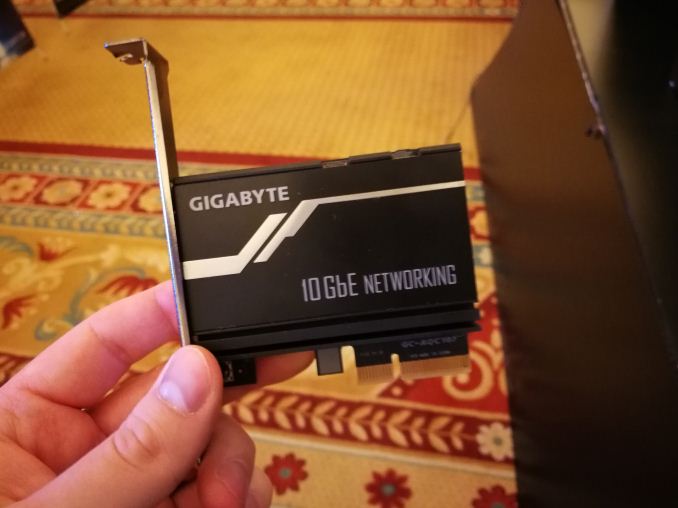 GIGABYTE has added the GC-AQC107 10 GbE PCIe card it demonstrated early this year at CES to the list of products on its website. The product is also listed on both Amazon US and Amazon UK but is currently unavailable. When the network card is released, GIGABYTE will be the third company to offer a 10 GbE NIC based on an Aquantia chip.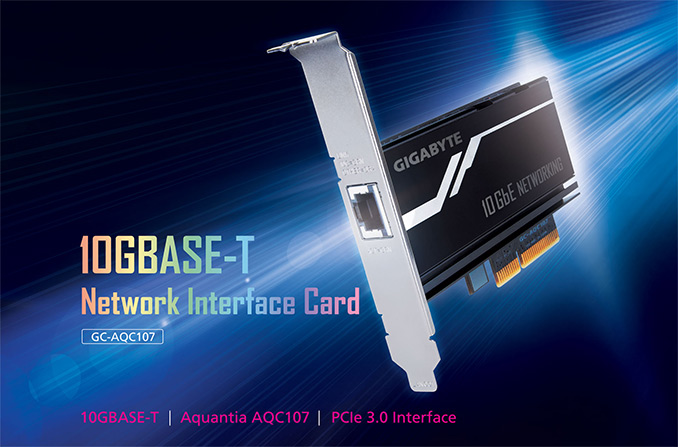 The GIGABYTE GC-AQC107, powered by the Aquantia AQtion AQC107 controller, supports 100M, 1G, 2.5G, 5G and 10G networking standards over CAT5e or CAT6/6a cables and RJ45 connectors (depending on the distance). The card resembles Aquantia's reference design, so it is not considerably different from 10 GbE boards from Aquantia itself. To ensure that the AQC107 chip does not overheat, GIGABYTE equipped the GC-AQC107 with an aluminum heatsink. Furthermore, to make it easier for consumers to set up their networks, the RJ45 connector features LEDs monitoring data transmission. As for requirements, the GC-AQC107 can be installed into any modern PC that has a spare PCIe x4 slot and is running Microsoft Windows 7 and higher, as well as various Linux operating systems.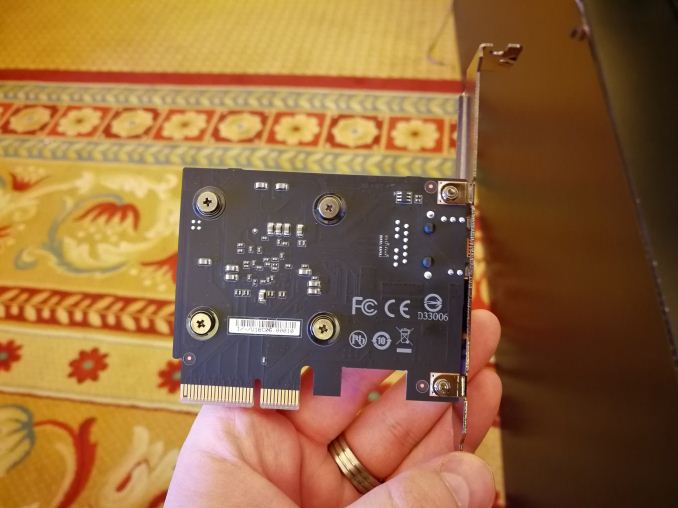 GIGABYTE 10GBase-T Card for Consumers
GC-AQC107
Controller
Aquantia AQC-107
100BASE-T
Yes
1000BASE-T
Yes
2.5GBASE-T
Yes
5GBASE-T
Yes
10GBASE-T
Yes (over Cat6 cables)
Ports
1
Price
unknown
Release Date
Q4 2017
Additional Information
Link
The listing on the official website, as well as on Amazon, indicates that the GC-AQC107 will be available shortly. An important question surrounding the card is how much will it cost. Aquantia's MSRP for its own AQN-107 card is $127, but ASUS charges $99 for its 10 GbE NIC based on the AQC107, so expect the GIGABYTE GC-AQC107 to cost between $99 and around $130.
Meanwhile, a quick check of leading U.S. retailers revealed that 10 GbE-supporting switches are still quite expensive and the most affordable one is the ASUS XG-U2008 10GBase-T that is available for $220 from Amazon and Newegg.
Related Reading
Source: GIGABYTE