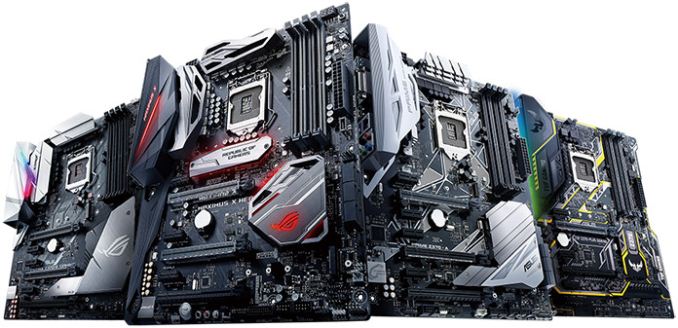 The launch of Intel's new 8th Generation 'Coffee Lake' processors for desktops is going to be an interesting one. On one side it redefines Intel's main product stack and its terminology (in a good way), but the motherboard side is going to get somewhat confusing. The new CPUs are using the LGA1151 socket, as found on the previous generation, but it uses the socket differently, making the motherboards and CPUs incompatible with each other. To get around this issue previously, Intel introduces a new name to help with the separation, but no such luck here. The new platform and socket will be supported by the 300-series chipset, with Z370 being the first member of that product family. In this overview, we perform a visual inspection and analysis on 50+ motherboards from the main motherboards manufacturers.
The Z370 Motherboard Spectrum
As part of this piece, we typically reach out to all the motherboard manufacturers and ask for high-quality images and specifications in advance of a launch. But as the official announcement date was moved up due to members of the press leaking the official slide decks in advance, motherboard manufacturers followed suit and have put their entire Z370 motherboard ranges online. This piece goes through all the ones we could find and gives them a thorough inspection, and at the time of writing, we are over 50+ different motherboards.
ASUS ROG Maximus X Hero
ASUS ROG Maximus X Hero (with WiFi)
ASUS ROG Maximus X Apex
ASUS Strix Z370-E Gaming
ASUS Strix Z370-F Gaming
ASUS Strix Z370-G Gaming
*ASUS Strix Z370-H Gaming
ASUS Strix Z370-I Gaming
ASUS TUF Z370-Pro Gaming
ASUS TUF Z370-Plus Gaming
ASUS Prime Z370-A
ASUS Prime Z370-P

GIGABYTE Z370 Gaming 7
GIGABYTE Z370 Gaming 5
GIGABYTE Z370 Gaming 3
GIGABYTE Z370 Gaming K3
GIGABYTE Z370 Gaming WiFi
GIGABYTE Z370 Ultra Gaming
GIGABYTE Z370XP SLI
GIGABYTE Z370 HD3P
GIGABYTE Z370 HD3
*GIGABYTE Z370N WiFi

ECS Z370 Lightsaber

MSI Z370 Godlike Gaming
MSI Z370 Gaming Pro Carbon
MSI Z370 Gaming Pro Carbon AC
*MSI Z370I Gaming Pro Carbon AC
MSI Z370 Gaming M5
MSI Z370 Gaming Plus
MSI Z370 Krait Gaming
MSI Z370 Tomahawk
MSI Z370M Mortar
MSI Z370 SLI Plus
MSI Z370 PC Pro
MSI Z370 A Pro

ASRock Z370 Professional Gaming i7
ASRock Z370 Gaming K6
ASRock Z370 Extreme 4
ASRock Z370 Killer SLI
ASRock Z370 Killer SLI AC
ASRock Z370 Pro4
ASRock Z370 Taichi
ASRock Z370M Pro4
ASRock Z370M-ITX/ac
ASRock Z370 Gaming-ITX/ac
​
EVGA Z370 Classified
EVGA Z370 FTW
EVGA Z370 Micro

BIOSTAR Z370GT7
BIOSTAR Z370GT6

*Colorful iGame Vulkan X
The list of motherboards is mostly ATX sized products, with a few smaller microATX and mini-ITX in the mix. These motherboards range from $110 all the way up to $500, depending on the features.
*Some new boards still to add to our overview over the next week, stay tuned...
Intel Z370 Chipset
From a high level, the Z370 chipset is identical to the Z270 chipset. The connectivity is the same, the number of supported PCIe 3.0 lanes is the same, the available bifurcation is the same, the controller support is the same: it is the same chipset under a new name, to help identify the new motherboards that support Intel's 8th Generation processors compared to the previous chipset for the previous generation of processors.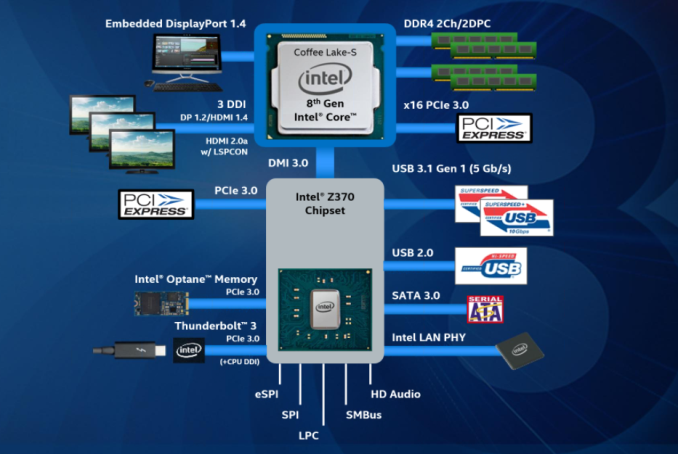 From the chipset directly we get 20-24 PCIe 3.0 lanes, six SATA 6 Gbps ports with support for RAID 0/1/5/10, a total of 14 USB ports (either 2.0 or 3.0, up to a maximum of ten USB 3.0), and support for network controllers, support for Thunderbolt 3, and support for Intel's Optane memory as a boot drive. It's critical that we say 'support' here, because the diagram above from Intel is misleading: Intel is not supporting Thunderbolt directly from the chipset, and motherboard manufacturers will have to include a Thunderbolt 3 controller in order to do so.
So on the face of it, the chipset is not too different. What will be different is on the motherboard-as-a-whole side.
Intel's 8th Generation Coffee Lake Platform: CPU
The platform for the new Coffee Lake systems is going to look and feel very similar to the 7th Generation platform, with some minor differences, but this could lead to a lot of confusion.
Intel has made it very clear that the processors for the new generation will work only in Z370 motherboards, and not in the previous generation Z270 motherboards due to how the pins are arranged. In Intel's 8th Gen datasheet posted online, a full pin-out is provided, showing the difference between the new Coffee Lake processors and the older Kaby Lake processors: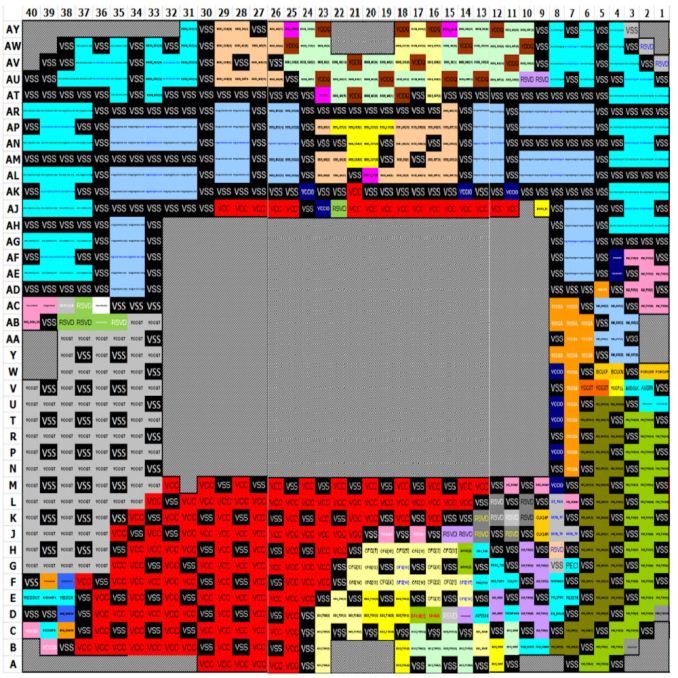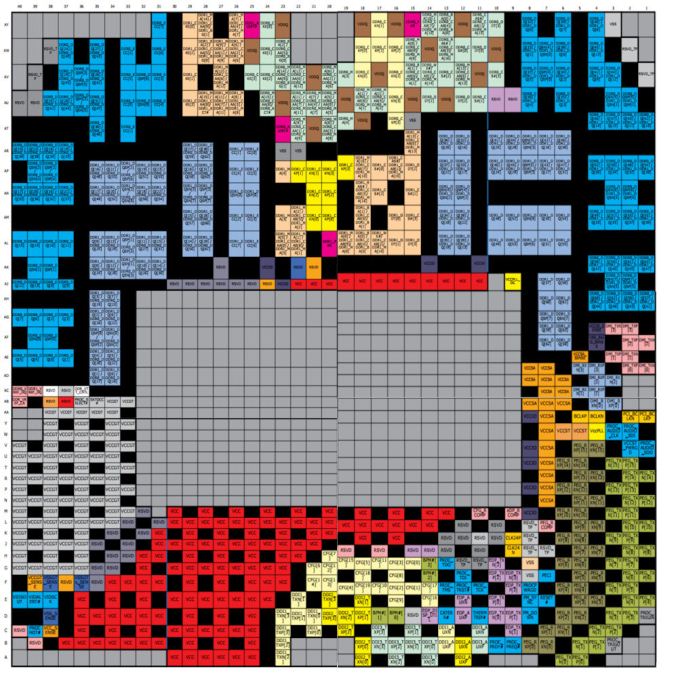 Coffee Lake (left), Kaby Lake (right)
Images from David Schor, Wikichip
With the new CPUs, more pins are converted from RSVD (reserved) to VCC (power) and VSS (ground), specifically, there are 18 more power pins and 14 more ground pins, with a slight rearrangement in how the pins are provided.
So the chips are different, especially with the support for hex-core processors, but that is not a big story. What is a big story is as mentioned at the top of the page - the physical socket is identical to the last platform: both use LGA1151, with processors that have equal notches in the packages, making it very easy to place the wrong CPU in the wrong motherboard.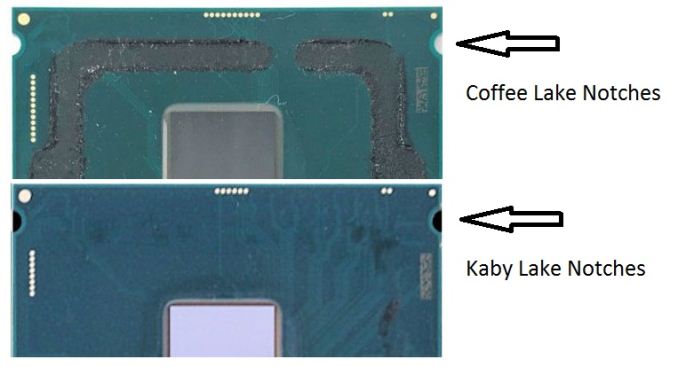 Whoever thought this was a good idea at Intel needs to be fired. If the new CPU was labeled as LGA1153, still had 1151 pins but slightly different notches, this wouldn't be an issue because users would not be able to misplace (and potentially damage) their new CPUs by placing them in the wrong motherboards.
Video and HDCP2.2 Support
Blowing up specialized sand aside, there is going to be a few differences in the capabilities of each platform. The new processors will support HDCP2.2 on both DP and HDMI, although an LSPCon is still needed for HDMI 2.0.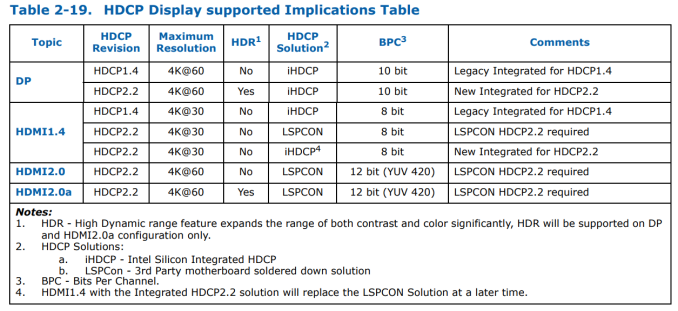 The video outputs for Coffee Lake will be similar to that on Kaby Lake, with three display pipes supported for motherboard manufacturers to configure as needed.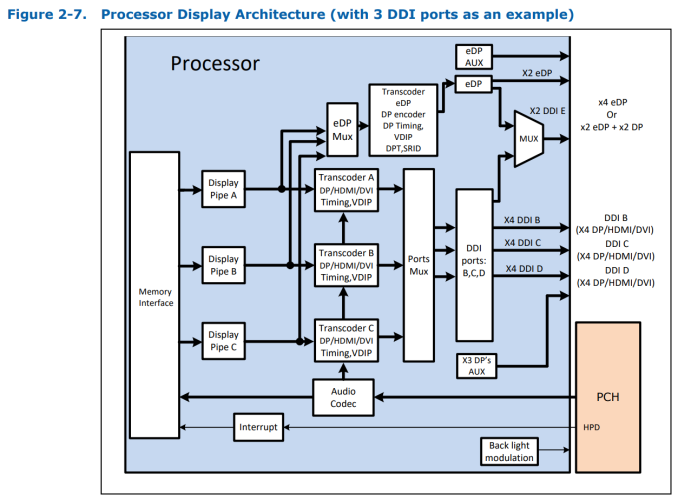 Memory Support
For the new processors, Intel is increasing memory support for any chip with a base design of at least six cores. In both single DIMM per channel (1DPC) and dual DIMMs per channel (2DPC), Intel will support up to DDR4-2666. For the quad-core parts, Intel will only support up to DDR4-2400 in both 2DPC and 1DPC mode. This is for both single and dual rank memory, which compared to AMD who has different support for each DPC and DRAM rank, Intel's solution is a bit simpler.

It gets simple until we talk about AIO designs using the processors, which typically require SODIMM memory. For these parts, for both quad-core and hex-core, Intel is supporting DDR4-2400 at 1DPC and DDR4-2133 at 1DPC. LPDDR3 support is dropped entirely. The reason for supporting a reduced memory frequency in an AIO environment under SODIMMs is because these motherboards typically run their traces as chained between the memory slots, rather than a T-Topology which ensures helps with timing synchronization. Intel has made T-Topology part of the specification for desktop motherboards, but not for AIO or integrated ones, which explains the difference in DRAM speed support.
These supported frequencies follow JEDEC official sub-timings. Familiar system builders will be used to DDR4-2133 at a CAS Latency of 15, but as we increase the speed of the modules, the latency increases to compensate:

Intel's official sub-timing support at DDR4-2666 is 19-19-19. Outside of enterprise modules, that memory does not really exist, because memory manufacturers can seem to create DDR4-2666 16-17-17 modules fairly easily, and these processors are typically fine with those sub-timings. CPU manufacturers typically only state 'supported frequency at JEDEC sub-timings' and do not go into sub-timing discussions, because most users care more about the memory frequency. If time permits, it would be interesting to see just how much of a performance deficit the official JEDEC sub-timings provide compared to what memory is actually on sale.
This Overview, and Why It Took Four Editors
Much like our previous motherboard overviews, the goal here is to go through each motherboard that we know about and do a visual inspection: tell you what goes where, if there's something new, or if there's an odd layout that doesn't make sense.
I (Ian) have to give big thanks to our motherboard review team who worked on this project, especially to Joe Shields who wrote up most of them, and to Gavin Bonshor for taking a day out to travel to ASUS UK and get some hands-on before the launch. Anton applied his usual excellence in his Price Overview.
Introduction and editing by Ian Cutress
GIGABYTE, ECS, MSI, ASRock, EVGA and BIOSTAR by Joe Shields
ASUS by Gavin Bonshor
Pricing by Anton Shilov
With any luck, we will be firing up our full Z370 motherboard review engine over the next few weeks. If you see a motherboard in this list that tickles your fancy, let us know in the comments.