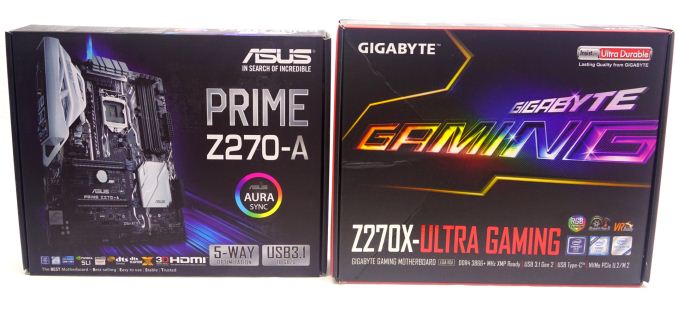 Shortly after Intel released the Z270/H270 chipsets earlier this year to accompany their latest Kaby Lake processors, the market flooded with myriads of motherboards based on these new chipsets. It is technically impossible for us to review all of them in a timely manner, especially considering that Intel's new chipsets and processors might come at some point in the next few quarters. When GIGABYTE or ASRock launch 50 different boards, it would be a tough task to test them all! So although we enjoy reviewing top tier products that bring new, unique and interesting features, it is a fact that reasonably priced products are by far the most popular, even amongst seasoned overclockers, hardcore gamers, and advanced enthusiasts.
In this review, we are having a look at two advanced but reasonably priced mainstream offerings, the Asus Prime Z270-A and the GIGABYTE Z270X Ultra Gaming. Both of these boards are selling for just under $170, yet their specifications are very impressive. We will examine their features, differences, and performance in the following pages of this review.
Other AnandTech Reviews for Intel's 7th Generation CPUs and 200-Series Motherboards
($140) The ASRock Z270 Killer SLI Review
($140) The MSI Z270 SLI PLUS Review
The Intel Core i7-7700K (91W) Review - CPU Review
The Intel Core i5-7600K (91W) Review - CPU Review
The Intel Core i3-7350K (60W) Review - CPU Review
CPU Buyer's Guide: Q2 2017 - Guide
In comparison to the older Z170 boards, the new Z270 board on the base specifications are hardly any different. The Z270 ones have four extra PCIe lanes configurable on the chipset, potentially new audio and new networking controllers, and Intel Optane Technology Support. Although four extra PCIe lanes do sound like a huge difference, it is an important upgrade for the implementation of native M.2 slots compared to previous generations - on Z170-based motherboards, this usually meant disabling some other device/port on the motherboard. What Z270 brings to the platter with Intel's Optane drives is their 'smart caching' technology, although they will still operate as SSDs in any other system.
The Intel Optane Memory (SSD) Preview: 32GB of Kaby Lake Caching
Individual motherboard manufacturers will be sprinkling on new features onto their Z270 products to aid the transition and provide other tangible benefits over the old platform. To read specifically about the Z170 chip/platform and the specifications therein, our deep dive into what it is can be found at this link.
One thing that we should note is that the advent of the Z270 chipset brought a change on the naming of the USB ports. What we knew as USB 3.0 ports that run at 5 Gbps are now being dubbed as "USB 3.1 Gen 1" and the 10 Gbps ports are now called "USB 3.1 Gen 2". We have encountered this change while reviewing several motehrboards, including the MSI Z270 SLI Plus a few months ago, but it seems that all of the manufacturers are following suit, rewriting their websites and reprinting their manuals as per the new USB naming specifications. Users need to be extra careful when very high bandwidth connectors are essential.
Asus Prime Z270-A Overview
The designers of the Asus Prime Z270-A tried to implement a mix of practical, aesthetic and unique features, all while maintaining the price tag below $170. This encompasses power delivery, audio, storage, DRAM, networking, and the software package.
On storage, a quick glance reveals that the motherboard has two M.2 PCIe 3.0 x4 slots, with one of them supporting M.2 devices up to 110 mm long, and a total of six SATA 6Gb/s connectors. There are no native U.2 connectors, but U.2 drives can be connected to the M.2 slots by using appropriate adapters. The first M.2 slot does not share its bandwidth with any PCIe devices but the use of an SATA M.2 drive will disable one of the SATA ports. The second M.2 slot shares its bandwidth with two SATA ports and using a PCIe ×4 M.2 drive will disable them. Asus's engineers took this approach instead of having the second M.2 slot sharing its bandwidth with the third PCIe ×16 slot (it operates at ×4 maximum) so that the use of a second M.2 drive will not prevent the use of a high bandwidth PCIe device but limit the number of SATA drives instead.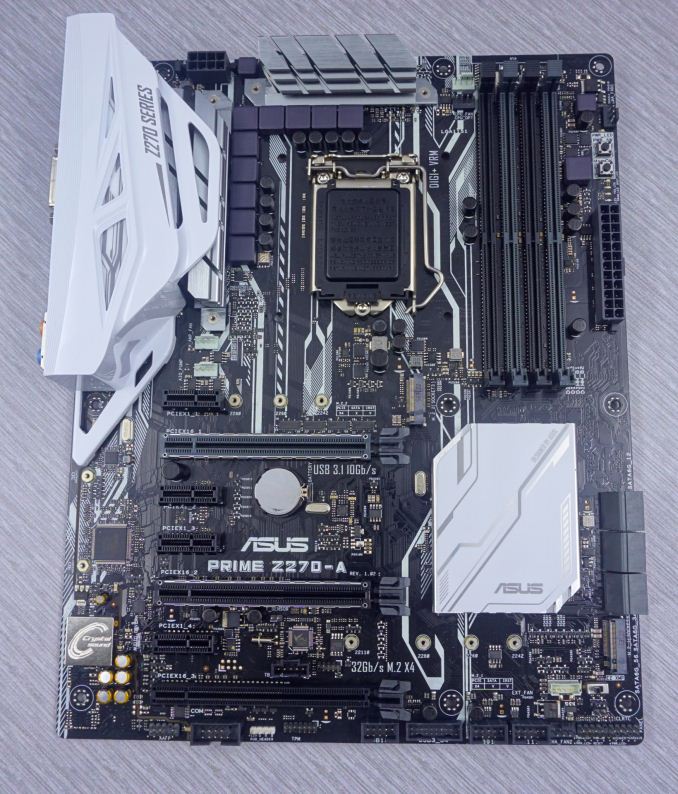 For audio, Asus is particularly proud about their implementation of the Realtek ALC S1220A (or ALC1220A) audio codec and is placing a lot of their marketing efforts on it. At this point, we should note that the ALC1220A is identical to the ALC1220, but the 'A' is an ASUS specific implementation that has been manufactured by Realtek in co-operation with ASUS. What this does is remove extraneous features that ASUS does not need, such as an I2S output that would be useless given the absence of a DAC-driven device. The ALC1220 codec itself is not particularly unique, as many Z270-based motherboards are currently using it, including the GIGABYTE Z270X Ultra Gaming that we are reviewing alongside the Asus Prime Z270-A in this review, but the ALC1220A is certainly an ASUS specific implementation. Asus's engineers placed a lot of effort on maximizing the codec's potential via shielding, power regulation, and filtering techniques.
Intel supplies the rather popular I219-V Gigabit LAN chipset and ASMedia's ASM2142 controller provides two USB 3.1 Gen 2 ports (one Type-A and one Type-C). There are four more USB 3.1 Gen 1 ports at the back of the motherboard, with two additional USB 3.1 Gen 1 and six USB 2.0 ports accessible via its internal headers. A 5-pin Thunderbolt and a TPM header are also present.
GIGABYTE Z270X-Ultra Gaming Overview
The GIGABYTE Z270X Ultra Gaming is the spiritual successor of the GIGABYTE Z170X Ultra Gaming that we reviewed last year, sharing almost the same features and selling for roughly the same price. One of this motherboard's most prominent features is the native U.2 drive support and the presence of two SATA Express connectors. There is only one M.2 PCIe 3.0 x4 slot, supporting devices up to 110 mm long, and six SATA 6Gb/s connectors. Neither the M.2 or the U.2 slots share their bandwidth with other components, but each of the SATA Express connectors will occupy two SATA connectors if used.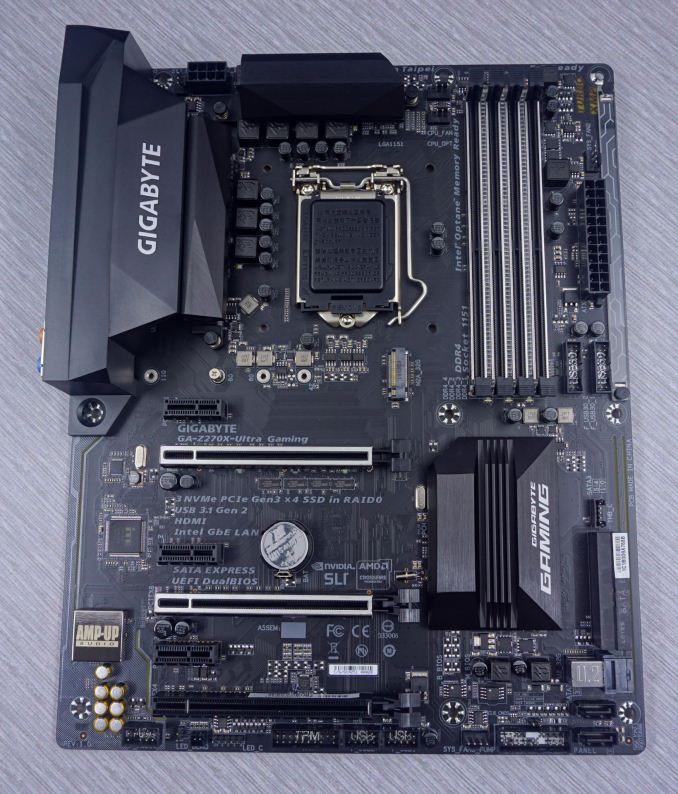 Bandwidth sharing takes place on the PCIe slots. The configuration of the two first PCIe ×16 slots is typical, with the first slot operating at ×16 mode with only one card installed, and sharing its bandwidth with the second slot when two cards are installed (×8 per slot). The third PCIe ×16 slot comes from the chipset, and has a maximum bandwidth of ×4 under any circumstances and also shares its bandwidth with two of the PCIe ×1 slots. Using PCIe ×1 devices in these slots will not disable the third full-length PCIe slot completely, but will reduce its bandwidth down to ×1 as well.
GIGABYTE implements the regular Realtek ALC1220 audio codec, along with the Intel I219-V Gigabit LAN chipset that Asus does, both of which are excellent choices for mainstream motherboard designs. The ASMedia ASM2142 controller provides two USB 3.1 Gen 2 ports (one Type-A and one Type-C) and the Intel Z270 chipset eight USB 3.1 Gen 1 ports (4 ports on the back panel, 4 ports available through the internal USB headers). There are also two USB 2.0 ports on the back panel and two internal headers for four more USB 2.0 ports. GIGABYTE's engineers also installed TPM and Thunderbolt internal headers.
Motherboard Comparison
Asus Prime Z270-A
Socket
LGA1151
LGA1151
MSRP at Review
$156
$156
DRAM
4 x DDR4
4 x DDR4
PCIe Layout
x8/x8
x8/x8
BIOS Version Tested
0604
F6
MCT Enabled Automatically?
Yes
Yes
USB 3.1 (10 Gbps)
ASMedia ASM2142/Intel Z270
ASMedia ASM2142/Intel Z270
M.2 Slots
2 x PCIe 3.0 x4
1 x PCIe 3.0 x4
U.2 Ports
No
1 x PCIe 3.0 x4
Network Controller
1 x Intel I219-V
1 x Intel I219-V
Audio Controller
Realtek ALC1220
Realtek ALC1220
HDMI 2.0
No
No