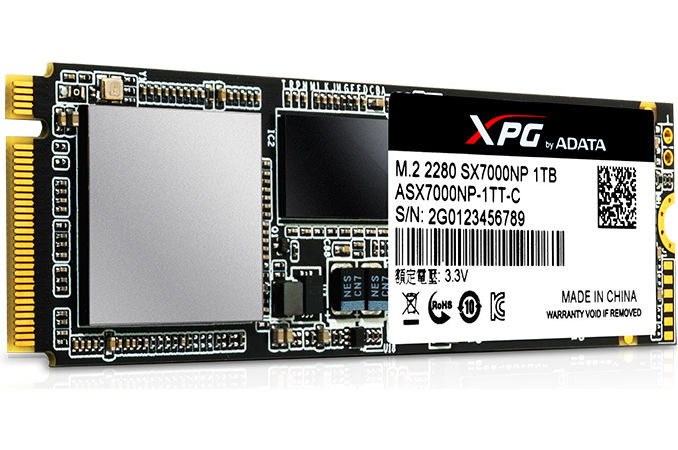 ADATA has announced its new lineup of SSDs designed to combine high-performance with 3D TLC flash memory. The new XPG SX7000 is positioned below ADATA's flagship XPG SX8000 series, but for those looking for something more powerful than a typical SATA drive, but not ready to invest in a super high-end SSD, this is the market ADATA is aiming for.
The ADATA XPG SX7000 series lineup comes in an M.2-2280 form-factor, uses PCIe 3.0 x4 and features 128 GB, 256 GB, 512 GB as well as 1 TB capacities. Worth noting, however, that traditionally for ADATA the highest-capacity drives will be available at a later date. Just like the higher-end XPG SX8000, the new SSDs are powered by Silicon Motion's SM2260 controller but has 3D TLC NAND (presumably from Micron).
The SM2260 is a controller we're starting to see a lot more of - as a controller it has two ARM Cortex cores, features eight NAND flash channels, LDPC ECC technology, 256-bit AES support and so on, although different drives may have different features enabled/disabled.

From a performance point of view, the ADATA XPG SX7000 drives are very different from each other due to the level of parallelism afforded by the controller/NAND combinations. For the 512 GB version, it is rated for sequential read speed up to 1750 MB/s as well as for sequential write speed up to 860 MB/s when pseudo-SLC caching is used. As for random performance, the 512 GB drive can offer up to 130K/140K 4 KB read/write IOPS. When it comes to the XPG SX7000 128 GB, the lowest capacity of the set, we are dealing with a drive capable of up to 660/450 MB/s sequential read/write performance as well as 35K/95K read/write IOPS. The drive is slightly faster than SATA SSDs based on TLC NAND, but it should offer higher endurance because 3D TLC NAND is made using larger process technologies and can account for voltage drift better.
Speaking of endurance, the XPG SX7000 come with a five-year limited warranty and are rated for 2 million hours MTBF. As for the TBW rating, the 128 GB SSD is rated for 80 TB, whereas the 512 GB version is capable of 320 TBW, which equals to around 0.3 DWPD (drive writes per day) across the warranty lifetime.
ADATA XPG SX7000 Specifications
Capacity
128 GB
256 GB
512 GB
1 TB
Model Number
ASX7000NP-
128GT-C
ASX7000NP-
256GT-C
ASX7000NP-
512GT-C
unknown
Controller
Silicon Motion SM2260
NAND Flash
3D TLC NAND
Form-Factor, Interface
M.2-2280, PCIe 3.0 x4, NVMe 1.2
Sequential Read
660 MB/s
1370 MB/s
1750 MB/s
unknown
Sequential Write
450 MB/s
820 MB/s
860 MB/s
unknown
Random Read IOPS
35K IOPS
70K IOPS
130K IOPS
unknown
Random Write IOPS
95K IOPS
130K IOPS
140K IOPS
unknown
Pseudo-SLC Caching
Supported
DRAM Buffer
Yes, capacity unknown
TCG Opal Encryption
No
Power Management
DevSleep, Slumber
Warranty
5 years
MTBF
2,000,000 hours
MSRP
Unknown
Unknown
Unknown
Unknown
The ADATA XPG SX7000 SSDs are expected to hit the shelves in the coming weeks. Micron's 3D TLC memory has been in mass production for several quarters now and ADATA has offered SATA drives featuring this memory for several months. As a result, the supply of 3D TLC NAND is not going to be a problem. As for pricing, expect the XPG SX7000-series to be cheaper compared to the higher-end XPG SX8000.
Related Reading:
Source: ADATA