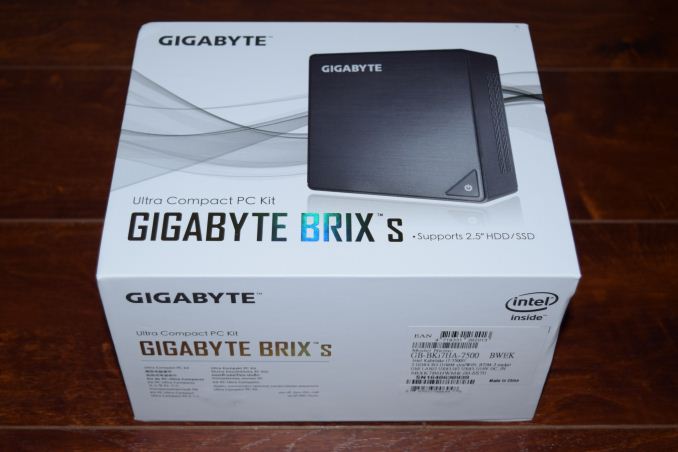 The emergence of power-efficient high-performance processors has created a bright spot in the desktop PC market. The ultra-compact form factor (UCFF) heralded by the Intel NUCs has experienced rapid growth over the past few years. GIGABYTE, with their BRIX lineup, was one of the first vendors to introduce NUC clones. They went beyond the traditional Intel models and provided plenty of choices to the end users. GIGABYTE has also kept up with Intel's release cadence and updated the BRIX lineup after the launch of new U-series CPUs. Today, we are taking a look at the GB-BKi7HA-7500 - a BRIX based on the Kaby Lake Core i7-7500U, with support for a 2.5" drive, and sporting an ASMedia bridge chip for USB 3.1 Gen 2 support.
Introduction
The Kaby Lake-U platform for mini-PCs has proved to be a simple one for OEMs with existing Skylake-U mini-PCs in their lineup. Given the pin compatibility, the vendors only needed to put in some BIOS support before swapping the Skylake-U package for a Kaby Lake-U one. We have already covered the advantages of Kaby Lake over Skylake for mini-PCs (such as 4K Netflix and improved perf/Watt) in earlier reviews.
A look at the GIGABYTE BRIX listings shows more than 20 different Skylake-U units (models starting with GB-BS). Given that Kaby Lake doesn't provide a great deal of benefit over Skylake for many use-cases, GIGABYTE has decided to only selectively update the comprehensive lineup. Each barebones Skylake BRIX SKU has a model number fitting the following format:
GB-BS<CoreSeriesIdentifier-01>(H)(T|A)(L|C)-<CoreSeriesIdentifier-02>
The format changes for Kaby Lake, with the BS being replaced by BK. The CPU in the SKU can be determined using the CoreSeriesIdentifier. For example, our review sample, the GB-BK<i7>HA-<7500> has the Intel Core i7-7500U. The other parts of the model number are optional. For example, in the Skylake series, we have the GB-BSi7-6500, which is essentially a Skylake-U NUC clone with no bells and whistles, but, just sporting a CPU option that the Intel NUC lineup doesn't provide.
The optional components indicate the presence of the following features:
H = 2.5" drive support
T = Thunderbolt 3 / USB 3.1 Gen 2 using the Alpine Ridge chipset
A = Dual USB 3.1 Gen 2 ports (1x Type-A and 1x Type-C) using the ASMedia 1142 USB 3.1 Gen 2 controller
L = Dual RJ-45 gigabit LAN ports
C = COM (RS-232) port (RJ-45 slot similar to the L SKU, and a RJ-45 to COM cable bundled)
As part of the Kaby Lake update, GIGABYTE has introduced ten models, with a choice of Core i3, Core i5, or Core i7, with or without support for a 2.5" drive, and a Thunderbolt (no ASMedia USB 3.1 Gen 2) or non-Thunderbolt (but, with ASMedia USB 3.1 Gen 2) option.
GIGABYTE sampled us the barebones version of the GB-BKi7HA-7500. We completed the configuration using a Samsung SSD 950 PRO 512GB M.2 PCIe 3.0 x4 NVMe SSD and 2x16 GB Crucial Ballistix Sport LT DDR SODIMMs. Though the SODIMMs are capable of operating at 2400 MHz, the BRIX set it to operate at 2133 MHz. The specifications of our review configuration are summarized below.
GIGABYTE GB-BKi7HA-7500 Specifications
Processor
Intel Core i7-7500U
Kaby Lake, 2C/4T, 2.7 GHz (Turbo to 3.5 GHz), 14nm PLUS, 4MB L2, 15W TDP
Memory
Crucial Ballistix Sport LT BLS16G4S240FSD.16FAD DDR4
15-15-15-35 @ 2133 MHz
2x16 GB
Graphics
Intel HD Graphics 620
Disk Drive(s)
Samsung SSD 950 PRO
(512 GB; M.2 Type 2280 PCIe 3.0 x4 NVMe; 40nm; MLC V-NAND)
Networking
Intel Dual Band Wireless-AC 3168
(1x1 802.11ac - 433 Mbps)
Intel Gigabit Ethernet Connection I219-LM
Audio
3.5mm Headphone Jack
Capable of 5.1/7.1 digital output with HD audio bitstreaming (HDMI)
Display
1x HDMI 2.0 (HDCP 2.2 / 4Kp60-capable)
1x mini-DisplayPort 1.2
Miscellaneous I/O Ports
1x USB 3.1 Gen 2 Type-C
1x USB 3.1 Gen 2 Type-A
2x USB 3.0
Operating System
Retail unit is barebones, but we installed Windows 10 Pro x64
Pricing (As configured)
$500 ($1074)
Full Specifications
GIGABYTE GB-BKi7HA-7500 Specifications
The GB-BKi7HA-7500 come with a CD and a read-only USB key containing Windows drivers. In any case, we ended up installing the latest drivers downloaded off GIGABYTE's product support page. In addition to the main unit, the other components of the package include a 65 W (19V @ 3.42A) adapter with a US power connector, a VESA mount (along with the necessary screws), a driver CD and USB key, and a quick-start guide.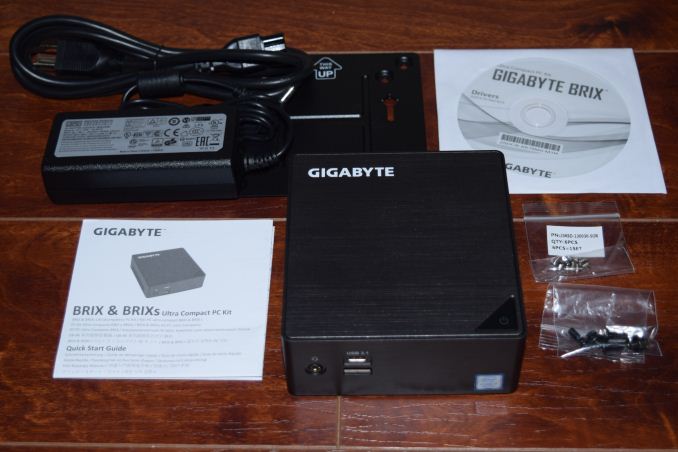 The unit also supports a 2.5" drive. The appropriate SATA cable (data and power together in the typical notebook form factor) is pre-installed inside the main unit (as can be seen in the gallery below).
The metal frame on the inside of the bottom lid (which holds the 2.5" drive in place) also has a thermal pad positioned to aid in the dissipation of heat from any M.2 SSD used in the system.
The high-speed I/O lane distribution in the GB-BKi7HA-7500 is similar to what we saw in the Skylake BRIX. The PCIe lanes are distributed as below:
PCI-E 3.0 x2 port #1 In Use @ x2 (ASMedia ASM1142 USB 3.1 xHCI Controller)
PCI-E 3.0 x1 port #6 In Use @ x1 (Intel Dual Band Wireless-AC 3168 AC HMC WiFi Adapter)
PCI-E 3.0 x4 port #9 In Use @ x4 (Samsung SSD 950 PRO NVMe Drive)
In the table below, we have an overview of the various systems that we are comparing the GIGABYTE GB-BKi7HA-7500 against. Note that they may not belong to the same market segment. The relevant configuration details of the machines are provided so that readers have an understanding of why some benchmark numbers are skewed for or against the GIGABYTE GB-BKi7HA-7500 when we come to those sections.
Comparative PC Configurations
Aspect
GIGABYTE GB-BKi7HA-7500
CPU
Intel Core i7-7500U
Intel Core i7-7500U
GPU
Intel HD Graphics 620
Intel HD Graphics 620
RAM
Crucial Ballistix Sport LT BLS16G4S240FSD.16FAD DDR4
15-15-15-35 @ 2133 MHz
2x16 GB
Crucial Ballistix Sport LT BLS16G4S240FSD.16FAD DDR4
15-15-15-35 @ 2133 MHz
2x16 GB
Storage
Samsung SSD 950 PRO
(512 GB; M.2 Type 2280 PCIe 3.0 x4 NVMe; 40nm; MLC V-NAND)
Samsung SSD 950 PRO
(512 GB; M.2 Type 2280 PCIe 3.0 x4 NVMe; 40nm; MLC V-NAND)
Wi-Fi
Intel Dual Band Wireless-AC 3168
(1x1 802.11ac - 433 Mbps)
Intel Dual Band Wireless-AC 3168
(1x1 802.11ac - 433 Mbps)
Price (in USD, when built)
$500 (barebones)
$1074 (as configured)
$500 (barebones)
$1074 (as configured)