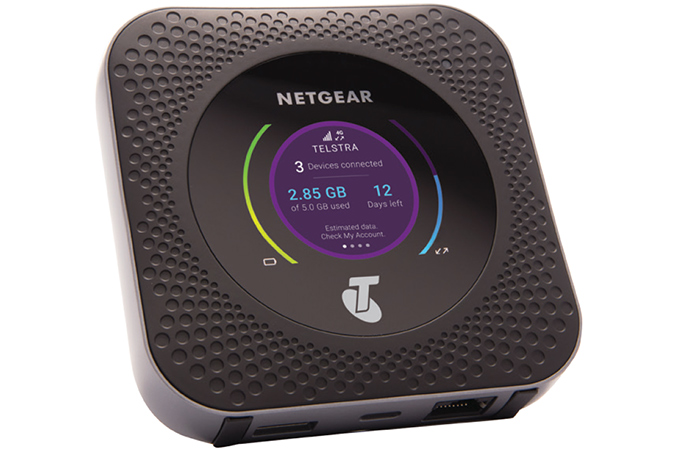 Netgear this week announced the Nighthawk M1 mobile router, which is the industry's first 4G LTE device with download speed up to 1 Gbps. The Nighthawk M1 is powered by Qualcomm's X16 LTE modem with 4x4 MIMO announced a year ago and will be available only on Telstra's 4GX LTE network in Australia. As soon as similar networks are launched in different parts of the world, the same router or its derivatives may hit the market elsewhere as well.
The Netgear Nighthawk M1 mobile router is aimed at those who need to set up ultra-fast mobile broadband connection for multiple people and up to 20 devices in areas where cable broadband is unavailable (there are a lot of rural areas in Australia where there is no broadband). The Nighthawk M1 can be used like a normal portable router (it has a GbE port as well as two USB headers) or as a NAS/media streamer (it has a microSD slot). The router also has an inbuilt battery (5040 mAh) which is rated for up to 24 hours of standard use. The Nighthawk M1 does not require any special setup, but it is equipped with a 2.4" display to monitor its performance/data usage and there is also a special app for Android and iOS that allows a user to manage the router (network settings, parental controls, etc.).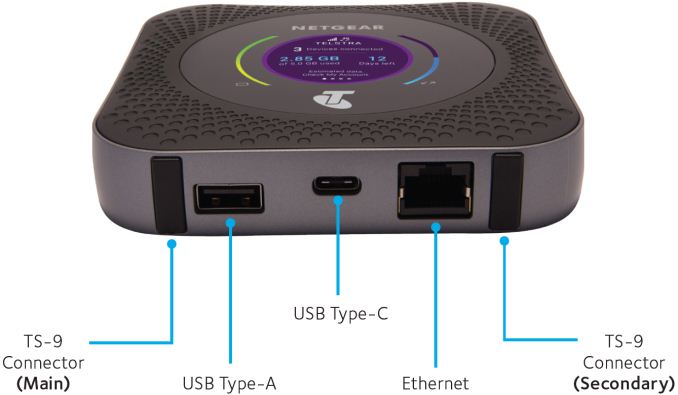 At the heart of the Netgear Nighthawk M1 there is Qualcomm's Snapdragon X16 LTE modem (paired with Qualcomm's WTR5975 RF transceiver). The modem supports 4x4 MIMO, four carrier aggregation (4xCA) and higher order modulation (256QAM) to download data at up to 1 Gbps (in select areas) as well as 64QAM and 2CA to upload data at up to 150 Mbps over Telstra's 4GX LTE network (Telstra's network is only 3CA it is worth noting). We already know that the X16 modem will be integrated into Snapdragon 835 SoCs for smartphones, but right now it is available only as a standalone chip. The Nighthawk M1 router is also equipped with Qualcomm's 2×2 802.11 b/g/n/ac Wi-Fi solution that can connect up to 20 devices simultaneously using 2.4 GHz and 5 GHz bands concurrently.
Netgear Nighthawk M1 MR1100
SoC
Qualcomm Snapdragon X16 LTE modem
MDM9x50
Display
2.4"
Network
4G: 4GX LTE CAT 16,
4-band CA, 4x4 MIMO
700/900/1800/2100/2600 MHz
3G: 850/900/1900/2100 MHz
LTE
Down: 1000 Mb/s
Up: 150 Mb/s
Dimensions
105.5 × 105.5 × 20.35 mm
Weight
240 grams
Battery
5040 mAh (removable)
Connectivity
2×2 802.11 b/g/n/ac Wi-Fi for up to 20 devices
External Ports
Ethernet
USB-A
USB-C
2 × TS-9 connectors for external antennas
Storage
MicroSD card with media server/NAS capabilities
SIM Size
unknown
Colors
Grey
Launch Country
Australia
Price
$360 AUD ($276 USD)
The Netgear Nighthawk M1 (MR1100) mobile router will be available from Telstra in Australia later this month for $360 AUD ($276 USD) standalone. Telstra also plans to offer the router with a range of broadband plans.
Related Reading:
Source: Netgear