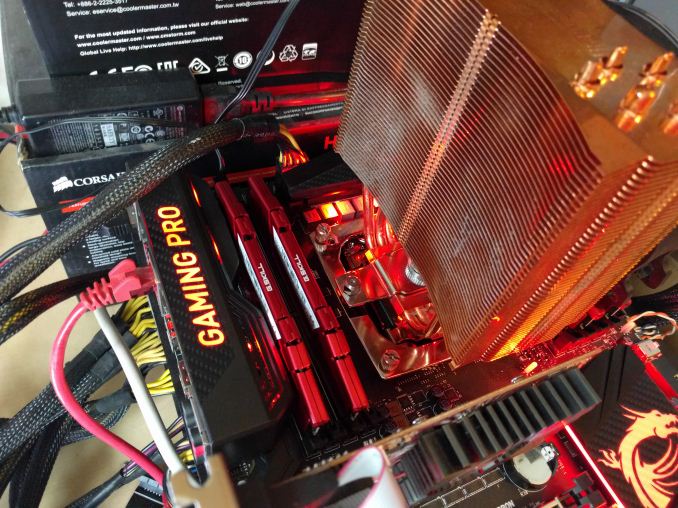 Something was clear during 2016: RGB LED is here and it wants to be everywhere. It seems that a multicolored piece of computer hardware is the new thing, and every vendor wants to show it off. Usually the LED comes with a colored product anyway, so there are multiple angles for aesthetics, but some motherboard manufacturers have decided that sometimes a cleaner look is needed. MSI's Carbon series is meant to be this – clean, black, and carbon fiber accented. With today's review, we're looking at the MSI X99A Gaming Pro Carbon which follows this understated classical elegance, but then straps RGB LEDs on the top anyway.
Other AnandTech Reviews for Intel's LGA2011-3 Platform
The Intel Core i7-6950X, i7-6900K, i7-6850K and i7-6800K Broadwell-E Review
The Intel Core i7-5960X, i7-5930K and i7-5820 Haswell-E Review
The Intel Xeon E5 v3 Fourteen-Core Review (E5-2695 v3, E5-2697 v3)
The Intel Xeon E5 v3 Twelve-Core Review (E5-2650L v3, E5-2690 v3)
The Intel Xeon E5 v3 Ten-Core Review (E5-2650 v3, E5-2687W v3)
X99 Series Motherboard Reviews:
Prices Correct at time of each review
($750) The ASRock X99 WS-E 10G Review
($600) The ASUS X99-E-WS 10G Review
($600) The ASRock X99 Extreme11 Review
($500) The ASUS Rampage V Extreme Review
($400) The ASUS X99-Deluxe Review
($340) The GIGABYTE X99 G1.Gaming WiFi Review
($330) The ASRock X99 OC Formula Review
($330) The MSI X99A Gaming Pro Carbon Review
($323) The ASRock X99 WS Review
($310) The GIGABYTE X99-UD7 WiFi Review
($310) The ASUS X99 Sabertooth Review
($300) The GIGABYTE X99-SOC Champion Review
($300) The ASRock X99E-ITX Review
($300) The MSI X99S MPower Review
($275) The ASUS X99-A Review
($241) The MSI X99S SLI PLUS Review
To read specifically about the X99 platform and the specifications therein, our deep dive into what it is can be found at this link.
The MSI X99A Gaming Pro Carbon Overview
When we discuss processors, typically the conversion ends up at some point about price/performance ratios and making sure that a user is getting what they want at the right price point. That isn't particularly true for motherboards, because performance (aside a few system level metrics) typically is not related to cost, unless something odd is going on with the BIOS and some setting is applied incorrectly. What you get with a motherboard is feature-set, price, stability, add-ons, power, and for those inclined, overclocking.
As a result it can be hard to judge one motherboard over another. A feature that might be worth $15 extra to one person might only be worth $2 to another, based on their use and workflow. This is why we end up with so many different motherboard products as well, some differing by a single port because one global customer doesn't want HDMI even though all the traces are there and it only saves $0.002 for the actual connector.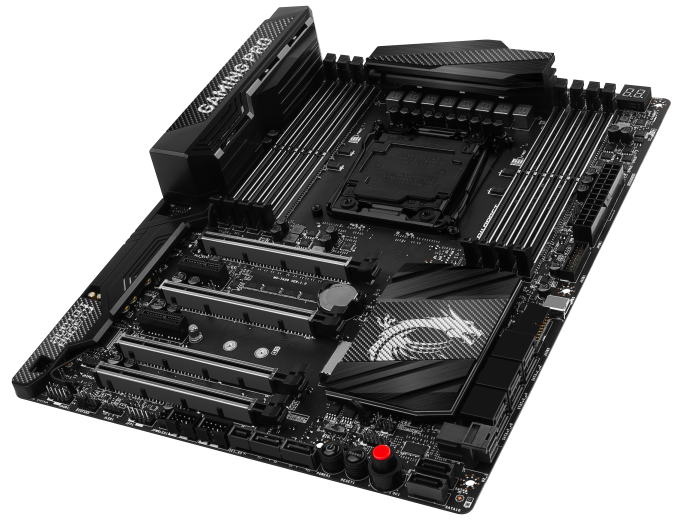 At the higher end of the motherboard market it is perhaps just as true, though slightly less picky: a user might not care if a fifth USB 3.0 port is there, but when it comes to things like PCIe storage, network controllers or Thunderbolt 3, the big things that do cost double digits, then it becomes relevant. Users in this price bracket may also be sensitive to aesthetics, local warranty packages, or promises of future updates.
So here's the MSI X99A Gaming Pro Carbon. It performs well in our benchmark suite, but costs a bit more than a bottom rung X99 motherboard. It has PCIe storage, but you will have to select between M.2 or U.2. It's designed for systems up to three-GPUs, reinforces the PCIe slots and gives overclocking presets. It provides enhanced audio with PCB separation and filter caps, but then also bundles the Nahimic software.
The choice of motherboard you want to buy is more budget driven than anything else, but motherboard manufacturers want to entice you in with features, especially if you are spending upwards of $1000 on a processor. The X99A Gaming Pro Carbon isn't the cheapest, but was one of the showcase motherboards for MSI's X99 refresh, with several new features and a new look as well as new software to play with – U.2, USB 3.1, slot reinforcement and a carbon-fiber look mixed with RGB LEDs. Read on for the full review.
Quick Links to Other Pages
In The Box and Visual Inspection
Test Bed and Setup
Benchmark Overview
BIOS
Software
System Performance (Audio, USB, Power, POST Times on Windows 7, Latency)
CPU Performance, Short Form (Office Tests and Transcoding)
Single GTX 980 Gaming Performance
Conclusions
Overclocking
Our standard overclocking methodology is as follows. We select the automatic overclock options and test for stability with PovRay and OCCT to simulate high-end workloads. These stability tests aim to catch any immediate causes for memory or CPU errors.
For manual overclocks, based on the information gathered from previous testing, starts off at a nominal voltage and CPU multiplier, and the multiplier is increased until the stability tests are failed. The CPU voltage is increased gradually until the stability tests are passed, and the process repeated until the motherboard reduces the multiplier automatically (due to safety protocol) or the CPU temperature reaches a stupidly high level (100ºC+). Our test bed is not in a case, which should push overclocks higher with fresher (cooler) air.
Overclock Results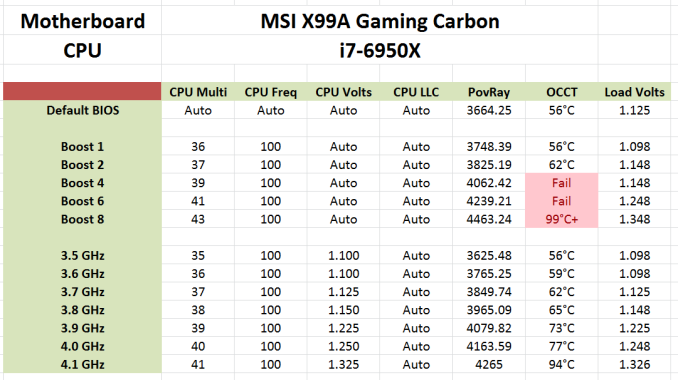 Using the latest Core i7-6950X, the automated overclocking performance hit a snag when the AVX instructions came in, but the manual overclocking was good up to 4.1 GHz. 94ºC for our CPU sample is high enough without pushing it further.