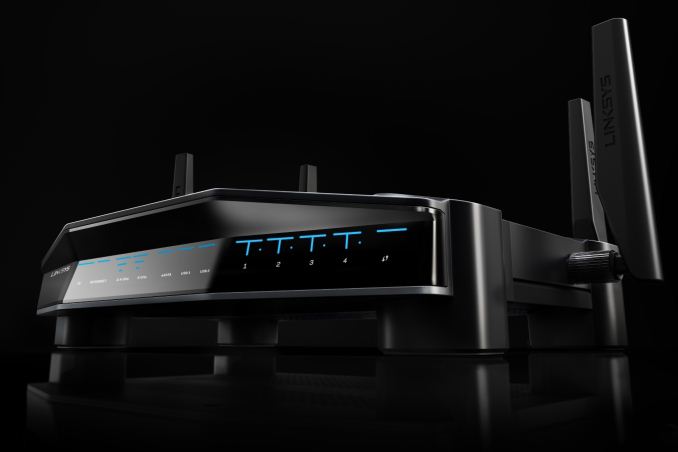 Rivet Networks, the company behind the Killer brand, has been on a roll lately with the launch of a new Ethernet controller (E2500) back in September 2016. Killer's selling proposition is the fine-grained QoS settings that are automatically applied to certain types of traffic, resulting in better user experience for Internet usage scenarios like online gaming and video conferencing. Till now, their IP has been restricted to client devices with their NICs installed. However, that restricted the effectiveness of their prioritization algorithms to traffic originating from that machine only. In order to be effective in the multi-device usage scenarios of the modern home, the algorithms effectively need to be resident in the router.
This CES, they have partnered with Linksys for the launch of the first router with the 'Killer Prioritization Engine'. The Linksys WRT gaming edition router - the WRT32X - works closely with router clients that are Killer endpoints (various notebooks with Killer Wi-Fi and/or desktops with Killer wired NICs). Within the consumer's residence, there is an end-to-end optimization of certain types of traffic for latency minimization. This ensures lesser lag and smoother streaming / video conferencing. Other types of traffic such as bulk downloads are given a lower priority.
The hardware itself is a Tri-Band AC3200 (N600 + AC2600) solution using 3x3 radios (one 5 GHz and one 2.4 GHz). Note that the 3x3 5 GHz band is marketed with the 'Tri-Stream 160' tag - implying the use of a 160 MHz-wide channel that allows up to 867 Mbps per stream (and, a total of 2.6 Gbps for a 3x3 configuration). The radio belong to the Marvell Avastar 88W8964 family. Other platform details include:
1.8 GHz Dual-Core ARM CPU [ Marvell ARMADA 38x, with a dual-core Cortex A9 host processor ]
MU-MIMO Technology for airtime efficiency
QoS engine powered by Killer Networking
Exclusive optimization for Killer Networking gaming clients in MSI, Alienware, Razer etc.
DFS certified for operation in the clear DFS channel airspace
256MB Flash and 512MB of DDR3 Memory
4 high-performance Antennas and high-powered PAs for better range
5-port SOHO-grade Gigabit Ethernet switch with TCAM (1x WAN, 4x LAN)
eSATA, USB 3.0, and USB 2.0 Ports for NAS-like network storage
Custom-built firmware specially tuned for online gaming traffic
The router is expected to become available in Spring 2017 for $300. We have long been wary of the effectiveness of the Killer solutions in a household with multiple clients simultaneously accessing the Internet. The move towards integrating the algorithms in the router addresses most of our concerns. It ensures that the consumer is able to fully realize the benefits of the Killer solution in their gaming notebooks and PCs.