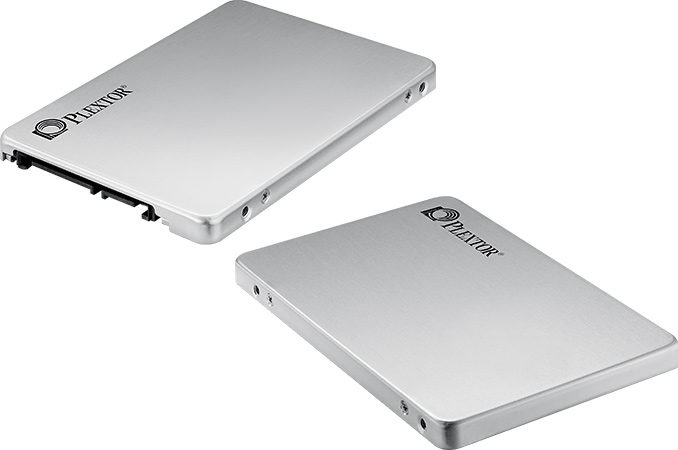 Plextor has introduced its new family of entry-level SSDs, which could become the most affordable drives in the company's lineup in the coming months. The S2C SSDs use TLC NAND flash memory made by SK Hynix using 16 nm process technology as well as a controller from Silicon Motion.
Plextor has its own history with TLC NAND-based as well as SMI-powered SSDs and the S2C family is the first time, when the manufacturer combined the inexpensive memory and an affordable controller. The company originally planned to release its first SSD featuring TLC memory in mid-2015 and even demonstrated a drive featuring Marvell's 88SS1074 controller as well as Toshiba's TLC NAND at CES 2015. After months of evaluating the configuration, Plextor decided to proceed with Toshiba's MLC memory and Silicon Motion's SM2246EN controller for its M6V SSD. In April 2016, the company finally released the M7V, its first drive based on TLC NAND memory produced by Toshiba using its 15 nm process technology. The Plextor S2C is the second TLC-based SSD by the company, which targets the low-end of the market.
The S2C features Silicon Motion's SM2258 controller (which has four NAND flash channels and supports LDPC ECC technology) as well as SK Hynix's TLC NAND made using planar 16 nm process tech, a combination found in Intel's 540s SSDs. SMI's SM2258 controller is a relatively new IC, which is why some SSD makers plan to use it for 3D NAND-based drives (e.g., ADATA's SU800) because of compatibility with the memory as well as presumable low cost. Being cautious and due to slow ramp of SK Hynix's 3D NAND, Plextor decided to use the SM2258 controller with planar TLC NAND from the South Korean company.
Plextor S2C, M7V and M6V SSD Specifications
S2C
M7V
M6V
128GB
256GB
512GB
128GB
256GB
512GB
128GB
256GB
512GB
Controller
Silicon Motion SM2258
Marvell 88SS1074B1
Silicon Motion SM2246EN
NAND
SK Hynix 15 nm TLC
Toshiba 15 nm TLC
Toshiba 15nm MLC
DRAM Cache
128MB
256MB
512MB
256MB
512MB
1 GB
128MB
256MB
512MB
Sequential Read
520 MB/s
560 MB/s
535 MB/s
Sequential Write
440
MB/s
480 MB/s
500 MB/s
530 MB/s
170 MB/s
335 MB/s
455 MB/s
4kB Random Read
80K
IOPS
98K
IOPS
97K IOPS
98K
IOPS
81K IOPS
83K
IOPS
4kB Random Write
48K IOPS
72K
IOPS
78K
IOPS
51K IOPS
84K
IOPS
42K IOPS
80K
IOPS
Warranty
3 years
Plextor's S2C drives come in 2.5"/7mm form-factor with SATA interface and are available in 128 GB (PX-128S2C), 256 GB (PX-256S2C) and 512 GB (PX-512S2C) configurations. Plextor is specing the highest-capacity S2C at up to 520 MB/s for sequential reads and up to 480 MB/s for sequential writes, but more affordable models sport slightly lower write speeds. As for random performance, we are dealing with drives capable of 98,000/78,000K read/write IOPS. Unlike many low-cost SSDs today, the S2C features DRAM cache to guarantee decent performance of write operations. In addition, Plextor promises that its S2C drives will sustain their performance over prolonged periods.
The Plextor S2C will be joining in a pretty crowded party ot entry-level SSDs. The drives will naturally compete against Plextor's own M6V, M7V and M6S Plus. In addition, they will have to rival Intel's 540s drives, which are not only very affordable, but also come with a five-year warranty (Plextor only offers a three-year warranty with its S2C).
Plextor has not announced MSRPs for its S2C drives and right now the products are absent from large U.S.-based retailers. Given performance numbers declared by the manufacturer, the S2C should be cheaper than the other entry-level drives sold under this brand.
Source: Plextor