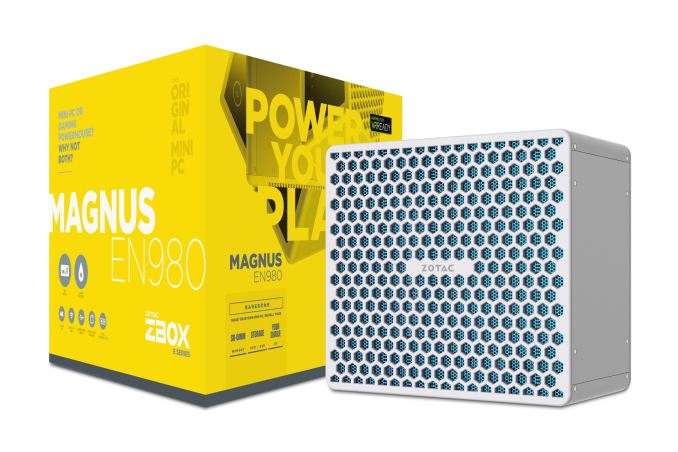 The PC market has been subject to challenges over the last several years. However, gaming systems and small form-factor (SFF) PCs have weathered the storm particularly well. Many vendors have tried to combine the two, but space constraints and power concerns have ended up limiting the gaming performance of such systems. Zotac, in particular, has been very active in this space with their E-series SFF PCs. The Zotac ZBOX MAGNUS EN980 that we are reviewing today is the follow-up to last year's MAGNUS EN970 that combined a Broadwell-U CPU with a GTX 970M (rebadged as a GTX 960).
Introduction
The Zotac ZBOX MAGNUS EN980 is marketed by Zotac as a powerful VR-ready gaming mini-PC that is equipped with a powerful desktop GPU. It addresses many of the shortcomings of its predecessor. The EN970's Broadwell-U CPU (with a 15W TDP) was a limiting factor in CPU-bound games. The EN980 uses a Core i5-6400 65W socketed desktop CPU to take care of this issue. The EN970's GM204 Maxwell GPU packed quite a punch, but, in the year since its introduction, virtual reality has made great strides. At this point of time, a premium gaming PC that can't be advertised as VR-ready can't get good market reception. The EN980 also integrates a GM204 GPU. However, it is clocked and configured as a proper desktop GPU (GTX 980) that can meet Valve and Oculus's VR system requirements.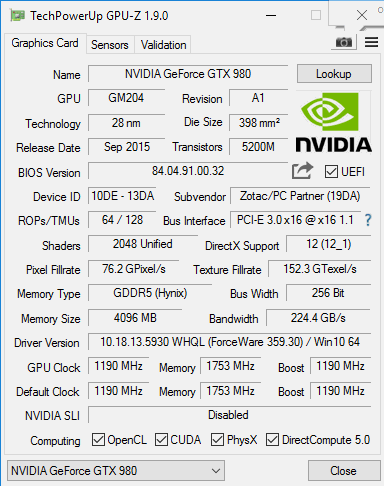 The increased capabilities of the EN980 do not come for free. While the width and length are similar to that of the EN970, the height more than doubles. Volume-wise, the EN980 comes in at 5.85L ( 225 mm x 203 mm x 128 mm ) compared to the EN970's 2.24L. The other major change is the move from a single 180W power brick in the EN970 to two 180W units in the EN980. A detailed comparison of the specifications of the EN970 and EN980 can be found here.
Unlike the rather plain industrial design of the ZBOX MAGNUS EN970, the EN980 moves things up several notches. While the sides and rear panels of the chassis are aluminium with a silver color, the front panel is black with a rather big power button. Other components of the front panel include a USB 3.1 Gen 2 Type-A and Type-C port, a SDXC card reader and audio jacks. The top and bottom are made of plastic. The honeycomb top with a mesh underneath helps in the ventilation process. On the whole, the EN980 impresses in the looks department much more compared to the EN970.
In addition to the main unit, the PC package also includes two 180W (19.5V @ 9.23A) power bricks along with US power cords and two WLAN antennae. A quick start guide with installation instructions for the memory and disk drives, a user manual and a read-only USB key with the drivers round up the rest of the package, as shown in the gallery below.
We received the barebones version of the ZBOX MAGNUS EN980. After having recently reviewed multiple Skylake mini-PCs with DDR4 SODIMM slots and M.2 PCIe SSD support, it was a bit surprising to encounter a PC that could take only DDR3L SODIMMs and supported only SATA SSDs in the M.2 slot. We chose to go with a Corsair Vengeance 2x 8GB kit and a Mushkin Atlas Vital 250GB M.2 SATA SSD. The RAM kit we used is rated for 2133 MHz, but it could operate only at 1866 MHz (with no special BIOS tweaks) in the unit. The rest of the specifications of our review unit are summarized in the table below.
Zotac ZBOX MAGNUS EN980 Specifications
Processor
Intel Core i5-6400
Skylake-S, 4C/4T, 2.7 GHz (Turbo to 3.3 GHz), 14nm, 6MB L2, 65W TDP
Memory
Corsair Vengeance CMSX16GX3M2B2133C11 DDR3L
10-10-10-29 @ 1866 MHz
2x8 GB
Graphics
NVIDIA GeForce GTX 980 (4GB GDDR5)
Disk Drive(s)
Mushkin Atlas Vital MKNSSDAV250GB-D8
(250 GB; M.2 Type 2280 SATA III; MLC)
Networking
Intel Dual Band Wireless-AC 3165
(1x1 802.11ac - 433 Mbps)
2x Realtek RTL8168 Gigabit LAN
Audio
3.5mm Headphone Jack + 3.5mm Microphone Jack
Capable of 5.1/7.1 digital output with HD audio bitstreaming (HDMI)
Miscellaneous I/O Ports
4x USB 3.0
2x USB 3.1 Gen 2 (1x Type-A + 1x Type-C)
1x SDXC Card Slot
Operating System
Retail unit is barebones, but we installed Windows 10 Pro x64
Pricing (As configured)
$1844 ($1599 barebones)
Full Specifications
Zotac ZBOX MAGNUS EN980 Specifications
The gallery below shows some photographs of the unit and its internals. We purposefully didn't disassemble it fully to ensure that its thermal design was not compromised.
Important aspects to note here include the rather anemic number of I/Os in the rear panel. There are four display outputs capable of 4Kp60 output, but, we only have four USB 3.0 ports and two GbE LAN ports. In order to understand this issue further, a bit of platform analysis is necessary.
Platform Analysis and BIOS Features
The ZOTAC ZBOX MAGNUX EN980 uses a Skylake-S CPU in conjunction with the H170 platform controller hub (PCH). The H170 PCH can support up to 22 high-speed I/O lanes (HSIO), and they can be distributed as shown below.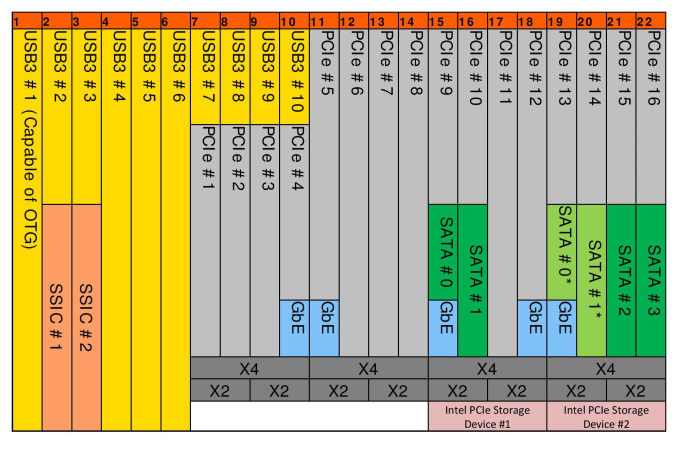 The GTX 980 GPU is connected directly to the CPU's x16 PCIe lanes and doesn't go through the PCH. The PCH itself is connected to the CPU using a DMI 3.0 link (which is effectively PCIe 3.0 x4 in terms of bandwith). The HSIO lanes on the PCH are utilized as below.
PCI-E 3.0 x2 port #5 : In Use @ x2 (ASMedia ASM1142 USB 3.1 xHCI Controller)
PCI-E 3.0 x1 port #7 : In Use @ x1 (Intel Dual Band Wireless-AC 3165 AC HMC WiFi Adapter)
PCI-E 3.0 x1 port #9 : In Use @ x1 (Realtek RTL8168/8111 PCI-E Gigabit Ethernet Adapter)
PCI-E 3.0 x1 port #12 : In Use @ x1 (Realtek RTL8168/8111 PCI-E Gigabit Ethernet Adapter)
The Type-A and Type-C USB 3.1 Gen 2 ports in the front panel are from the ASMedia ASM1142 USB 3.1 xHCI Controller. The four USB 3.0 ports in the rear panel are likely from HSIO lanes 7 through 10, while the two SATA ports (one supporting 2.5" drives and the other supporting M.2 SSDs) are likely from lanes 21 and 22. The SDXC slot in the front panel is actually a Realtek USB 2.0 Card Reader, and one shouldn't expect high-speed data transfers from modern SD cards using it.
The BIOS features are rather basic for a premium PC. There is not much scope for memory overclocking or even the ability to update the BIOS from within the BIOS. That said, the available options are more than enough for the users who want a plug-and-play experience once the RAM and disk drive are installed.
In the table below, we have an overview of the various systems that we are comparing the Zotac ZBOX MAGNUS EN980 against. Note that they may not belong to the same market segment. The relevant configuration details of the machines are provided so that readers have an understanding of why some benchmark numbers are skewed for or against the Zotac ZBOX MAGNUS EN980 when we come to those sections.
Comparative PC Configurations
Aspect
Zotac ZBOX MAGNUS EN980
CPU
Intel Core i5-6400
Intel Core i5-6400
GPU
NVIDIA GeForce GTX 980 (4 GB)
NVIDIA GeForce GTX 980 (4 GB)
RAM
Corsair Vengeance CMSX16GX3M2B2133C11 DDR3L
10-10-10-29 @ 1866 MHz
2x8 GB
Corsair Vengeance CMSX16GX3M2B2133C11 DDR3L
10-10-10-29 @ 1866 MHz
2x8 GB
Storage
Mushkin Atlas Vital MKNSSDAV250GB-D8
(250 GB; M.2 Type 2280 SATA III; MLC)
Mushkin Atlas Vital MKNSSDAV250GB-D8
(250 GB; M.2 Type 2280 SATA III; MLC)
Wi-Fi
Intel Dual Band Wireless-AC 3165
(1x1 802.11ac - 433 Mbps)
Intel Dual Band Wireless-AC 3165
(1x1 802.11ac - 433 Mbps)
Price (in USD, when built)
$1844
$1844