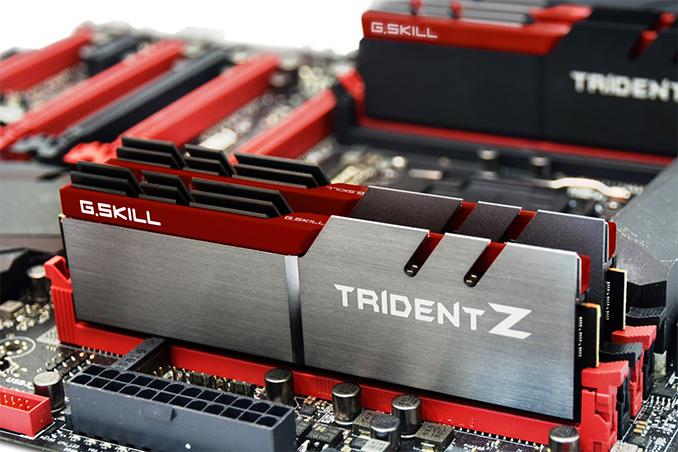 When Intel launched its new Core i7 Broadwell-E processors for high-end desktops earlier this year, all leading makers of motherboards released their new breed of Intel X99-based products that were supposedly 'optimized' for the new CPUs. Makers of memory modules are also beginning to roll-out their new DDR4 quad-channel kits that can operate at high frequencies with tight timings qualified for the new processors. At IDF this week, G.Skill demonstrated two new 64 GB and 128 GB kits designed for high-end workstations that require significant memory bandwidth.
G.Skill's upcoming quad-channel Trident Z 64 GB (8×8 GB) memory kit is rated to run at 3333 MT/s with CL13 13-13-33 latency settings at 1.35 V. Right now, the company only offers quad-channel 64 GB DDR4-3333 kits with CL16 18-18-38 timings (albeit, these are either 4×16 GB or 8×8 GB kits). Another upcoming Trident Z quad-channel kit has 128 GB (8×16 GB) capacity and can operate at 3333 MT/s with CL14 14-14-34 timings, which is considerably better when compared to CL16 18-18-38 latencies of currently available 128 GB DDR4-3333 kits from the company.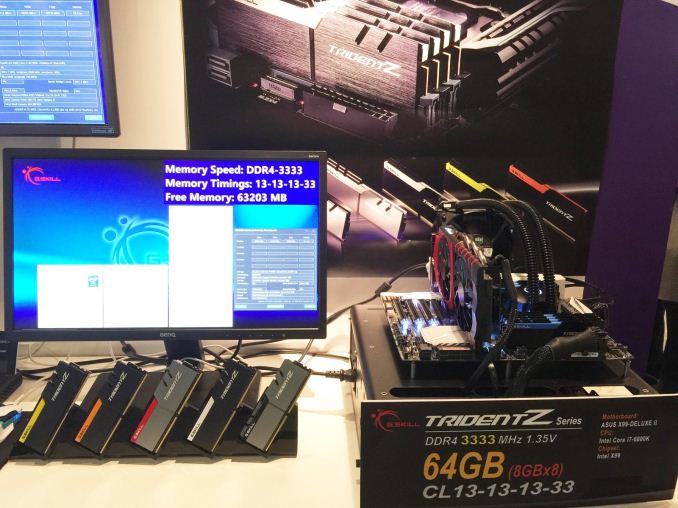 G.Skill claims that the Trident Z kits it demonstrated at IDF are based on Samsung's 8 Gb DDR4 chips, but does not reveal whether these are ICs made using 20 nm or sub-20 nm process technology. More advanced DDR4 ICs coupled with the new memory controller inside Intel's Broadwell-E CPUs could allow G.Skill to build new 64 GB and 128 GB DDR4-3333 HEDT kits with tight timings. It is to be expected that the company has managed to cherry-pick the right previous-gen ICs for its new memory modules and depending on the binning of such ICs, prices will be high.
The demonstrations at IDF were conducted using two systems equipped with Intel Core i7-6800K processors and ASUS ROG Rampage V Edition 10 or ASUS X99-Deluxe II motherboards. The PCs were running basic applications and did not require extensive cooling.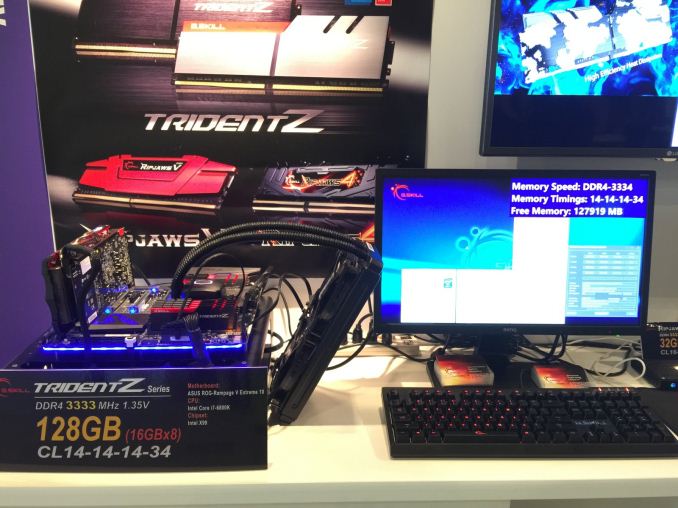 Traditionally, all Trident Z kits come equipped with aluminum heatsinks and feature Intel XMP 2.0 SPD profiles to make it easier for end-users to run them at their data-rates with the right timings and voltage. Expect the same features from the kits that G.Skill demonstrated at IDF.
The manufacturer did not announce when it plans to release its new Trident Z 64 GB DDR4-3333 CL13 and Trident Z 128 GB DDR4-3333 CL14 kits as well as their prices. Right now, G.Skill's fastest 128 GB DDR4-3200 CL16 is available for $730 – $1042, depending on the retailer. Memory prices tend to be exponential at the high end, so these will cost a lot more.
Source: G.Skill