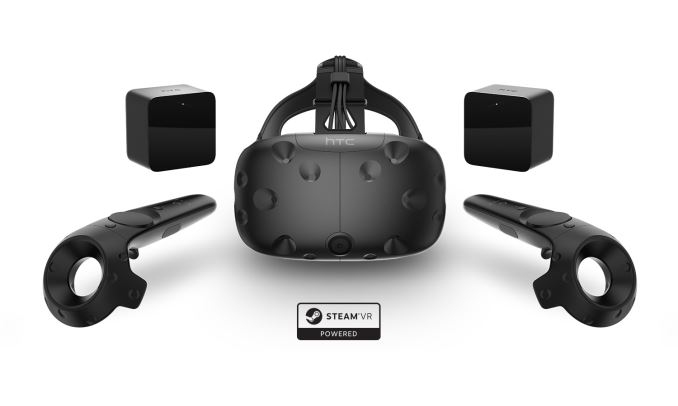 After what seems like entirely too long a wait, the consumer VR headset business is finally in full swing. Last week we saw the launch of Oculus's Rift, and now this week we have the second of the major VR headsets launching, the HTC Vive. A joint development project between the reclusive game developer Valve and mobile manufacturer HTC, the Vive offers a second take on what a first-generation consumer VR headset should look like and be capable of doing.
Today is the official launch of the headset, as HTC begins delivering the headset to pre-order customers. Unfortunately the headset is in short supply, and if you didn't pre-order one back at the end of February you're going to be waiting a bit for a chance to get one, as HTC is not taking further pre-orders at this time. Nor at this point it's not clear what's going to be faster: waiting for pre-orders to open, or trying to snag a retail unit in May.
In any case, alongside the launch of the Vive, there are also driver updates to talk about. AMD pushed out a new Radeon driver release last night – 16.4.1 – and while their previous release already supported the Vive, this latest release in turn offers the latest support for the headset. Meanwhile NVIDIA is not releasing a new driver update today – last week's driver is already fully qualified – but they do have a blog post up celebrating the launch of the Vive.
HTC Vive Retail: First Impressions
While a full review of the Vive is still in the works for the future, I wanted to offer some impressions of using the final, retail headset at GDC 2016. There the Vive was on demonstration at several locations, including Epic Games' booth, and Valve's own ballroom center. Although my time with the headset was somewhat limited – VR headsets were by far the most popular attraction at GDC and as many people wanted to see them as possible – I did have a chance to check out the headset with both Valve and Epic's demos.
Starting then with the Valve demo, the company was at the show to showcase the headset and their accompanying The Lab game, a collection of mini-games more or less set in the Portal universe. The version of The Lab the company was showing off was incomplete – only four of the mini-games were available – so I can't comment on the complete package. But if you're familiar with mini-game collections such as early Wii titles, then you should have an idea of the kind of smorgasbord experience Valve is going for here.
HTC Vive Specifications
Display
2x OLED
Resolution
2160x1200 (combined)
1080x1200 (per eye)
Refresh Rate
90 Hz
FOV
~110°?
Sensors
Gyroscope
Accelerometer
Laser Position Sensor
Position Tracking
2x "Lighthouse" Base Stations
Audio
BYO, Earbuds Included With Kit
Controls
2x Vive Motion Controller
Launch Date
04/05/16
Launch Price
$799
But before we get too far into The Lab, let's talk about the Vive headset itself. The units Valve was using at GDC were not any different from the first Vive Pre units announced at CES 2016 in January, and while I don't have confirmation of this, at this point I would be surprised if the retail units are physically any different from the Pre units, as I wasn't able to spot any differences. In either case, my initial impression is that while Valve isn't doing the hardware manufacturing themselves – HTC getting that honor – it does at times show that level of polish that Valve products are known for.
With the Vive, Valve is looking to push room-scale VR right off the bat, which sets it apart from the Oculus Rift and its initial, Xbox One controller-based experience. To that end the Vive ships with the headset itself, two base stations for tracking the user, and two handheld motion controllers. What you won't find with the Vive is any kind of gamepad, and while Valve isn't preventing developers from doing more traditional games – the space sim Elite: Dangerous already supports the Vive – they are clearly trying to get developers into the mindset of working with motion.
In terms of specifications and capabilities, the Vive headset sports a pair of 1080x1200 OLED panels – one per eye – for a combined 2160x1200 experience that runs at 90Hz. As a first-generation headset The Vive is otherwise quite similar to the Oculus Rift in a lot of fundamental ways, and I wouldn't be surprised if both headsets are sourcing OLED panels from the same manufacturer. This parallel development between the two headsets means that there's a lot in common between the two, but there are also some notable differences. And with apologies to Valve and HTC here, I'm going to make a lot of comparisons to the Rift as comparing and contrasting the two helps to understand the strengths and weaknesses of both devices.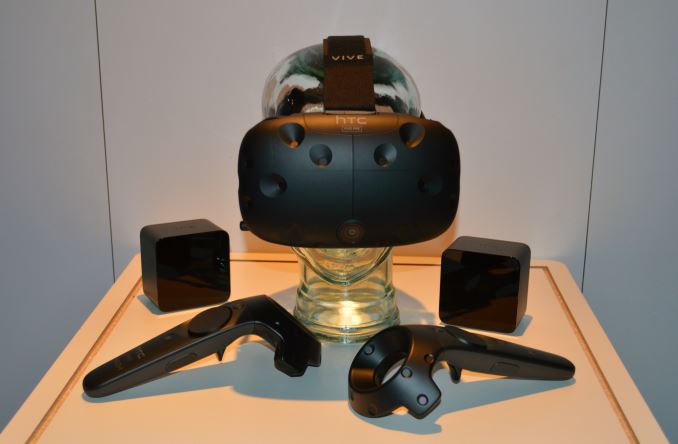 The display itself is of course paramount, and a lot of my experiences with the Rift are applicable to the Vive as well. This is a first-generation headset and clearly so; the screen-door effect is not strong, but depending on the kind of content being used, it is present at times. Valve's own demos tend to be more abstract, which hides this fairly well. But games with more details, such as the Star Wars Trials on Tatooine tech demo, fare a bit worse.
There is going to be a lot written (and even more debated) about which headset is better, and while I won't make a definitive claim until I can fully review both headsets, I will say that the optics alone are very different. The Vive and Rift are clearly doing different things with their lenses, and in my experience so far I've found that the Vive is more prone to chromatic aberrations than the Rift. Reading text, for example, is harder on the Vive, and it seems like the sweet spot is smaller, to the point that you need to get any text straight in front of you for best results.
However I'm unsure whether this is a headset configuration issue, or just something inherent to the Vive. There's also the matter of whether having a blurrier experience at the peripherals is more useful or not; in my limited experience with the Vive, it seemed to work fine. Unfortunately I don't have a good feel for the field of view yet, as I really need the two headsets side-by-side to make that determination.
At this point I feel like I need more time on the Vive to get a great feel for how well it's handling head-tracking, but I did not notice any immediate problems using the headset. In every Vive demo I've used, head tracking has registered to my conscious mind as instant, and I've had little trouble adapting (sometimes to the chagrin of the booth operator, as it's similarly easy to get a bit too into the game and start drifting towards their expensive monitors with my long reach). However re-acclimating to the real world after using the Vive was a bit more of a challenge than it was with the Rift; I needed longer to get my proper sense of depth perception back. But admittedly I'm not sure if this is a Vive thing or the fact that it was after 4pm in the afternoon when I finally wrapped up with Valve's demo.
Meanwhile in terms of fit the Vive fits more or less like the Rift, which is to say that it's a sturdy fit that can stretch to accommodate even my large head. Weight also seems to be good, as the headset doesn't seem to pull too hard or get tiring to wear even with its front-heavy nature. Meanwhile in a notable difference from the Rift, the Vive does not include any kind of built-in headphones. This means that the user will need to bring their own audio gear, which opens up a lot of options for sound – everything from earbuds (which are included with the retail kit) to high-end headphones can be used here – but it does mean that putting on the Vive is a bit more involved since you need to put on the headset and then the headphones (and then the motion controllers).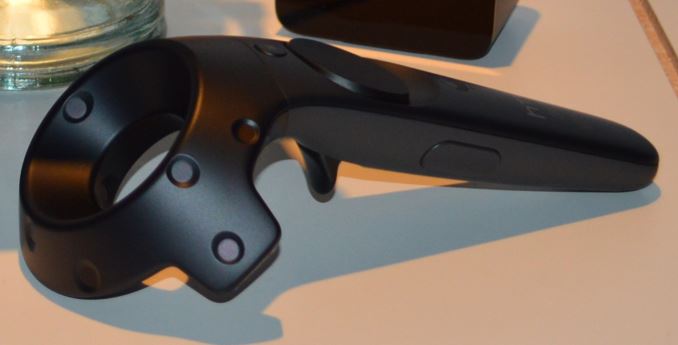 Speaking of the motion controllers, this is without a doubt the biggest differentiator from the Rift at this time, as it's the motion controls that unlock the room-scale experience Valve is pushing. If I can make another Wii analogy here, in-hand the Vive motion controllers have a similar feel, but of course with the Vive's far better tracking and sensors. The motion controllers feel natural to use, and while it takes a bit of time to get used to using them without being able to see the buttons, it's a quickly acquired skill. Having used both this and the forthcoming Oculus Touch controller, I will say that they have different feels to them and it will be noticeable; it's a Wii-like wand versus what I can only describe as a more brass-knuckles kind of feeling to the Oculus.
Getting back to the software then, throughout my experience with the Vive, I keep gravitating back to Wii comparisons, as coupled with the controller that is the most intuitive way to describe the experience. It's highly accurate position tracked Wii remotes with a VR headset. There's going to be a lot of experimentation here, both inside and outside of Valve, as developers get a feel for how motion controls need to work in a VR environment.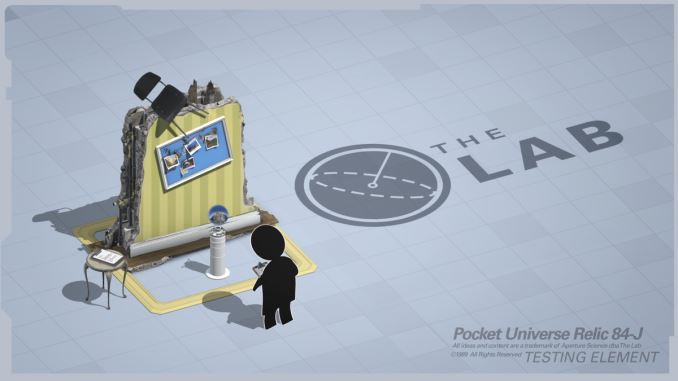 The Lab of course is Valve's internal effort to work this out with a tried and true mini-game collection. The GDC demo was composed of four experiences (I hesitate to call all of them games): what's best described as a sight-seeing tour around Washington's Vesper Peak, a slingshot game based around lobbing Portal 2 personality cores at distant stacked crates and exploding boxes (think first-person Angry Birds), an archery game defending yourself from the 2D cardboard cutout-like humans in various Aperture Science media, and finally a bullet hell shoot 'em up that has no discernable Portal tie-in, in which your right hand is the ship and the action takes place in 3D. All of these demos are clearly meant to demonstrate a different concept of motion controls, and while I only had a few minutes with each, the shoot 'em up was probably the most fun (and most likely to get someone a punch in the face). There are more mini-games in the full version of The Lab, and while I can't say for sure whether any one game will be the stand-out, of what I've seen so far this looks like a fun and competent collection of games, and a good starting point for future games for Valve and other developers.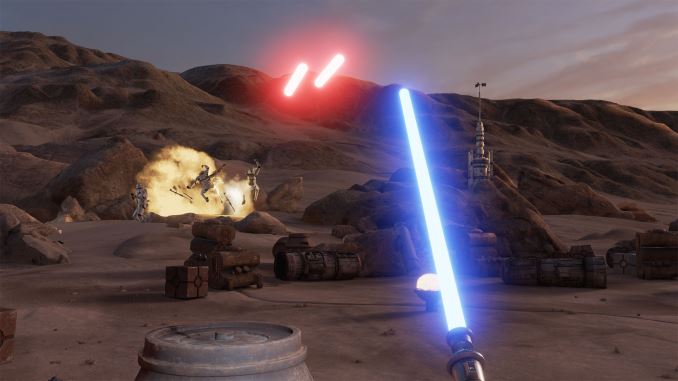 Speaking of other developers, Lucasfilm's ILMxLab also had a presence at GDC, teaming up with Valve and others to show off Star Wars: Trials on Tatooine, which is part of their own experiments with interactive story telling. The demo is somewhere between a game and a real-time rendered VR movie, with a fairly lengthy cut-scene leading into a few minutes of VR motion-inspired gameplay, the highlight of which is deflecting blaster bolts at Stormtroopers. ILM was very clear about this being an experiment, and this does show at times, but it's an example of one possible way we could see VR gaming and story telling go in the future.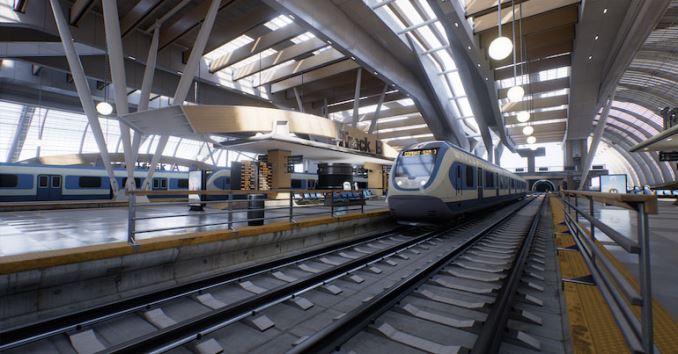 Finally, Epic Games' also had Vives on-hand at their booth to show off Trials on Tatooine along with the latest build of their Bullet Train VR demo. A full interactive experience, Bullet Train is the most combat-focused of all of the VR demos I've tried so far, having the user teleport around and use various guns to take out an attacking force inside of a train station. Between physical attacks, shooting, and picking bullets out of the air and throwing them back at the attackers, Bullet Train managed to keep things varied.
A common theme in all of this is that developers are still in an experimental stage for game design, and while today's launch of the Vive hardware marks the true beginning of consumer VR hardware, the software side is still in its infancy. Valve's vision of room-scale motion controlled VR is going to take some time to evolve, but I'm curious to see where we end up in the years to come. In the more immediate future, it will be early titles like the pack-ins Fantastic Contraption and Job Simulator that set the initial pace for Vive VR gaming.
Zotac ZBOX MAGNUS EN980: A Small PC For Room-Scale VR
Finally, while checking out the Vive I also had a chance to stop by and quickly chat with Zotac, who was close by showing off their upcoming ZBOX MAGNUS EN980 mini-PC. Besides Valve's demo area being a high-traffic location that's great to get some attention, Zotac's planning also highlights the fact that room-scale VR as Valve is planning for does not necessarily mesh well with traditional tower-style PCs. Going back to the Wii as an example, in most homes I suspect the only place large enough (and safe enough) for the upwards of 15ft x 15ft experience that Valve is planning for is the living room, and while this doesn't preclude using a tower, it's perhaps not the best environment for it. To that end Zotac is showing off their EN980, which they are specifically pitching for use as a small form factor VR machine.
ZOTAC ZBOX MAGNUS EN980 Specifications
Processor
Intel Core i5-6400
Memory
DDR3L SO-DIMMs
Graphics
NVIDIA GeForce GTX 980 For Notebooks
Storage
M.2 SSD, one or two 2.5" SSDs/HDDs
Networking
2x Gigabit Ethernet
IEEE 802.11ac Wi-Fi and Bluetooth
Audio
Capable of 5.1/7.1 digital output with HD audio bitstreaming (HDMI)
I/O
USB 3.0 (Type-A), USB 3.1 (Type-C), SD card reader, HDMI
Operating System
Compatible with Microsoft Windows 7, 8, 8.1 and 10
Inside the EN980 is an Intel Core i5-6400, with is paired with NVIDIA's GeForce GTX 980 for Notebooks, their most powerful mobile video card. This is especially notable as this is the only mobile GeForce card fast enough to meet Valve's recommended system requirements for the Vive. With the EN980, Zotac is essentially aiming to develop a console-sized PC that would be at home next to the traditional consoles, except suitably powerful enough for VR.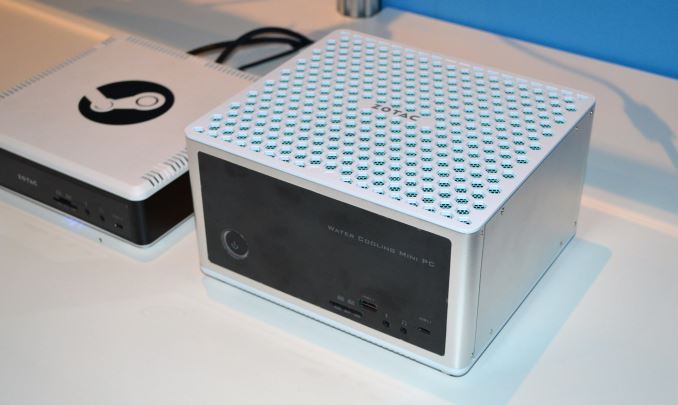 Zotac's EN980 Next to their Steam Machine
The device as they've been showing it off is still a prototype (though near-final), with the final unit expected to launch at Computex. While the price will undoubtedly be high given the components they're using, I do feel that Zotac has the right idea for how small form factor PCs will be relevant to the room-scale experience. However with the current prototype I do fear that Zotac has overlooked I/O port placement – specifically, the HDMI port is on the back instead of being on the front for easily plugging in a Vive – and there is talk of including a break-out box of some kind to make these ports accessible from the front. Overall I wouldn't be surprised to see the EN980 and similar designs become a small but noticeable niche for VR, as if Vive sales are any indication, there is a need for VR-capable machines for the living room.