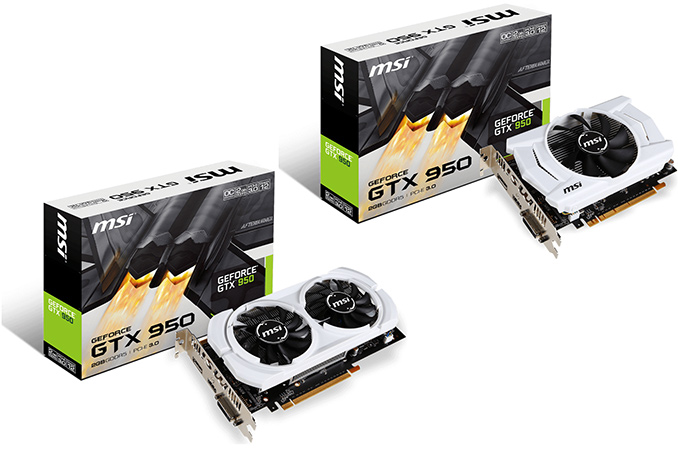 A standard GTX 950 reference design comes in at a 90W TDP, which means it requires a 6-pin PCIe power connector as the standard PCIe slot is typically rated to only provide 75W. However, we have seen a couple of AIB partners introducing new 75W versions of the GTX 950 to come in under the limit, and as a result remove the 6-pin PCIe connector needed. One of those is MSI, who has introduced two new video cards that can be powered solely by the PCI Express connection. The low-power GeForce GTX 950 graphics boards from MSI follow similar graphics adapters from ASUS and indicate that there are NVIDIA's GM206-251 GPUs. At this point we might conclude that the '251' nomenclature refers to the specific silicon design which might afford lower power operation.
The two new cards from MSI are the GeForce GTX 950 2GD5T OCV3 and the MSI GeForce GTX 950 2GD5T OCV2 and are based on the GeForce GTX 950 (GM206) in its default configuration: 768 stream processors, 48 texture units, 32 ROPs as well as a 128-bit GDDR5 memory interface. The GPUs of both cards are clocked at 1076 MHz, but can increase their frequencies to 1253 MHz in boost mode. Both graphics adapters are equipped with 2 GB of GDDR5 memory clocked at 6.6 Gbps, a dual-slot cooling system with an aluminum heatsink, one DVI connector, one HDMI 2.0 port and one DisplayPort output. As mentioned above, neither of the boards require additional PCIe power connectors and their TDP does not exceed 75 W.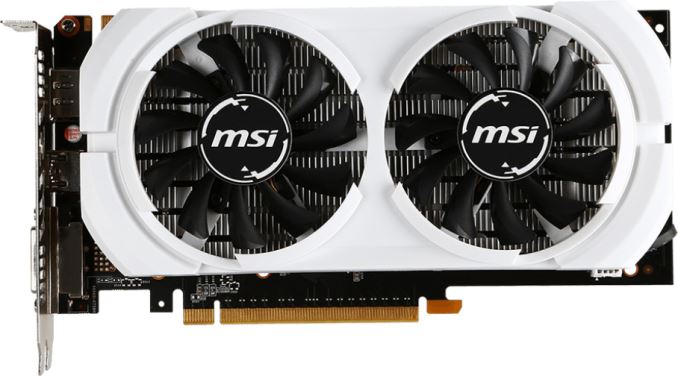 The two cards differ in their cooling and length. The first one is the GTX 950 2GD5T OCV3 uses a dual fan design and features a longer PCB which is designed to focus on a typical desktop PC. The shorter GTX 950 2GD5T OCV2 uses a single fan and seems to be designed for mini-ITX systems. Thanks to the fact that the GM206 GPU features hardware-accelerated decoding and encoding of H.265 (HEVC) video and fully supports HDCP 2.2 content protection over HDMI 2.0, the OCV2 card could be a fine choice for small form-factor home-theater PCs.
That being said we have noticed that on the stock photographs that the smaller model eliminates some of the PCI Express pins for an unknown reason, so the exact feature-set is to be confirmed. We have put questions to MSI on this and will update when we have a response.
Graphics cards based on the GeForce GTX 950 GPUs with lowered power consumption can be used not only to build SFF HTPCs, but also to upgrade cheap desktop systems, which sometimes do not have a spare PCIe power connector inside. Previously NVIDIA's partners only offered GeForce GTX 750 Ti without auxiliary power connectors, but this adapter is already two years old, and its performance may not enough for modern titles.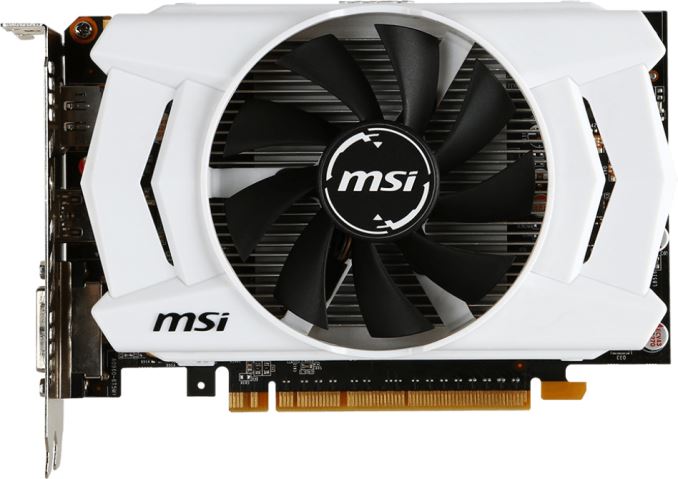 Now there are (at least) two graphics cards suppliers who offer GeForce GTX 950 adapters with lowered power consumption, it is likely that other companies will follow them as well. It is unclear whether NVIDIA officially sells GM206 GPUs with low TDP to address the market of entry-level desktops, or companies like ASUS or MSI simply hand-pick GPUs that do not need more than 75 W of power to function properly. In any case, it is evident that such GPUs exist and are in demand enough that the AIB partners want to produce them.
NVIDIA Video Card Specification Comparison
MSI GTX 950 OCV2/3
ASUS GTX950-2G
Ref
GTX 950
Ref
GTX 960
Ref
GTX 750 Ti
CUDA Cores
768
1024
640
Texture Units
48
64
40
ROPs
32
16
Core Clock
1076 MHz
1026 MHz
1024 MHz
1126 MHz
1020 MHz
Boost Clock
1253 MHz
1190 MHz
1188 MHz
1178 MHz
1085 MHz
Memory Clock
6.6 Gbps
GDDR5
7 Gbps
GDDR5
5.4 Gbps
GDDR5
Memory Bus Width
128-bit
VRAM
2 GB
2/4 GB
2 GB
TDP
75 W
90 W
120 W
60 W
Architecture
Maxwell 2
Maxwell 1
GPU
GM206
GM107
Transistor Count
2.94 B
1.87B
Manufacturing Process
TSMC 28nm
TSMC 28nm
Launch Date
03/16/16
03/16/16
08/20/15
01/22/15
02/18/14
Launch Price
unknown
unknown
$159
$199
$149
Exact prices and release dates of MSI's GeForce GTX 950 2GD5T OCV3 and GeForce GTX 950 2GD5T OCV2 graphics cards are unknown. Keeping in mind that the boards are not exclusive products available only from MSI, their prices will hardly be very high and will be near the GTX 950's MSRP of $159.
Source: MSI