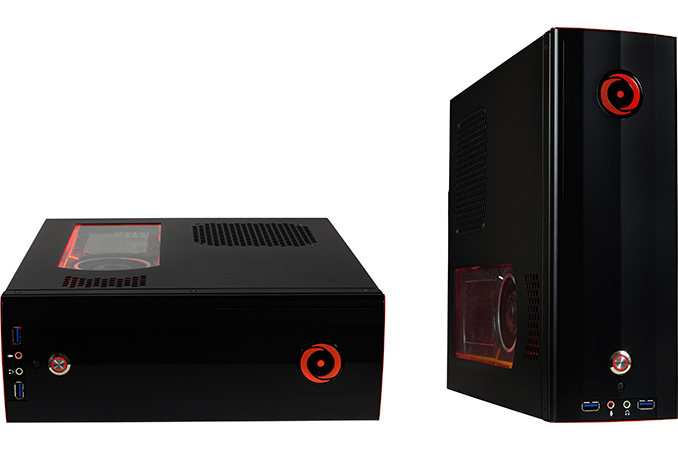 Boutique system builder Origin PC on Monday officially launched its new Chronos SFF gaming PCs. Initially announced at CES 2016, the new Chronos SFF is the latest design in an increasing trend of SFF PCs developed by boutique builders, who have been able to take advantage of advancements in fields such as liquid cooling and M.2 storage to put complete, high-end systems into cases built around the mini-ITX form factor. As a result the latest Chronos SFF design is compatible with the highest-performing Intel Core i7 or Xeon microprocessors and graphics cards, and also supports enhanced expansion capabilities thanks to all-new custom chassis exclusive to the company.
The new Origin Chronos SFF design is based around mini-ITX motherboards for Intel Core processors in LGA1151 packaging or Intel Core/Xeon processors in LGA2011-3 form-factor. The mainboards are powered by the Intel Z170 or the Intel X99 platform controller hubs and Origin PC offers to choose between the GIGABYTE Z170N-Gaming 5, the MSI Z170I Gaming Pro AC and the ASRock X99E-ITX/AC/USB 3.1. The manufacturer will start to offer multi-core Intel Xeon processors with its new Chronos SFF PCs (something, which it does not do with its current-gen SFF PCs), which will conceivably make it possible to install even Intel's top-end 18-core Intel Xeon E5-2699 v3 CPU with 45MB cache into the system and transform it into an SFF workstation. Though for those who prefer the overclockable Core i5/Core i7 processors, Origin will continue to provide their $75 factory-overclocking service.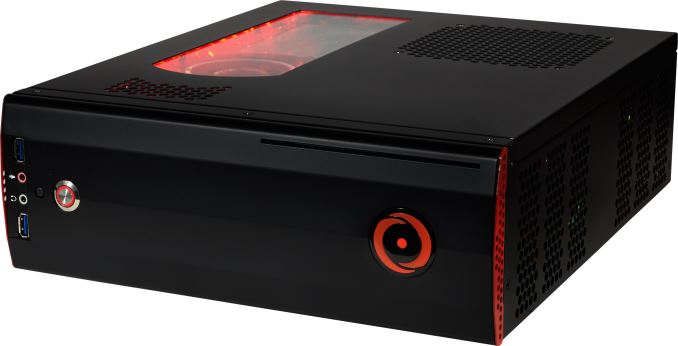 The new Origin Chronos PCs utilize the company's all-new new chassis that has enough space to fit a full-size (2.5 slot) graphics card (such as the GeForce GTX Titan X or the Radeon R9 390X), the Origin Frostbyte 12 sealed liquid-cooling solution for CPUs, one 3.5" HDD, four 2.5" HDDs/SSDs, and a slim optical disc drive. Previous-generation Chronos PCs featuring SilverStone's SG08 chassis could only house one 3.5" and two 2.5" storage devices. Keeping in mind that the all three mini-ITX motherboards used by Origin PCs feature M.2 slots for SSDs, the new Chronos systems can house up to six storage devices. In addition, the ASRock X99E-ITX motherboards support one eSATA device. The new chassis measures 11.75"(H) x 4" (W) x 13.75" (D) and supports both horizontal and vertical orientation, while utilizing an SFX form factor PSU to further cut down on space.
Specifications of 2016 Origin PC Chronos SFF Systems
MSI Z170I Gaming Pro AC
GIGABYTE Z170N-Gaming5
ASRock X99E-ITX/AC/USB3.1
CPU
Intel Core i5/i7 Skylake-S
Intel Core i7/Intel Xeon
PCH
Intel Z170
Intel X99
Graphics
Up to AMD Radeon R9 Fury X or NVIDIA GeForce GTX Titan X
Memory
Two DIMM slots, up to 32 GB of DDR4-3000
M.2
One M.2 (PCIe 3.0 x4) slot for up to 2280 SSDs
SATA connectors
4
2
4
SATAe connectors
1
2
1
eSATA connectors
0
0
1
Storage bays
1x3.5", 4x2.5", 1x5.25"
Wi-Fi
802.11ac + BT 4.2
802.11ac + BT 4.2
802.11ac + BT 4.0
Ethernet
Intel I219V GbE
Killer E2201 GbE
Intel I218V GbE
Intel I211AT GbE
Display Outputs
1 HDMI,
1 DisplayPort
1 HDMI
1 DVI-D
None
Audio
Five 7.1-channel audio connectors, a mini-jack for headphones, a mini-jack for microphone
USB
USB 3.0 type-A
USB 2.0 type-A
1 USB 3.1 type-A
1 USB 3.1 type-C
USB 3.0 type-A
USB 2.0 type-A
2 USB 3.1 type-A (10 Gbps, ASMedia ASM1142)
USB 3.0 type-A
USB 2.0 type-A
Dimensions
11.75" (H) x 4" (W) x 13.75" (D)
298.45mm (H) x 101.6mm (W) x 349.25mm (D)
PSU
Internal, SFX
Due to constraints of mini-ITX motherboards and currently-available memory modules, the Origin Chronos SFF PCs cannot support more than 32 GB (2 x 16 GB) of DDR4 memory. But that is about the only serious constraint the new systems have. Thanks to the fact that modern mini-ITX platforms integrate pretty much everything one can wish, the Chronos PCs will offer USB 3.1/3.0 ports, Gigabit Ethernet, 7.1-channel audio, Wi-Fi 802.11a/b/g/n/ac wireless connectivity and so on.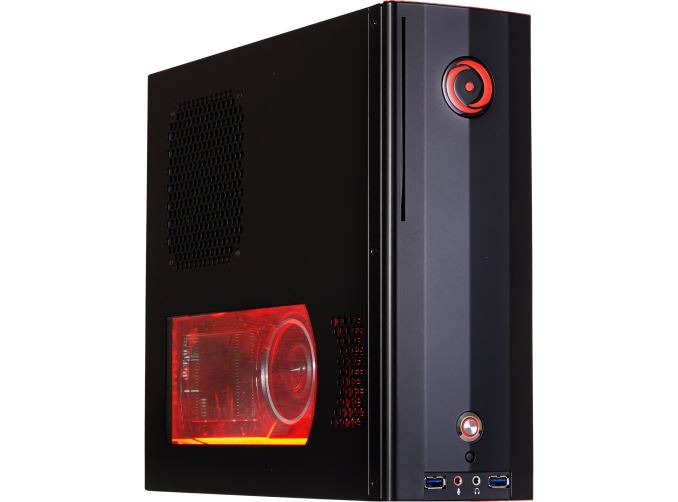 Just like you would expect from a boutique PC maker, Origin PC offers custom paint, extended warranty and service as well as a bunch of exotic and high-end hardware to install. For example, it is possible to thrown in an HGST Ultrastar He8 8 TB hard drive or an NVIDIA GeForce GTX Titan X graphics card, two hardware components that are not easy to get. In addition, Origin PC can install a video capture device and the Creative Sound Blaster X-Fi Surround 5.1 Pro USB audio solution to the system.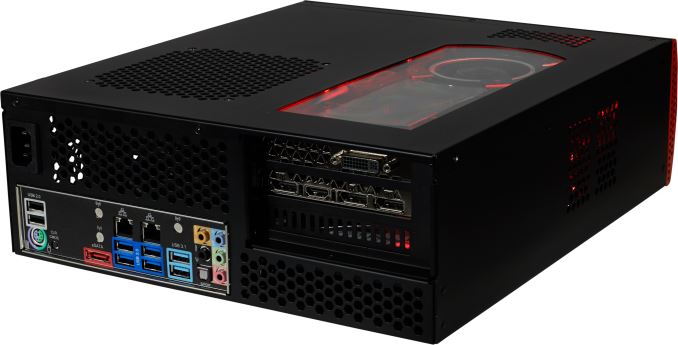 Origin PC does not specify baseline prices of the new Chronos SFF gaming PCs, but like with all bespoke boutique systems, sky is the limit when it comes to configuration and pricing.
Source: Origin PC