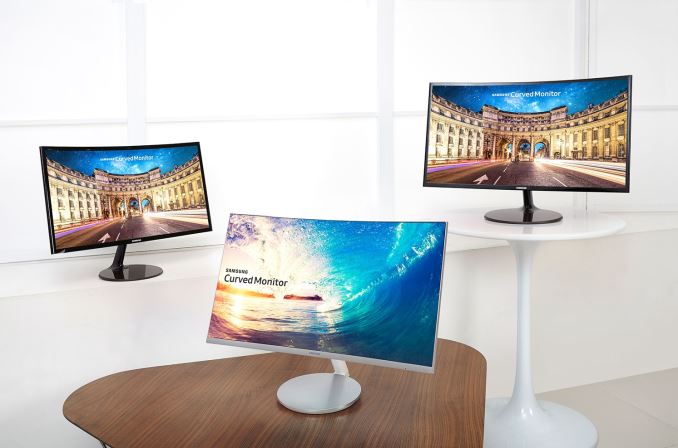 One of the big things to come out of Computex last year was our exclusive preview of a new project by AMD: being able to bring variable refresh rate technology through HDMI rather than via the more traditional method, DisplayPort. At the time, the demo seemed limited to a single monitor using a custom protocol between the standard GPU and a Realtek TCON with custom firmware to enable it. HDMI by default does not support the commands for a variable refresh rate, but the custom protocol additions made it possible with AMD wanting to move the standard in order to do so. At the time we were told that AMD wasn't looking to produce the monitors needed to drive it, but wanted to open the standard up so any monitor manufacturer. In December, AMD announced that several manufacturers had stepped up to the plate, including Samsung, LG and Acer, with Samsung seeming to commit to more retail models than the others. Today's announcement is a culmination of that effort.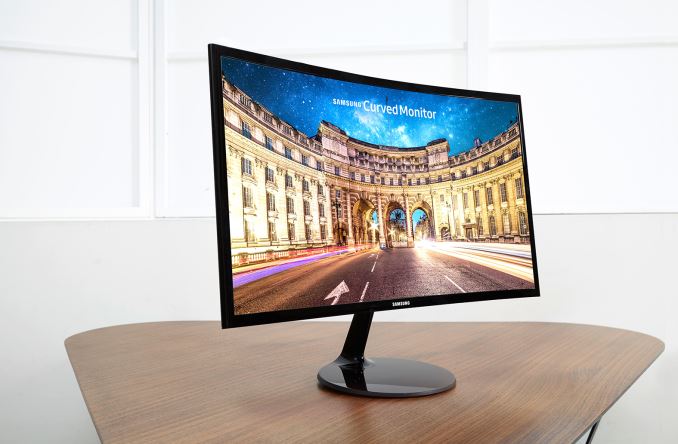 The CF390 (23.5-inch and 27-inch) and CF591 (27-inch only) are two panels that differ primarily in screen size and IO capabilities, but offer a couple of distinct features: FreeSync-over-HDMI support and an 1800R curve. This means that the circle that defines the curvature of the panel has a radius of 1800 mm (70.866 inches), which is much tighter than other panels on the market (2700R or 3000R typical). These panels are a mix of high quality and FHD resolution, promoting a 3000:1 contrast ratio and 119% sRGB coverage on the CF591 models.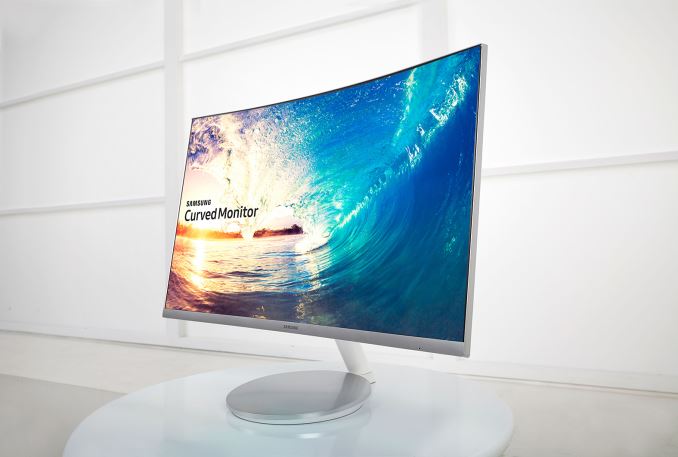 The monitors will also come with specific gaming modes, which adjusts picture conditions depending on the light/dark areas of content as well as attempting to minimize stuttering and tearing. This is alongside Samsung's Eye Saver Mode, which reduces blue color intensity, and various flicker-free functionality.
The VA panels use a circular stand, they support 16.7 million colors (8-bit per channel), and have a rated brightness of 250 nits. The CF591 27-inch model is available in silver and white, whereas the CF390 models are black/glossy only. The CF591 also has DisplayPort, two HDMI 1.4 ports, D-Sub and audio in, whereas the CF390 models are solely D-Sub and HDMI. No word if either monitor has additional USB functionality.
These new monitors will be available in the US, Europe and Asia in March, with other regions coming in April. They require an AMD variable refresh rate capable graphics card to enable the mode. Currently Samsung has the refresh rate listed as '60 Hz', not stating the Freesync minimum or maximum refresh rates supported. We're looking into this, as well as intended MSRPs and will update if we get additional information.
As an interesting talking point, while the technical demo about FreeSync-over-HDMI was a poignant part of our Computex coverage, it needed that impetus from the panel manufacturers. When it works, it clearly is a value-add to certain models, without requiring DisplayPort or additional hardware as is the case of G-Sync. Ultimately the variable refresh rate technology market felt (subjectively) limited by the DisplayPort limitation, mainly because so many panels were already HDMI and HDMI has essentially become the in-home standard (whether that's 1.4 or 2.0). Now that FreeSync has been ported over, assuming it all works out of the box and can be easily ported depending on controller firmware or the panel, it has the potential to become one of the dominant variable refresh rate implementations; especially if prices can reach parity with non variable refresh rate displays, meaning the only link in the chain is the GPU supporting the standard. With these curved panels, clearly they're not casual purchases for sure, but it shows the technology moving in this direction. We expect to see more panels released this year with FreeSync-over-HDMI, and it will be interesting to see what markets the monitors will be focusing on.
Source: Samsung (via The Tech Report)
Related Reading
New HP Laptops to Feature AMD FreeSync
Samsung Launches Two FreeSync UHD Monitors
AMD Demonstrates FreeSync-over-HDMI Concept at Computex 2015
The AMD FreeSync Review