Introduction and Setup Impressions
The success of the ultra-compact form factor (UCFF) PCs have made vendors realize that small and power-efficient computing platforms are here to stay. ARM SoC vendors, finding that the tablet market had reached saturation, kickstarted a new product category in the form of 'HDMI sticks'. As a computing platform, they were smaller than the ultra-compact form factor PCs - just looking like an oversized USB key. Intel announced the Compute Stick at CES to bring one of the first Wintel platforms into this space. Late last month, Google also introduced the Chromebit, a Chrome OS-based HDMI stick. Both of these point to the 'stick' computing platform being more than just a passing fad. The Intel Compute Stick we are reviewing today comes with Windows 8.1 with Bing (32-bit) pre-installed, making it ready to roll right out of the box.
The specifications of our Intel PPSTCK1A32WFC review configuration are summarized in the table below.
Intel PPSTCK1A32WFC Specifications
Processor
Intel Atom Z3735F
(4C/4T x 1.33 GHz, 22nm, 2MB L2, 2.2W SDP)
Memory
1x 2GB DDR3L-1333 C9
Graphics
Intel HD Graphics
Disk Drive(s)
Samsung MBG4GC 32 GB eMMC
Networking
1x1 Realtek RTL8723BS 802.11n W-Fi
Audio
Capable of 5.1/7.1 digital output with HD audio bitstreaming (HDMI)
Operating System
Windows 8.1 with Bing x86
Pricing (As configured)
USD 150
Full Specifications
Intel PPSTCK1A32WFC Specifications
The Atom Z3735F belongs to the Bay Trail-T family - the set of SoCs with Silvermont Atom cores that target the tablet market. Analysis of the Bay Trail SoCs has already been done in some of our previous reviews.
The Intel PPSTCK1A32WFC kit comes with the OS pre-installed. The drivers are available from Intel's site. In addition to the main unit, the other components of the package include a 10 W (5V @ 2A) adapter with a USB port along with a USB Type A to micro-USB cable, a HDMI extender cable and different detachable power plugs for usage anywhere around the world.
We had a very difficult experience managing our ECS LIVA review with just 32 GB of eMMC storage. Fearing a similar situation, we decided to augment our review unit with a Patriot EP series 64 GB microSDXC card.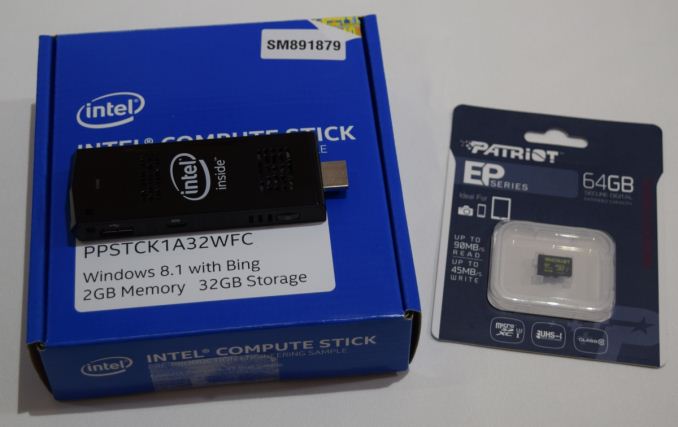 In the table below, we have an overview of the various systems that we are comparing the Intel PPSTCK1A32WFC against. Note that they may not belong to the same market segment. In fact, the review model is the only one of its kind that we have evaluated so far. That said, we are including systems that have comparable cost - so that users can get an idea of how much they are sacrificing or gaining with the stick form factor. The relevant configuration details of the machines are provided so that readers have an understanding of why some benchmark numbers are skewed for or against the Intel PPSTCK1A32WFC when we come to those sections.
Comparative PC Configurations
Aspect
Intel PPSTCK1A32WFC
CPU
Intel Atom Z3735F
Intel Atom Z3735F
GPU
Intel HD Graphics
Intel HD Graphics
RAM
2GB DDR3L
9-9-9-24 @ 1333 MHz
2GB DDR3L
9-9-9-24 @ 1333 MHz
Storage
Samsung eMMC MBG4GC
(32 GB; eMMC 5.0-compatible)
Samsung eMMC MBG4GC
(32 GB; eMMC 5.0-compatible)
Wi-Fi
Realtek RTL8723BS 802.11n SDIO Network Adapter
(1x1 802.11n - 150 Mbps)
Realtek RTL8723BS 802.11n SDIO Network Adapter
(1x1 802.11n - 150 Mbps)
Price (in USD, when built)
$150
$150