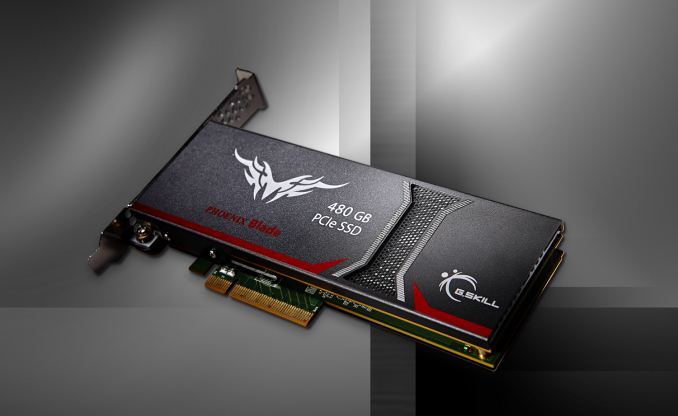 G.Skill hasn't been a very visible SSD OEM lately. Like many DRAM module companies, G.Skill entered the market early around 2009 when the market was very immature and profits were high, but lately the company has more or less been on a hiatus from the market. Even though G.Skill has had an SF-2281 based Phoenix III in the lineup for quite some time, it never really did anything to push the product and a Google search yields zero reviews for that drive (at least from any major tech review outlet).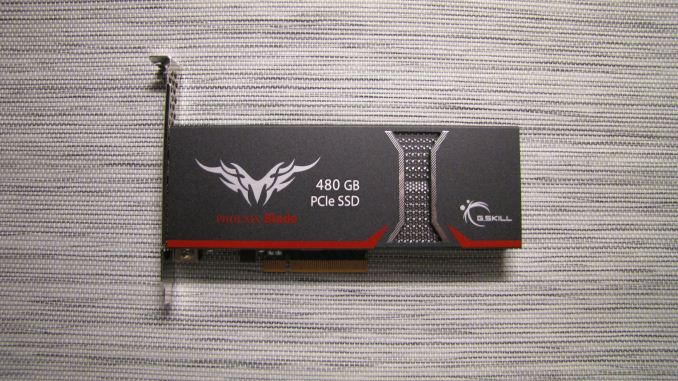 However, back at Computex this year G.Skill showcased a prototype of its next generation SSD: the Phoenix Blade. Unlike most SSDs on the market, the Phoenix Blade utilizes a PCIe 2.0 x8 interface, but unfortunately it is not the native PCIe drive many of you have been waiting for. It is driven by four SandForce SF-2282 controllers in a RAID 0 configuration. It makes sense for G.Skill to pursue the ultra high-end niche because the SATA SSD market is currently extremely populated. It ends up being close to impossible for the smaller OEMs to compete against giants like Samsung, SanDisk and Crucial/Micron while being profitable, since ultimately the NAND manufacturers that are vertically integrated will always have a cost advantage.
G.Skill Phoenix Blade Specifications
Capacity
480GB
Form Factor
Half-Height, Half-Length (HHHL)
Interface
PCI Express 2.0 x8
RAID Controller
SBC 208-2
NAND Controller
4x SandForce SF-2282
NAND
Toshiba 64Gbit 19nm MLC
Sequential Read
Up to 2000MB/s
Sequential Write
Up to 2000MB/s
4KB Random Read
Up to 90K IOPS
4KB Random Write
Up to 245K IOPS
Power Consumption
8W (idle) / 18W (max)
Encryption
AES-128
Endurance
1536TB (~1.4TB per day)
Warranty
Three years
At this moment the Phoenix Blade is only available in 480GB capacity, although G.Skill plans to add a 960GB model later. 480GB is a logical choice because for the target group 240GB would be too small in many cases and doesn't provide the same level of performance, whereas the cost of the 960GB would push most shoppers away. In the end, G.Skill hasn't been actively involved in SSDs recently, so doing a 'soft' launch and observing the market's reaction is a safe strategy.
The interesting spec is the endurance and it's not a typo. G.Skill is indeed rating the Phoenix Blade at 1,536TB, which translates to 1.4TB (i.e. 1433.6GB) of writes per day for three years. I asked G.Skill about the rating method and I was told it's simply raw NAND capacity multiplied by the number of P/E cycles, which is then divided by the average write amplification. G.Skill assumes an average write amplification of 1x due to SandForce's real-time data compression, so 512GB*3,000/1 yields 1,536TB. As G.Skill's SSD venture is solely consumer focused, it has no reason to artificially limit the endurance to boost its enterprise SSD sales like many vendors do, although I am concerned whether the Phoenix Blade has been fully validated for workloads that write over a terabyte of data per day.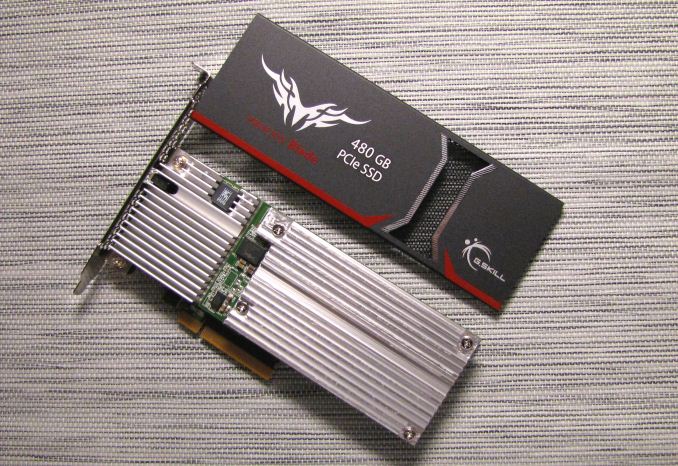 Delving into the Phoenix Blade reveals a massive metal heatsink that covers nearly the whole PCB (or both PCBs, actually). There's plenty to cool since each SF-2282 can draw up to ~4W under load plus at least another couple of watts for the RAID controller, which results in a maximum power rating of 18W according to G.Skill's data sheet.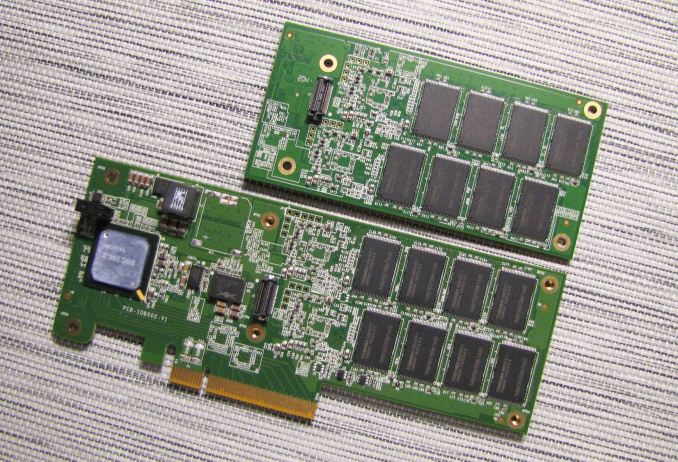 Taking off the heatsinks reveals the main PCB as well as the daughterboard. Both are home to two SF-2282 controllers with each controller being connected to eight dual-die 16GB NAND packages (i.e. 32*16GiB=512GiB of NAND in total).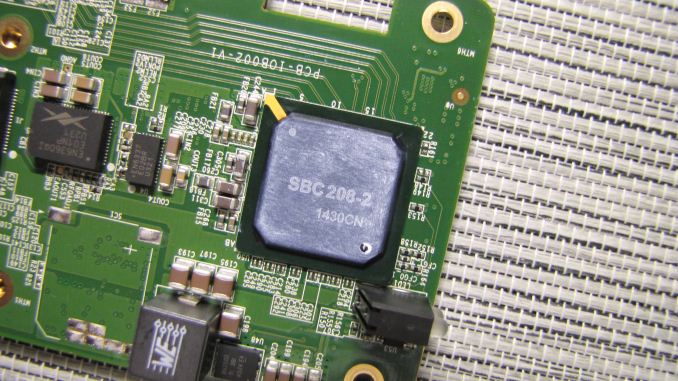 The RAID controller in the Phoenix Blade is a complete mystery. Googling the part number doesn't bring any light to the situation and due to confidentiality agreements G.Skill is tightlipped about any details regarding the controller. My best guess is that the controller features firmware from SBC Designs with the actual silicon coming from another vendor.
Update 12/13: It turns out that the controller has actually nothing to do with SBC Designs as it's from Comay that is a brand used by CoreRise, which is a Chinese SSD manufacturer. In fact, the Phoenix Blade looks a lot like CoreRise's Comay BladeDrive G24, so I wouldn't be surprised if G.Skill was sourcing the drives from CoreRise and rebranding them (nearly all memory vendors do this -- very few do the manufacturing in-house). I'm still inclined to believe that the silicon is from a third party as CoreRise's product lineup suggests that the company doesn't have the expertise that's needed for semiconfuctor design and development, but the firmware is likely unique to CoreRise.
The Phoenix Blade is bootable in any system. Upon boot, the drive loads legacy drivers before the BIOS and hence it can be selected as a boot device just like any other drive. Loading the drivers adds a few seconds to the boot time, but other than that the Phoenix Blade behaves like a normal SATA drive (but with much higher rated peak performance). TRIM and SCSI unmap are also supported.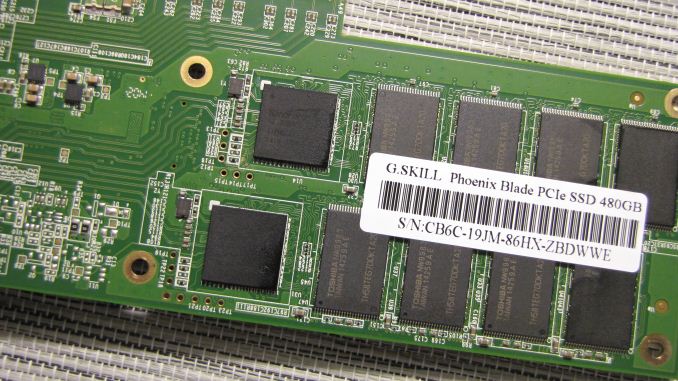 While not easily visible in the photo due to residue from thermal pads, the Phoenix Blade uses the new B2 stepping of the SF-2282 controller. The fundamental design of the controller has remained unchanged, but the new stepping introduces DevSleep support for improved power efficiency, although in this case DevSleep brings no real added value.
Test System
| | |
| --- | --- |
| CPU | Intel Core i5-2500K running at 3.3GHz (Turbo & EIST enabled) |
| Motherboard | ASRock Z68 Pro3 |
| Chipset | Intel Z68 |
| Chipset Drivers | Intel 9.1.1.1015 + Intel RST 10.2 |
| Memory | G.Skill RipjawsX DDR3-1600 4 x 8GB (9-9-9-24) |
| Video Card | Palit GeForce GTX 770 JetStream 2GB GDDR5 (1150MHz core clock; 3505MHz GDDR5 effective) |
| Video Drivers | NVIDIA GeForce 332.21 WHQL |
| Desktop Resolution | 1920 x 1080 |
| OS | Windows 7 x64 |
Thanks to G.Skill for the RipjawsX 32GB DDR3 DRAM kit