Single Client Performance - CIFS & iSCSI on Windows
The single client CIFS and iSCSI performance of the Synology DS1815+ was evaluated on the Windows platforms using Intel NASPT and our standard robocopy benchmark. This was run from one of the virtual machines in our NAS testbed. All data for the robocopy benchmark on the client side was put in a RAM disk (created using OSFMount) to ensure that the client's storage system shortcomings wouldn't affect the benchmark results. It must be noted that all the shares / iSCSI LUNs are created in a RAID-5 volume. The DS1815+ manages to compare favorably against the two other 8-bay solutions we have evaluated before. The benchmark numbers are provided in the graph below.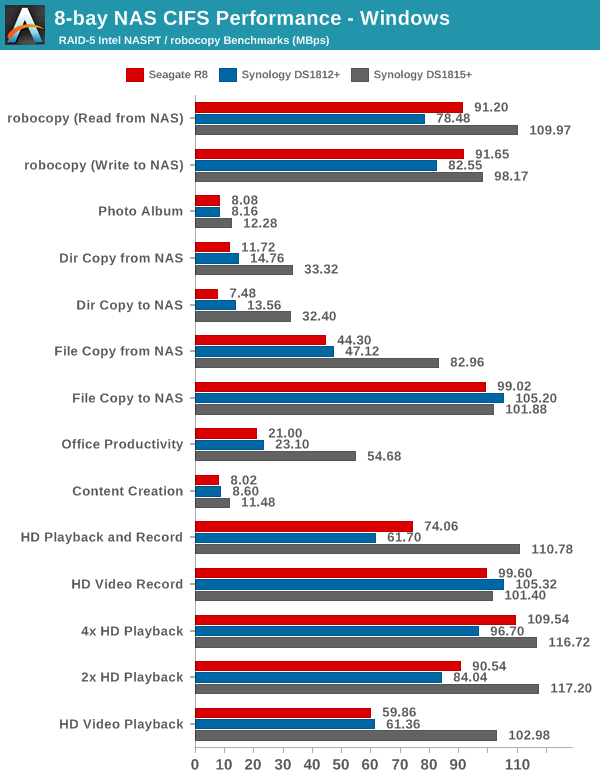 We created a 250 GB iSCSI LUN / target and mapped it on to a Windows VM in our testbed. The same NASPT benchmarks were run and the results are presented below. The observations we had in the CIFS subsection above hold true here too.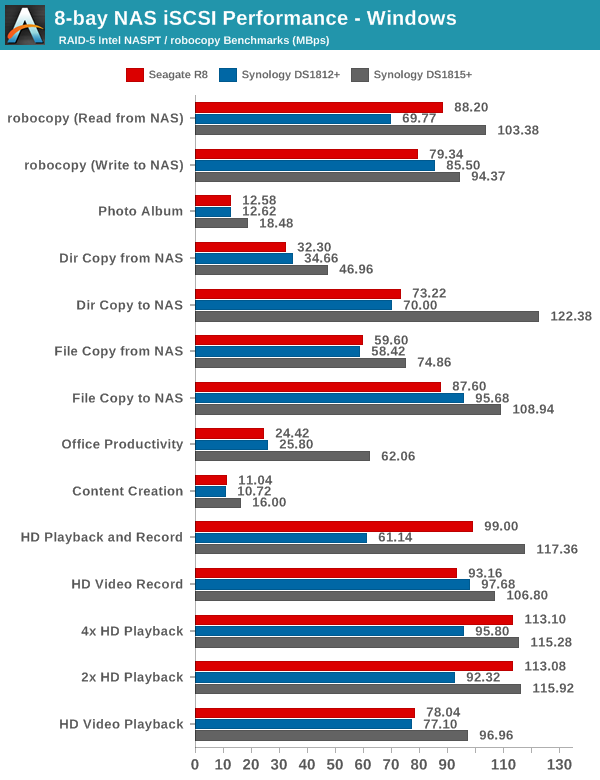 These numbers are only to be expected - the Seagate R8 is based on the Celeron G1610T, a 2C/2T processor running at a lower frequency (compared to the 4C/4T solution in the DS1815+). In addition, DSM is much more mature compared to Seagate's NAS OS back when the R8 was reviewed. The DS1812+, on the other hand, is a Atom D2700 NAS. Evaluation was done with a older version of DSM and, obviously, the newer hardware brings better performance.