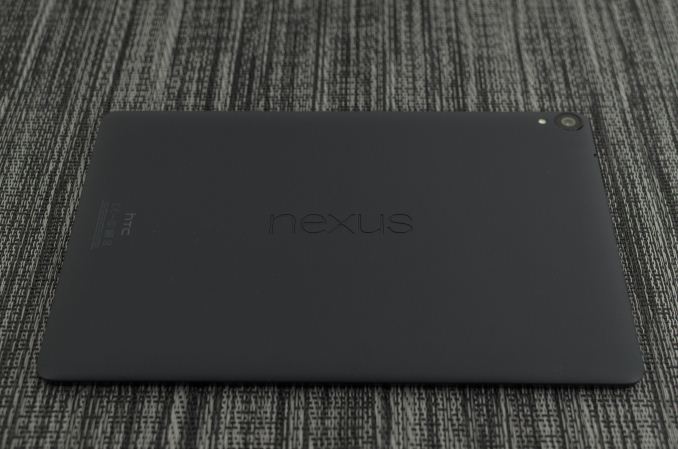 For a few years now, Google has had a generally consistent tablet strategy. Instead of chasing after the ~10 inch tablet segment and focusing upon the high end, we've seen tablets closer to the ~7 inch display size at extremely low cost. While this has been an immensely successful strategy in driving hardware adoption, the formfactor made it possible for the tablet to be closer to a large phone than a small tablet. The flexibility of Android's scaling system meant that an app designed for a phone worked acceptably well for a small tablet, even if the space efficiency was a bit poor. There's no question that the Nexus 7 (2013) was and still is a great tablet, but even now it's obvious that there's a dearth of applications designed specifically for the larger display. The other issue is that of cost. With the Nexus 7 line, Google managed to integrate an incredible amount of hardware into a tablet priced well below the ~500 USD price point that the original iPad established. This is great for the consumer and no doubt great for Google, but the Nexus 7 line was good enough that there wasn't much in the way of competition.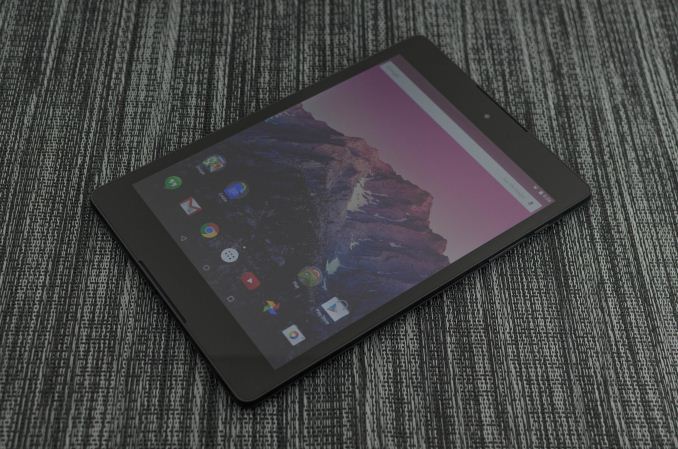 This brings us to the Nexus 9, Google's attempt at changing the Android tablet space. From the start, this device seems to be intent on pushing the Android tablet to a more premium segment. Rather than a purely cost-optimized polymer design, we see the addition of an aluminum ring that runs around the side of the device, which definitely helps with in-hand feel. The tablet itself seems to have high-end aspirations as the launch platform for NVIDIA's Tegra K1-64, which has two Denver CPU cores rather than the traditional 4+1 Cortex A15 setup, along with dual front-facing speakers and a large 9" display with 4:3 aspect ratio. I've included the basic specs in a spec sheet below, to avoid spending too much time going over the basics.
Nexus 9
SoC
2.3GHz 64-bit dual core Tegra K1 Denver SoC
RAM/NAND
2GB LPDDR3 + 16/32GB NAND
Display
8.9" 2048x1536 IPS LCD
Network
WiFi only or 2G / 3G / 4G LTE SKU
Dimensions
153.68 x 228.25 x 7.95mm, 425g WiFi, 436g LTE
Camera

8MP Rear Facing (IMX219) with F/2.4 aperture, 1.6MP FFC

(OV9760)
Battery
6700 mAh (25.46 Whr)
OS

Android 5.0 Lollipop

Connectivity

802.11a/b/g/n/ac + BT 4.1, USB2.0, GPS/GNSS, NFC
Unfortunately, in the case of the Nexus 9 while we can make some early observations the version of firmware that we received dates was built on August 29th, and in the time since it's quite likely that there have been significant changes in all directions. We still don't have a newer build, so all the tests will be done on older firmware. The full review will have final numbers as it will be done using shipping firmware.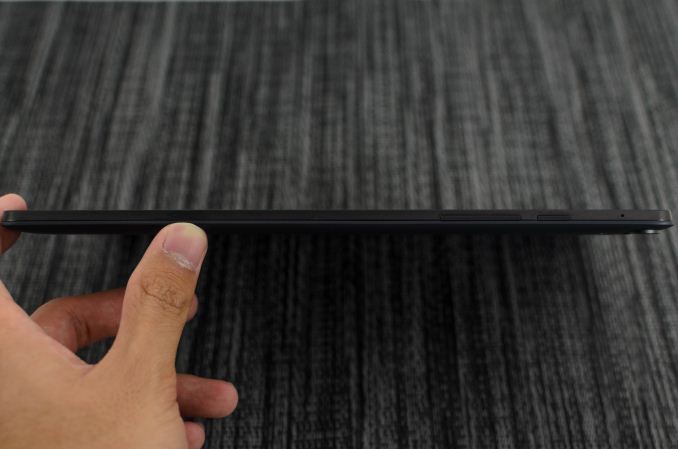 At any rate, the hardware of the Nexus 9 definitely fits the bill of a premium tablet. While for the most part every Nexus device in the past year has shared the same industrial and material design elements, HTC seems to have added a few extra touches to differentiate this product from other Nexus devices. The most obvious and prominent of these touches is the metal ring, which has a brushed texture similar to what we saw on the M8.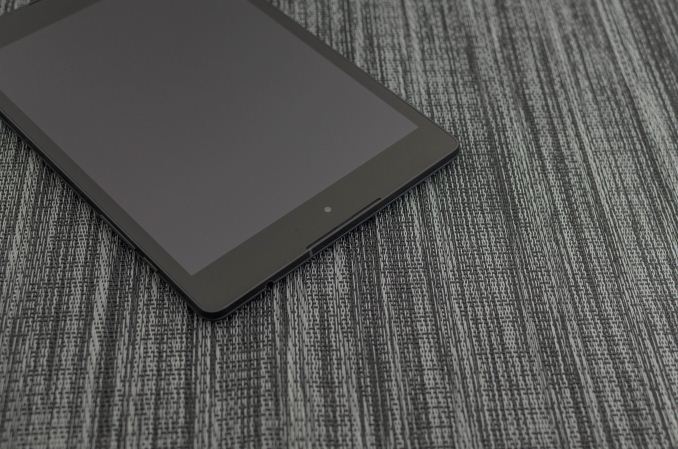 There are also dual front-facing speakers that flank the display, which are definitely great for video and music content when compared to a single speaker on the bottom or back of the device. However, for the most part the design is very much a Nexus device with its minimalistic design and soft-touch plastic back cover.