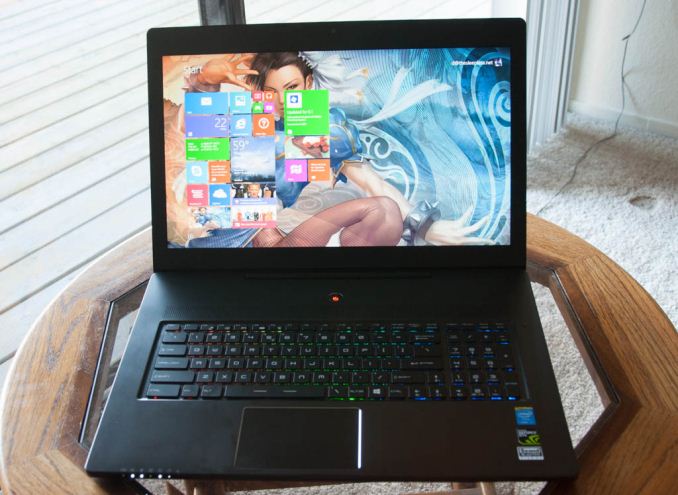 MSI is taking a page out of Razer's design playbook (in turn cribbing liberally from Apple's), but as it turns out, they may have beaten Razer at their own game and produced both a more desirable and more affordable Blade. iBuyPower sent over their version of MSI's GS70, dubbed the Battalion M1771, and it's an almost surprisingly fantastic piece of gaming kit.
It wasn't that long ago that I reviewed the MSI GT70 Dragon Edition and came away...less enthusiastic. The GT70 Dragon Edition was a fairly bulky notebook, typical of gaming hardware, but the overall design and the places MSI chose to invest were somewhat questionable. Three mSATA SSDs in a striped RAID are great for the marketing department but of little tangible value to the end user, while a single fan cooling 140W+ of hardware in a chassis that size is less than ideal for noise and thermals. While the GS70 isn't perfect, it's a pretty impressive step forward and I think it does a good job of stealing the Razer Blade Pro's thunder. If you're not interested in blowing $2,299+ on a thin and light gaming notebook and don't care about the Switchblade UI, MSI probably has exactly what you're looking for.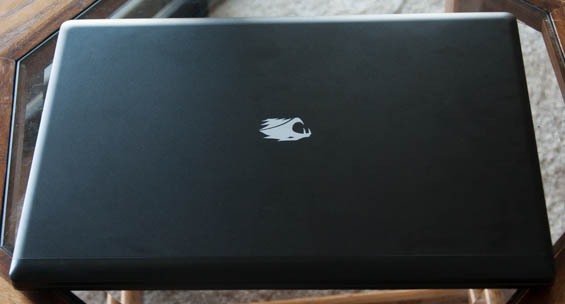 iBuyPower's had the M1771 available for a little while, and our configuration is the higher end of the two they make available. Since this is a thin and light gaming machine, sacrifices were made in its configuration; specifically, there's very little the end user can do to upgrade or customize this notebook. It's disappointing but not unusual given the notebook's dimensions.
iBuyPower Battalion 101 M1771 (MSI GS70)
Processor
Intel Core i7-4700HQ
(4x2.4GHz + HTT, Turbo to 3.4GHz, 22nm, 6MB L3, 47W)
Chipset
Intel HM87
Memory
16GB (2x8GB) Nanya DDR3L-1600 (Max 2x8GB)
Graphics
NVIDIA GeForce GTX 765M 2GB GDDR5
(768 CUDA cores, 797MHz/862MHz/4GHz core/boost/memory clocks, 128-bit memory bus)

Intel HD 4600 Graphics
(20 EUs, up to 1.3GHz)
Display
17.3" LED Matte 16:9 1080p
Chi Mei N173HGE-L11
Hard Drive(s)
2x Toshiba THNSNF 128GB mSATA 6Gbps SSD in RAID 0

Western Digital Scorpio Blue 1TB 5400-RPM SATA 6Gbps HDD
Optical Drive
-
Networking
Atheros AR5BWB222 Wireless NIC (Killer Wireless-N 1202) 802.11a/b/g/n
Killer Networks e2200 Gigabit Ethernet
Bluetooth 4.0
Audio
Realtek ALC892 HD audio with SoundBlaster Cinema
Stereo speakers with subwoofer
Headphone, mic, and line-in jacks
Battery
64Wh
Front Side
-
Right Side
2x USB 3.0
SD card
AC adapter
Kensington lock
Exhaust vent
Left Side
Exhaust vent
Ethernet
HDMI
2x Mini-DisplayPort
2x USB 3.0
Headphone, mic, and line-in jacks
Back Side
-
Operating System
Windows 8.1 64-bit
Dimensions
16.5" x 11.3" x 0.86"
418.5mm x 287mm x 21.8mm
Weight
5.86 lbs
2.66kg
Extras
720p Webcam
USB 3.0
Killer Networks DoubleShot wired and wireless networking
SteelSeries RGB backlit keyboard
Support for three external displays
Warranty
1-year limited, lifetime technical support
Pricing
Starts at $1,489
As configured $1,919
Aiding the ultrathin nature of the GS70 (and thus heavily integrated nature therein), MSI leverages one of the advancements of Intel's Haswell architecture by using an MCP version of the Intel Core i7, the i7-4700HQ. The 4700HQ runs at a nominal 2.4GHz and is able to turbo up to 3.2GHz on three or four cores, 3.3GHz on two cores, or 3.4GHz on one core, and it features a 47W TDP (though that includes the PCH on-package.) For some users this is going to be a little bit of a drag; this entry-level quad core is only 100MHz faster than the Ivy Bridge generation's entry-level i7-3610QM, and Haswell's IPC gains can actually be mitigated in mobile systems by its heat envelope. Haswell has proven to be progress of a different sort, though, aiming to improve both power consumption and overall integration and ultimately allowing for notebooks exactly like the GS70.
More interesting is NVIDIA's Kepler-based GeForce GTX 765M. I reviewed this chip in the 14" Razer Blade and I remain fairly enamored of it. Sporting 768 CUDA cores clocked at a nominal 797MHz with 2GB of 4GHz GDDR5 strapped to a 128-bit memory bus, it's not the most beastly piece of gaming kit but that's not really its reason for being either. What makes the 765M compelling is its ability to fit into form factors like this one; Razer includes it in both their Blade notebooks and I suspect this is as good as it's going to get for thin and light gaming machines until Maxwell. It's not bad, though, essentially comparable to a slightly slower desktop GTX 650 Ti. During testing I saw the boost clock hit as high as 900MHz, and thermals were almost comically low at just 62C.
The primary differentiators between the two configurations of the GS70 are the memory and storage; you pay a $430 premium to add two 128GB mSATA SSDs and 8GB of DDR3L. The 1TB mechanical storage is standard across the two models, though iBuyPower has since boosted the stock drive from 5,400-RPM to 7,200-RPM. $430 for 8GB of RAM and 256GB of solid state storage feels a little like highway robbery, but it's unfortunately a chargeable premium, at least for the memory. Nearest I can tell, the memory is soldered to the motherboard, though the mSATA and 2.5" drives are accessible (as is the WiFi) if you're willing to void your warranty. It leaves me in an uncomfortable limbo; at $1,489, the base model should really have an SSD standard, but $1,919 is still a bit onerous and only really justifiable when you look at the ridiculous premium on the competing Razer Blade Pro. We're also missing 802.11ac connectivity; this is something iBuyPower can and should fix.
On the display side we at least have a 1080p matte panel; IPS would admittedly be preferable but the TN panel isn't a dealbreaker. It's easy to argue that a higher ppi density panel would be appreciated, but 1080p is even pushing it a bit for the GTX 765M.