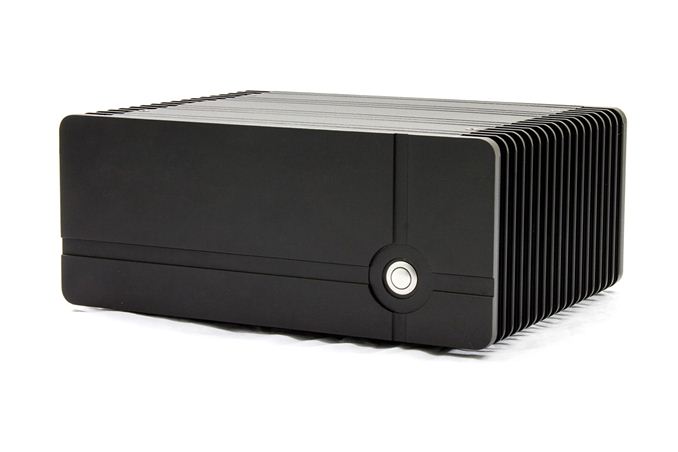 Habey USA's passive BIS-6922 proved to be a winner when we reviewed it back in August. Even as the review gathered comments from our readers, Habey was busy building up on it to address concerns and put in improvements. Today, we are seeing the launch of the BIS-6590, the latest addition to Habey's family of fanless i7-based systems. The BIS-6590 uses the B75 chipset, and is meant for Ivy Bridge CPUs, though the chassis itself should find use in future products also.
Amongst the improvements are a newly designed ICEFIN case (with larger fins for better heat dissipation) and support for processors with higher TDPs (up to 65 W, as shown with a i7-3770S). While the system I/O is standard for the market (VGA, DVI, 6xUSB, Audio I/O, 2x GbE ports, 2 COM ports and optionally, four additional COM ports), the more interesting aspect is the ability of the chassis to accommodate full size expansion cards (for powerful routing applications, we could have multi-GbE network cards / GPU-heavy applications can also accommodate video cards, though it remains to be seen as to what the maximum TDP of any such GPU would be). Forsaking the additional COM ports even provides us with two full expansion slots -- two PCI or one PCI and one PCIe. The motherboard does have a mini PCIe slot for a wireless card or a 3G/4G module (SIM socket is on the motherboard, just like it was on the BIS-6922).
When we evaluated the BIS-6922, we found the maximum power consumption to be around 70 W. Habey indicates that the BIS-6590 could operate in a thermally safe manner even with the maximum power consumption around 120 W. The BIS-6590 also retains all the advantages of the BIS-6922 in terms of chassis features such as vent-hole-free design. We are waiting to hear more about the pricing of the system, but interested folks can head over to the source link for further information.
Source: Habey USA