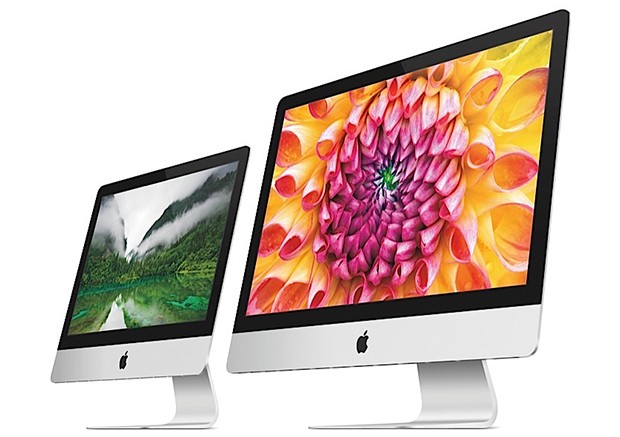 Earlier this morning Apple announced the next round of Haswell updates to its Mac lineup, this time focusing on the iMac. Both the 21.5-inch and 27-inch models see updates to Haswell silicon. These are obviously still based on the same new chassis as last year's models, but with updated internals. Memory and default storage options remain unchanged, but Apple moves to a PCIe based SSD similar to what it has done in the MacBook Air and what it will do in the upcoming Mac Pro refresh. Fusion Drive, Apple's hybrid HDD/SSD implementation (the only good one on the market), is also available but its configuration is unchanged - the SSD component is still only 128GB in size (although now PCIe based). I would've liked to see an increase there. The new iMacs also mark Apple's first move to a 1TB SSD. Apple has historically used Toshiba, SanDisk and Samsung for its PCIe SSDs, reserving Samsung for the highest capacity options. I do wonder if we might see the use of TLC NAND in order to hit the 1TB capacity point on the new iMac. Also like the new MBAs, the new iMacs all gain 802.11ac support - this is also likely Apple's first 3x3 802.11ac implementation so it should be even faster than what we saw with the MacBook Air.
Note that the new iMacs still use Thunderbolt 1.0, for 2.0 you'll likely have to wait for the new rMBPs and Mac Pro.
Model
Low-end 21.5"
High-end 21.5"
Low-end 27"
High-end 27"
Display
21.5" 1920x1080 IPS
27" 2560x1440 IPS
Processor
Intel Core i5-4570R (4/4, 2.7/3.2GHz, 4MB L3)
Intel Core i5-4570S (4/4, 2.9/3.6GHz, 6MB L3)
Intel Core i5-4570 (4/4, 3.2/3.6GHz, 6MB L3)
Intel Core i5-4670 (4/4, 3.4/3.8GHz, 6MB L3)
Memory
8GB (2x4GB) DDR3-1600
Storage
1TB 5400rpm hard drive
1TB 7200rpm hard drive
Graphics
Intel Iris Pro 5200 (200/1150MHz)
NVIDIA GeForce GT 750M w/ 1GB GDDR5
NVIDIA GeForce GT 755M w/ 1GB GDDR5
NVIDIA GeForce GTX 775M w/ 2GB GDDR5
Connectivity
Gigabit Ethernet, 802.11ac WiFi, Bluetooth 4.0, 4x USB 3.0, 2x Thunderbolt, SDXC card slot
Built to Order Upgrades

16GB DDR3-1600 ($200)

1TB Fusion Drive ($200)

256GB SSD ($200)

512GB SSD ($500)

Intel Core i7-4770S (4/8, 3.4/3.9GHz, 8MB L3) ($200)

16GB DDR3-1600 ($200)

1TB Fusion Drive ($200)

256GB SSD ($200)

512GB SSD ($500)

16GB DDR3-1600 ($200)

32GB DDR3-1600 ($600)

3TB 7200rpm HD ($150)

1TB Fusion Drive ($200)

3TB Fusion Drive ($350)

256GB SSD ($200)

512GB SSD ($500)

1TB SSD ($1000)

Intel Core i7-4771 (4/8, 3.5/3.9GHz, 8MB L3) ($200)

NVIDIA GeForce GTX 780M w/ 4GB GDDR5 ($150)

Memory and storage options are the same as in the low-end 27"

Price
$1,299
$1,499
$1,799
$1,999
There are some interesting changes for sure. I won't go into details about the CPUs because we have covered Haswell extensively before but to summarize, you should expect 5-20% gains depending on the application. The graphics changes are a lot more interesting, though.
The big news of course is that Apple has dropped NVIDIA's GeForce GT 640M from the entry-level 21.5-inch iMac and replaced it with Intel's Iris Pro 5200. Iris Pro is Intel's largest on-die GPU implementation, featuring a full 40 EU implementation. The Pro 5200 version adds 128MB of embedded DRAM onto the CPU package itself (codename Crystalwell), which helps address one of the biggest problems of integrated graphics performance: memory bandwidth. We previewed Intel's Iris Pro graphics earlier this year and came away generally impressed. It's not necessarily faster than the equivalent NVIDIA solutions, but it should use less power and can obviously enable smaller board layouts.
The previous generation entry-level 21.5-inch iMac used NVIDIA's GeForce GT 640M, a lower clocked version of the GT 650M we compared to Intel's Iris Pro 5200 in our preview. Looking at the clock speed differential alone, Intel's Iris Pro 5200 should be at least performance competitive, if not faster than the outgoing GT 640M. The other big difference is that the Iris Pro 5200 we previewed came in a 47W thermal configuration, whereas what Apple deployed in the new iMac is a 65W part. Iris Pro 5200 scales extremely well with clock speed thanks to the eDRAM, so I'm expecting a relatively good increase in performance from this configuration compared to the Mobile CRB we tested.
iMac (Late 2013) CPU Options
21.5-inch
27-inch
Base
Upgraded
Optional
Base
Upgraded
Optional
Intel CPU
i5-4570R
i5-4570S
i7-4770S
i5-4570
i5-4670
i7-4771
Cores / Threads
4 / 4
4 / 4
4 / 8
4 / 4
4 / 4
4 / 8
Base Clock
2.7GHz
2.9GHz
3.1GHz
3.2GHz
3.4GHz
3.5GHz
Max Turbo
3.2GHz
3.6GHz
3.9GHz
3.6GHz
3.8GHz
3.9GHz
L3 Cache
4MB
6MB
8MB
6MB
6MB
8MB
TDP
65W
65W
65W
65W
84W
84W
VT-x / VT-d
Y / Y
Y / Y
Y / Y
Y / Y
Y / Y
Y / Y
TSX-NI
N
Y
Y
Y
Y
Y
For the most part all of the CPU options are pretty good, the only thing that frustrates me is Intel's Iris Pro part (i5-4570R) doesn't come with Haswell TSX extensions. I don't expect this to be a problem for most customers, but it's just a silly side effect of Intel's arbitrary product segmentation strategy. It's also interesting to note that the Core i5 Iris Pro enabled parts only have 4MB of L3 cache, compared to 6MB for their non-Crystalwell counterparts. The loss of on-die L3 cache is likely more than made up for by the 128MB of eDRAM, but it's frustrating that Intel felt the need to ship defeatured CPU die into the Iris Pro configurations.
| | | | | |
| --- | --- | --- | --- | --- |
| | GT 750M | GT 755M | GTX 775M | GTX 780M |
| GPU | GK107 | GK107 | GK104 | GK104 |
| CUDA Cores | 384 | 384 | 1344 | 1536 |
| Base Clock | 967MHz | 980MHz | 719MHz | 823MHz |
| Memory Eff. Clock | Up to 5GHz | 5.5GHz | 3.6GHz | 5GHz |
| Memory Bus | 128-bit | 128-bit | 256-bit | 256-bit |
| TDP | 35-40W | 50W | 100W | 100W |
As for the other models, I've combined the specs of the GPUs in the table above. In short, we are still dealing with the same silicon as in the previous generation since NVIDIA's 700M-series is essentially a rebadged 600M-series. The biggest new feature is GPU Boost 2.0, which we have covered in-depth before. With the 750M and 755M, I would expect around a 10-20% increase over the 650M and 660M depending on the title. The 775M, on the other hand, should be quite an upgrade compared to the 675MX in the previous gen. The 675MX had 960 CUDA cores running at 600MHz while the 775M has 1344 cores runnig at 719MHz. As the 775M is a brand new SKU, I couldn't find any benchmarks for it but given that the specs are very close to the 680M, the 775M should be about 30% faster than the 675MX. Finally the 780M should be ~15% faster than the 680MX, although the extra 2GB of GDDR5 may increase the difference when playing at native resolution. For gamers the 780M for $150 should be a no-brainer but the 775M is also a very competitive offering for those who don't want to (or can't) order the BTO model online.
I've also tossed a historical look at the iMacs into the tables below:
Apple 21.5-inch iMac Historical Comparison
21.5-inch (2011)
21.5-inch (2012)
21.5-inch (2013)
CPU
Intel Core i5-2400S (2.5GHz quad-core)
Intel Core i5-3330S (2.7GHz quad-core)
Intel Core i5-4570R (2.7GHz quad-core)
GPU
AMD Radeon HD 6750M (512MB)
NVIDIA GeForce GT 640M (512MB)
Intel Iris Pro 5200
RAM
4GB DDR3-1333
8GB DDR3-1600
8GB DDR3-1600
Storage
500GB 7200RPM HDD
1TB 5400RPM HDD
1TB 5400RPM HDD
Optical Drive
8x SuperDrive (DVD±R DL/DVD±RW/CD-RW)
-
-
Display
21.5-inch 1920 x 1080
21.5-inch 1920 x 1080
21.5-inch 1920 x 1080
Price
$1199
$1299
$1299
Apple 27-inch iMac Historical Comparison
27-inch (2011)
27-inch (2012)
27-inch (2013)
CPU
Intel Core i5-2500S (2.7GHz quad-core)
Intel Core i5-3470S (2.9GHz quad-core)
Intel Core i5-4570 (3.4GHz quad-core)
GPU
AMD Radeon HD 6770M (512MB)
NVIDIA GeForce GTX 660M (512MB)
NVIDIA GeForce GT 755M (1GB GDDR5)
RAM
4GB DDR3-1333
8GB DDR3-1600
8GB DDR3-1600
Storage
1TB 7200RPM HDD
1TB 7200RPM HDD
1TB 7200RPM
Optical Drive
8x SuperDrive (DVD±R DL/DVD±RW/CD-RW)
-
-
Display
27-inch 2560 x 1440
27-inch 2560 x 1440
27-inch 2560 x 1440
Price
$1699
$1799
$1799