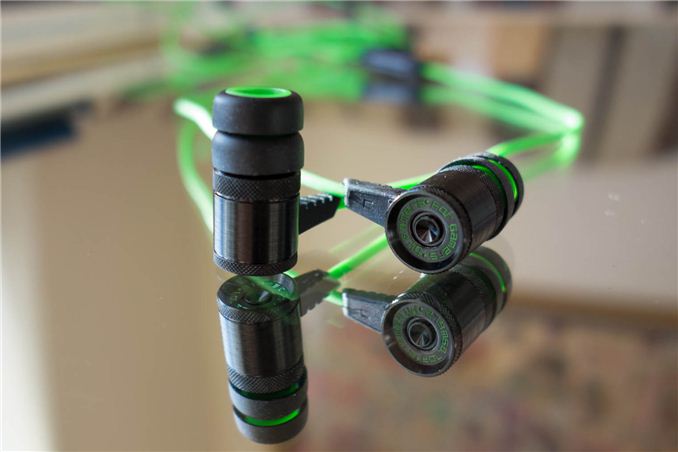 Razer has been well known in the gaming space for making high end and relatively pricey peripherals. While their sweet spot has definitely been input devices (mouse and keyboard, primarily), they've launched their fair share of gaming audio products as well, mostly centered around over-ear headphones that typically look really cool. Between the in-your-face neon green of the Orca and Kraken, the aviator style of the Blackshark, and the futuristic Tiamat, all of Razer's recent headsets have made a design statement. Unfortunately, none of them have sounded very good. And I really mean none of them, excepting the ambitious and expensive Tiamat 7.1. No matter which Razer headset you look at, you can get substantially better audio quality for the money elsewhere.
So when Razer told me they had come up with a pair of earbuds that emphasized audio quality, I scoffed. A couple of days later, a set of Hammerhead Pros showed up on my doorstep and I got to test them for myself. The Hammerhead is an in-ear-monitor (IEM) with 9mm Neodymium magnet dynamic drivers priced at $49.95, while the Pro adds an inline microphone for an extra $20. Design and build quality are pretty stellar, with all of the connected pieces being machined from aluminum. There's some great detailing throughout the design, including knurled aluminum accents and the Razer motto "For gamers, by gamers" stamped into the back of each earbud. Between the black brushed finish of the aluminum and the neon green of the cable, you're left with a pretty eye-catching set of IEMs.
Given Razer's recent efforts in the mobile computing space, their motivation in creating a more portable audio solution is pretty clear. It's a pretty interesting price point, at the intersection of the low end of the audiophile-grade IEMs and the "fashion" earbuds, popularized by the House That Dre Built amongst others. The Hammerheads are certainly styled well enough to compete with the latter, but my interest was looking at them relative to the best budget IEMs. This includes the Klipsch S4, the Etymotic MC5, and my personal pick for best $50 IEM at the moment, the Logitech Ultimate Ears 600, of which I just so happen to own a set.
The Hammerhead sound signature is definitely bass-heavy and tonally warm, though the mids are a bit muddled and instruments aren't particularly well detailed at the top end. This isn't really an issue if you're listening to pop, as the bass-heavy nature of the tracks tends to suit the response of the dynamic driver, but for instrumentally-heavy songs, it certainly isn't ideal. When compared to the UE 600, a very detailed and responsive set of IEMs, the mids and highs really lack a lot of clarity. The UE 600 is interesting because it's one of the only balanced armature IEMs you can get at this price point, a feature typically reserved for premium IEMs. Balanced armature drivers tend to respond faster and thus have more accurate, if less bassy, sound profiles. In comparison, the Hammerhead's overall sound signature ends up feeling not particularly refined, though the bass response is quite nice. It's neither as crisp nor as balanced, though depending on your music selection it can certainly sound better than the at-times mid-heavy UE 600. Run through a Jay-Z/Kanye West playlist, and the UE 600 just sounds thin, while the warmth of the Hammerhead really shines through. Of course, it should go without saying that audio quality is very subjective, and personal preferences may vary when it comes to sound signature.
Comparing against the UE 600 is probably a bit unfair, because that's legitimately one of the single best in-ear audio experiences you can get for a street price of $50, with an original MSRP of double that. It's a legitimately premium set of monitors that's available on the cheap. Relative to urBeats and most other fashion earbuds, the Hammerheads are a distinct step up, and of course, like any set of half-decent headphones, they're a huge improvement from OEM-bundled headsets like Apple's EarPod and the HTC One's surprisingly not-awful earbuds. I come away pleasantly surprised, because I certainly wasn't expecting Razer to deliver a competitive audio experience at this price point. For anyone whose primary usage will be music, I would still recommend a set of audio-centric IEMs in this price range, primarily the UE 600s or possibly Klipsch S4s, but the Hammerheads are worth a look. They're visually impactful and well put together, sound decent (if a bit bass-heavy), and aren't badly priced, either. For the style conscious, it's an IEM that could certainly strike the right balance.