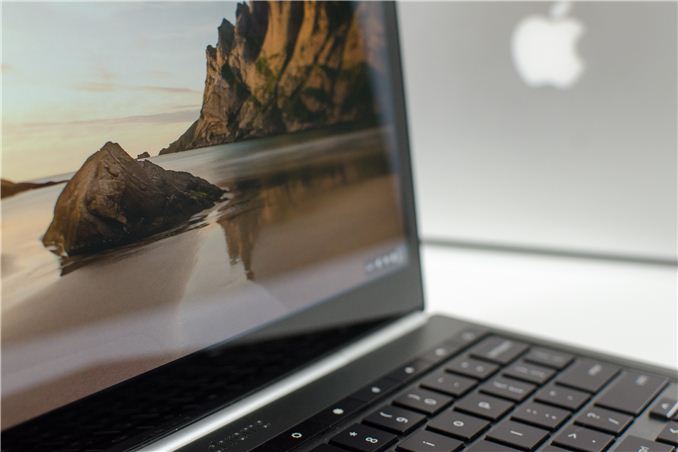 Context
Nothing exists in a vacuum, certainly not any of the products we review. The context of our subjects has a lot to do with what's expressed in our reviews, eve
n in the stark light of data. Scores alone are never enough, we juxtapose the latest widget to hit our bench against its most likely competition, against its predecessors, and against anything else that might make sense. We think about the era in technology, the trends that pervade the market, and where they'll take us in the coming months and years. We ask what the market's demands are, and where they're going to be later, and discuss how the subject handles those present and future demands. That's no different here, but we could almost imagine foregoing the Pixel's context and telling its tale absent its past, so disparate it seems from the Chromebooks that came before. But then we'd miss some of the most interesting bits.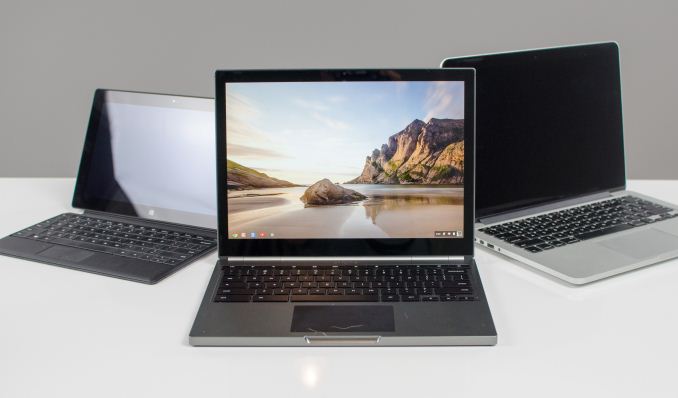 The PC market has been in decline for sometime. There's an argument to be made that the move to mobile has negated the need for a proper personal computer, and yet, it remains the exception to hear that someone has rid themselves of all their desktops and laptops and lives and works entirely on tablets and smartphones. That day might be ahead, but for now, few are the power users that manage to work and write on their iPads; and most of them have a keyboard dock tucked in their bags somewhere. For most the tablet remains a consumption device; less cumbersome than a laptop for reading, web browsing and watching video. Tablets are the future, though, right? Microsoft seems to think so. Apple has certainly made its case. So with the PC preparing its swan song, what would compel Google to chime in with a stripped out operating system that consists almost entirely of a browser that can be run on any of the current platforms?
There's a different argument that can be made about the PC's decline. The operating theory when purchasing a computer was always to buy more hardware than you presently needed, so three or four years down the road your computer was still useful. Software advances outpaced hardware, and so an early Pentium II with just a few megabyte's of RAM that ran Windows 98 just fine in 1998 didn't do well with Windows XP just a few years later. Intel's Core processors changed all of that. A Dell E1505 (my own, in fact) specced with the first Intel Core Duo processor handles Windows 8 just fine. Though they served no one terribly well, netbooks popularized the idea that most users needs could be (somewhat) met by even modest hardware. Intel's Ultrabook initiative drove the price of lightweight but well performing laptops down under $1,000 and even further still. And still for most users, the modest performance of a ULV processor is more power than they really need to consume media, edit documents and click away in a browser.
Google's first round of Chromebooks were netbook slow. The stripped down experience was better than stuffing Windows into those tight confines and running Chrome atop that, but the applause ends there. The next generation added incremental performance increases, but was just as mired in performance that didn't quite reach that "just enough" threshold. The most recent models, the Acer C7 and the Samsung Chromebook (XE303) were stark departures in price and performance, with the Samsung model even adding a hint of style. We liked those models, and praised their almost disposable pricing. These models represented a great ground floor for Chromebooks, just enough performance, and pricing that reflects that. I think we expected to see variations of these models iterate into the future, with performance improving each year. We could even see a path where more and more users would choose Chromebooks in lieu of other second machines, we could see these being successful with the right crowd. I don't think any of us expected this.
Design and Specifications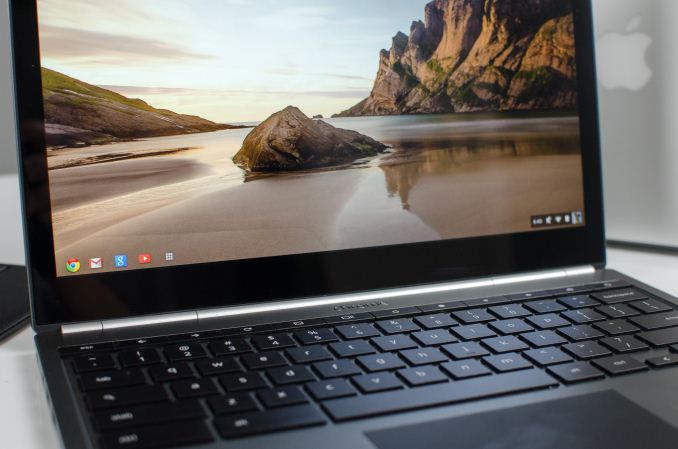 The Chromebook Pixel is a well cut suit. I'm cribbing the metaphor, but that's exactly what the design of the Pixel evokes. The lines are simple, but elegant. The color would look great over a plain white shirt, and, perhaps, an orange silk necktie. The austerity of the design, actually lends the Pixel an outsized feel. This is after all a small notebook, fitting within the profile of the 13" MacBook Air. Put it out of context, though, and the aluminum surfaces seem to go on for ages. Only when you wrap your hand around an edge that you realize it's so small, so thin.
Chromebook Pixel Comparison
Chromebook Pixel
13-inch MacBook Pro with Retina Display
13-inch MacBook Pro
13-inch MacBook Air
Dimensions
0.64 x 11.72 x 8.84"
0.75 x 12.35 x 8.62"
0.95 x 12.78 x 8.94"
0.11 - 0.68 x 12.8 x 8.94"
Weight
3.35 lbs (1.52 kg)
3.57 lbs (1.62 kg)
4.5 lbs (2.06 kg)
2.96 lbs (1.35 kg)
CPU
Core i5-3337U
Core i5-3210M
Core i5-3210M
Core i5-3427U
CPU Cores/Threads
2/4
2/4
2/4
2/4
L3 Cache
3MB
3MB
3MB
3MB
Base CPU Clock
1.8GHz
2.5GHz
2.5GHz
1.8GHz
Max CPU Turbo
2.7GHz
3.1GHz
3.1GHz
2.8GHz
GPU
Intel HD 4000
Intel HD 4000
Intel HD 4000
Intel HD 4000
System Memory
4GB DDR3L-1600
8GB DDR3L-1600
4GB DDR3-1600
4GB DDR3L-1600
Primary Storage
64GB iSSD
128GB SSD
500GB 5400RPM HDD
128GB SSD
Optical Drive
N
N
Y
N
Display Size
12.85-inches
13.3-inches
13.3-inches
13.3-inches
Display Resolution
2560 x 1700
2560 x 1600
1280 x 800
1400 x 900
DisplayPort/Thunderbolt Ports
1
2
1
1
USB Ports
2 x USB 2.0
2 x USB 3.0
2 x USB 3.0
2 x USB 3.0
Other Ports
SD reader, headphone out, SIM slot
SDXC reader, HDMI out, headphone out
GigE, FireWire 800, SDXC reader, headphone out
SDXC reader, headphone out
Battery Capacity
59 Wh
74 Wh
63.5 Wh
50 Wh
Price
$1449
$1499
$1199
$1199

The back, we've mentioned, is filled with that long silver hinge. On the left side are two USB ports, one DisplayPort, and the power and headphone/microphone port, which remarkably are cut to be the same size, with black trim filling out the microphone port. That detail is indicative of the time and attention paid to even the smallest components. On the right is the SD card slot, and the SIM tray on the higher SKU. The front is bare but for the indentation for opening the lid. The bottom is a large plain panel, with small rubber feet at the far corners, and the necessary labels and whatnot.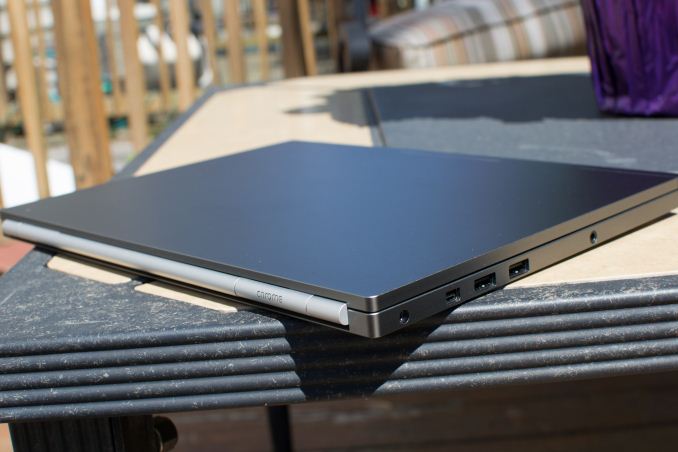 The Chromebook Pixel is gorgeous to the understated crowd. Not flashy, not cheap. As alluring as Cupertino's finest designs. The flashiest part of the design isn't that gorgeous display; it's the light show going on when the lid is up. If I ever saw one in the wild, I could imagine the pulsing blues, greens and reds would catch my eye quickly. I'd want to know what it is, who makes it, where I can get it. If you didn't know the company behind 'chrome' you'd have few clues from just looking at the design. That is until the lid is closed and the LEDs pulse briefly with Google livery. It is gorgeous, it has a super dense display, is stuffed with great technology, starts at $1299... and it's running a browser.
I'm not going to lie, I was excited about this product the moment I saw that cheesy leaked video a few weeks before the announcement. At the time, I hoped it was still several months away from release, with plans to build it on Intel's Haswell SoC or a quad-core ARM Cortex-A15 SoC. I also hoped it would be priced competitively with Ultrabooks, somewhere north of $500 but under $1000. In a way, I still wish all those things were true.
Comparing spec sheets the Pixel falls in a weird place. The dual-core Ivy Bridge is a little on the light side, with a base clock of just 1.8 GHz and a max turbo clock of 2.7 GHz, this 17 W part is similar to what you'd find in the 13" MacBook Air but just behind what you'd find in a lot of current Ultrabooks. The display is unique amongst modern laptops with its 3:2 aspect ratio, though when you take the dock bar into account it actually works out to a more traditional 16:10. If you like the taller screen, rest assured there's plenty of ways to tweak the settings and get full use of the whole screen. The 12.85" screen beats the 13" MacBook with Retina Display in pixel density, both due to its smaller size and slightly higher resolution (2560x1700). We'll go into more detail on that capacitive screen later, but it is surely a big reason for the price premium, and a big part of what makes this an aspirational model.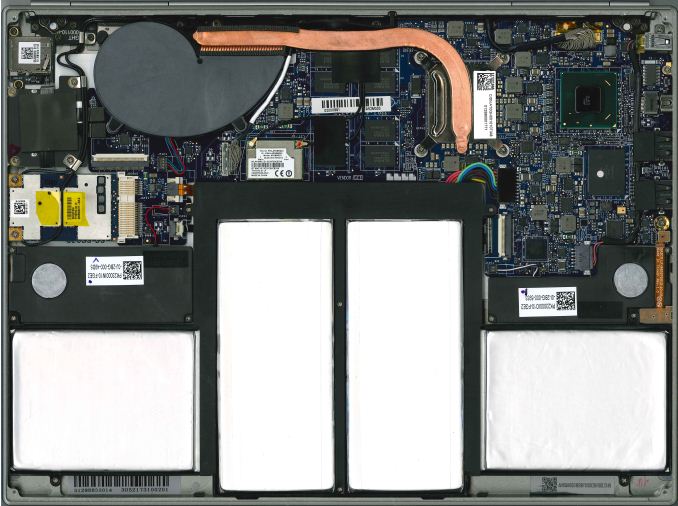 The limited SSD storage comes courtesy of SanDisk's iSSD solution, which is a big step up from slow eMMC solutions, but means moderate performance and no upgrade potential. You won't be slipping additional SODIMMs into this thing either, the RAM is soldered on, with the only part that might be user replaceable being the daughter card containing the LTE radio. The battery is beefy compared to the 13" MBA at 59Whr, but falls short of the Retina MBPs, which goes some way to explaining the limited claimed battery life. Weight falls almost perfectly between the 13" rMBP and MBA, indeed the Pixel's design could give Apple a few ideas for a Retina MacBook Air.