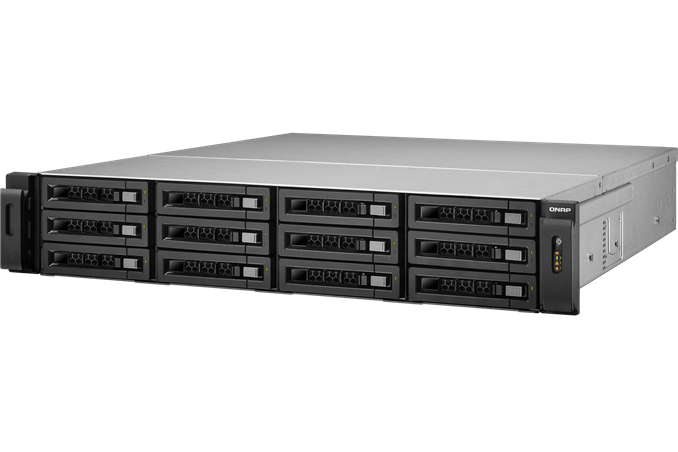 Introduction
Our enterprise NAS reviews have focused on Atom-based desktop form factor systems till now. These units have enough performance for a moderately sized workgroup and lack some of the essential features in the enterprise space such as acceptable performance with encrypted volumes. A number of readers have mailed in asking for more coverage of the NAS market straddling the high-end NAS and the NAS - SAN (storage area network) hybrid space. Models catering to this space come in the rackmount form factor and are based on more powerful processors such as the Core series or the Xeon series.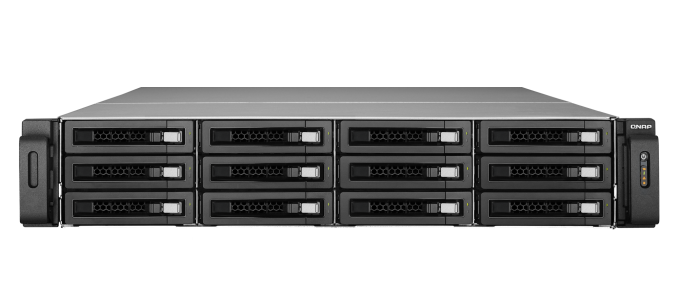 QNAP's 12-bay flagship unit is the TS-EC1279U-RP. Based on the Xeon E3-1225 processor, this 2U rackmount system comes with twelve hot-swappable bays and 4GB of ECC RAM. Both SATA and SAS disks in 3.5" as well as 2.5" form factor are supported.
The last QNAP unit that we reviewed was the TS-659 Pro II. Around that time, QNAP was struggling with some data corruption issues in their firmware. We were hesitant to carry on reviewing QNAP's products while this issue remained outstanding. The solution came in the form of FW release v3.7.1 almost a year after the problem was first reported. We have been using a couple of QNAP units in-house with later firmware releases and couldn't replicate the bug in our environment. This gave us enough confidence to request QNAP for one of their latest NAS units. They obliged with the TS-1279U-RP, and it also marks our foray into reviewing units in the rackmount space.
The specifications of the TS-EC1279U-RP are as below:
QNAP TS-EC1279U-RP Specifications
Processor
Intel Xeon E3-1225 (4C, 3.1 GHz)
RAM
4 GB DDR3 ECC RAM (Upgradable to 8 GB)
Flash
512MB DOM
Drive Bays
12x 3.5"/2.5" SATA / SAS 6 Gbps HDD / SSD
Network Links
4x 1 GbE (Two links upgradable to 10 GbE)
USB Slots
2x USB 3.0 / 4x USB 2.0
eSATA Slots
2x
Expansion Slots
2x (Network or Storage Expansion)
VGA
Reserved for Maintenance
Full Specifications Link
QNAP TS-EC1279U-RP Hardware Specs
In the rest of the review, I will cover some unboxing and setup impressions. A detailed description of the testbed setup and testing methodology is followed by performance numbers in both single and multi-client modes. As requested by multiple readers, we will also briefly cover performance with encryption enabled. In the final section, power consumption numbers as well as RAID rebuild times will be covered along with some closing notes.