Component Selection and Build Quality
The skeleton of the Genesis, Corsair's Obsidian 800D follows in the footsteps of Corsair's other Obsidian cases. It may only be a full-tower ATX case, but there are few words to describe it other than "beastly." The 800D is built out of a mix of aluminum and copious amounts of steel, making it heavy and strong. And did we mention it's big? Among the 800D's more spacious accommodations is a backplane-driven 3.5" HDD hot-swap cage that orients the hard drives along the length of the case rather than the width. Origin of course puts all of this space to good use; the case's 5 5.25" bays are all filled with drives, card readers, water reservoirs, and fan controls, while the internals house the liquid cooling setup and components, while still leaving plenty of room to allow for neat & tidy cable routing.
Once inside of the 800D, it's hard to miss Origin's "Cryogenic" liquid cooling loop that occupies much of the internal volume. With upwards of 1200W of heat to absorb and expel, Origin has outfit every single fan mount with a radiator setup in a push-pull configuration. Altogether there's 1 140mm radiator at the bottom intake, another 140mm radiator at the rear exhaust, and another massive 3x120mm radiator at the top exhaust that has been reversed to serve as another intake. This entire loop is then hooked up a coolant reservoir, and of course the blocks that cover both the CPU and the GPUs. On that note the fact that Origin was able to get blocks for the Titan in time for its launch is something of a marvel on its own; EK Water Blocks apparently put those blocks together on a very short turnaround.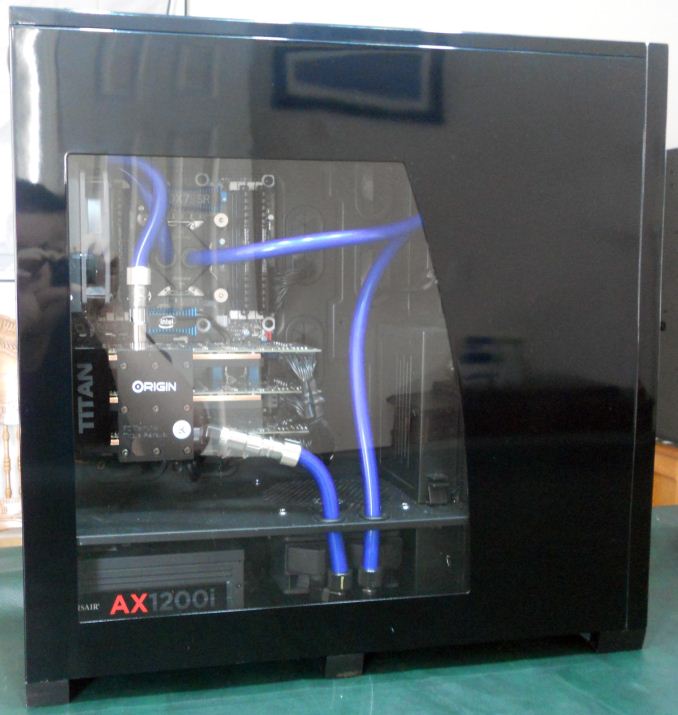 All of that cooling hardware is of course necessary if you want to cool three overclocked Titans and a heavily overclocked CPU at the same time on a single loop. The CPU itself, an Intel Core i7-3970X, has been massively overclocked from 3.5GHz to 4.9GHz (ed: Origin's factory overclocking service doesn't guarantee any specific clockspeed, but rather a range of 4.5GHz to 5.2GHz depending on what the CPU will do). This required 1.485v to achieve, making liquid cooling an absolute necessity for this Genesis system, as power consumption (and heat output) by our reckoning more than doubles to over 300W. A voltage over 1.4v is unusual for a SNB-E processor, but our in-house overclocking guru, Dr. Ian Cutress, tells us that even a voltage this high is safe due to the use of water cooling.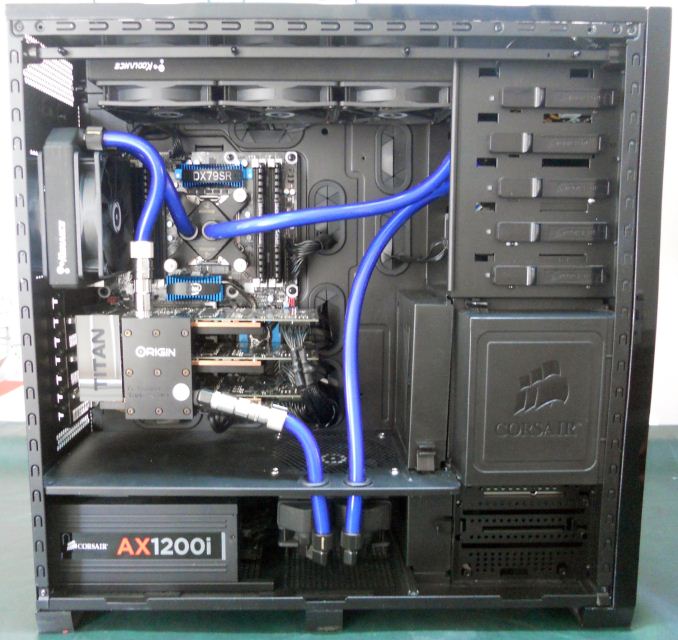 The other half of the cooling is of course for the Titan video cards in this system. As a crème de le crème system Origin has also overclocked these GPUs – something that's easy to get away with since the liquid cooling will keep temperatures well into the safe zone – pushing them from 837MHz to 952MHz for a 115MHz (14%) core overclock, while the memory clockspeed has been increased by 400MHz (7%) from 6GHz to 6.4GHz. With temperatures held under 70C due to the water cooling, the speed of these cards is ultimately held back by what the GPUs can clock to on stock voltages, along with NVIDIA's 106% (265W) TDP limit.
Moving on to the Genesis' storage system (practically the only thing not liquid cooled), it is composed of a pair of 120GB Corsair Neutron GTX SSDs organized in RAID-0, and a Western Digital Caviar Black 1TB for higher capacity storage. The use of 2 120GB SSDs instead of a 240GB drive is something of an odd choice; RAID-0 improves raw read/write performance much better than a denser SSD, so the Genesis can push more than 600MB/sec sequential read/writes. But because this is an X79 platform, this means we're using Intel's RSTe drivers that don't support TRIM in RAID. So maintaining drive performance is reliant on LAMD's garbage collection routines.
Rounding out the system, Origin throws in a Corsair AX1200i as the system's PSU, and the optical drive is a 14x LG Blu-Ray/DVD burner. Origin also throws in a few accessories, split between functionality and sheer looks. On the functionality side, the top and rear fans are hooked up to a 4 channel Lamptron analog fan controller mounted into one of the 5.25" bays, allowing those fans to be turned up and down as necessary. As for looks, along with the blue tubing for water cooling, the case is also equipped with remote controlled multi-colored (RGB) case lighting system, allowing the inside of the case to be lit-up in practically any of the major primary/secondary/tertiary RGB colors. Meanwhile on the outside, our sample system also comes done in one of Origin's most intricate paint jobs, their aptly named "shreader blue".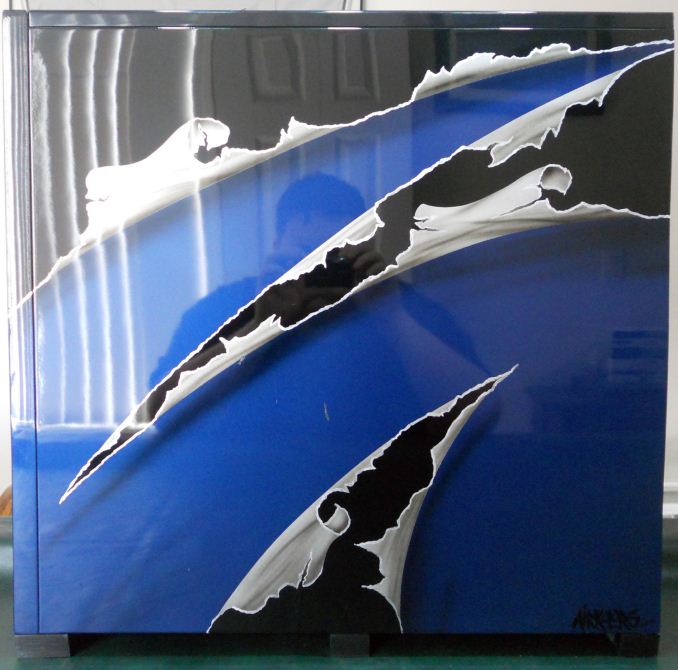 "Shredder Blue" paint job; the scratch was our idea
Taken in altogether, sometimes I forget just how well built a good OEM/boutique system can be. Not unlike Anand, I've typically always built my own PCs; so even with the occasional repair jobs for friends I rarely see a truly well built system. Origin takes full advantage of the 800D case, and for the most part the only cables you'll ever see without very close examination are the PCIe power cables for the Titan cards themselves. Every cable has been neatly tucked away, and the liquid cooling tubing cut such that there's no more slack than is necessary for any of the bends. The build quality is of course greatly helped by the solid feeling of the 800D case itself, which being composed mostly of steel is extremely durable and clearly won't be getting loose or otherwise falling apart anytime soon.
With that said, this Genesis is clearly a set it and forget it computer. The water cooling system and tight cabling means that modifying the case or otherwise expanding it beyond adding hard drives is difficult at best. Even adding RAM would require at least unmounting a radiator to access some of the DIMM slots, while much more than that would require draining the system. Of course with 3 Titans occupying all of the available expansion slots there's not much more you could do anyhow. Ultimately the Genesis is a complete system meant to live out its life as-is – the 70lb+ weight of the system means that owners won't want to move it anyhow – with the only real work left being the periodic refill of the reservoir.
Finally, Origin offers a few different warranties with the Genesis. All of the warranty options involve lifetime labor and free 24/7 support; the difference is how long the parts are warrantied for, and whether shipping is included. The base warranty is 1 year on parts and 45 days on shipping, followed by full 1 year ($70), 2 year ($170), and 3 year ($270) warranties. Frankly given the sheer weight of the computer any option that includes shipping should more than pay for itself if something does happen. Coupled with the fact that this is an open loop water cooling system, there's a very strong incentive for grabbing an extended warranty.