Last year was very eventful in the notebook world. Beyond the UX upheaval brought on by Windows 8 and the blurring of the line between notebooks and tablets, we've seen two high-profile entrants to the realm of notebook PC hardware, Razer and Vizio. Both are well established tech companies that have experience shipping high-quality products in their respective gaming and HDTV market areas. This type of thing doesn't happen very often, and while it's not on the level of Microsoft jumping into the PC hardware ring, it's an interesting trend to note.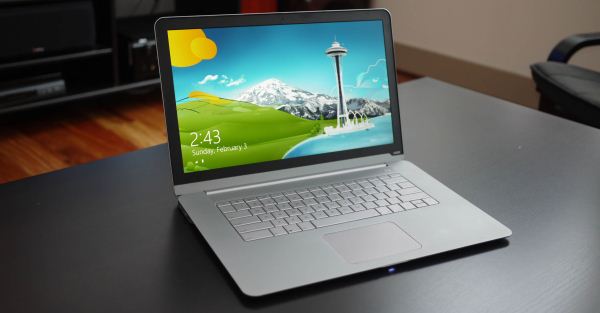 Contrary to Razer's focused, single-device launch targeting the gaming market, Vizio jumped into the mainstream PC game head first, debuting three different products—an Ultrabook, a notebook, and an all-in-one. Given Vizio's history of delivering solid, high-resolution LCD HDTVs on a budget, these systems were pretty highly anticipated, with cutting edge industrial design and high-grade style on a relative budget, but definitely had some usability issues at launch. After the Windows 8 update though, it seemed like some of those issues would be fixed and the post-holiday sales have made them very tempting options in the ultraportable space. Today we'll be looking at their Thin+Light Ultrabook, which is available in 14" and 15.6" sizes. Ours is the top-spec CT15, which comes with a 15.6" 1080p IPS display panel, an ultra-low voltage Core i7, 4GB of memory, and a 256GB solid state drive.
Vizio Thin+Light CT15-A5 Specifications
Processor
Intel i7-3517U
(Dual-core 1.90-3.00GHz, 4MB L3, 22nm, 17W)
Chipset
HM76
Memory
4GB DDR3-1333
Note: RAM is not user upgradeable
Graphics
Intel HD 4000
(16 EUs, up to 1150MHz)
Display
15.6" WLED Matte 16:9 1080p (1920x1080)
(LG Display LGD037E)
Storage
256GB Toshiba THNSNS256GMCP
Optical Drive
N/A
Networking
802.11n 2.4/5GHz WiFi (Qualcomm Atheros AR5B22)
Bluetooth 4.0
Audio
Realtek ALC269
Stereo Speakers
Headphone/Microphone combo jack
Battery/Power
6-cell, 52Wh Li-poly
65W Max AC Adapter
Front Side
N/A
Left Side
Headphone/Microphone jack
1 x USB 3.0
AC Power Connection
Right Side
1 x USB 3.0
HDMI
Back Side
N/A
(Exhaust vent located on bottom)
Operating System
Windows 8 64-bit
Dimensions
14.9" x 9.9" x 0.68" (WxDxH)
(378.5mm x 251.5mm x 17.3mm)
Weight
3.89 lbs (1.77kg)
Extras
HD Webcam
Warranty
1-year limited warranty
Price
$1199 MSRP
Starting at $904 online (02/13/2013)
It's a pretty solid spec, even at the relatively high $1199 MSRP, especially when you consider that an equivalently configured Samsung Series 9 Ultra 15" retails for a hair under $1800, with double the RAM but a smaller and lower resolution 15.0" 900p PLS display. The thing is that we've seen the CT15 go on a clearance-like sale at the Microsoft Store (and online store) for $799, after a holiday season full of sales—the CT14 has been as low as $649 in the past, though this is the lowest we've seen the 15" thus far. That sale appears to have ended (it's no longer listed on MIcrosoft's online store), but it's also selling pretty freely in the $900 range at Amazon. Even including taxes and shipping, it's an excellent deal for the hardware involved.
Both the high-end Vizio and Samsung SKUs come with the low-end Core i7 ULV, the i7-3517U, which is clocked at 1.90GHz and turbos up to an even 3.0GHz. As with most Ultrabooks, the graphics are handled by Intel's on-die HD4000. In the i7-3517U, that means a base clock of 350MHz, and a max turbo of 1.15GHz. The only downer is that the Vizio maxes out at 4GB of non-upgradeable memory. Laptops these days just aren't meant to come apart easily and many manufacturers have chosen the route of soldered memory in recent times, so this is nothing new, but I think the lack of an 8GB configuration is a pretty unfortunate oversight. In fact, we'd rather see 4GB go away and have 8GB-only SKUs than the reverse, considering the cost of RAM is so cheap.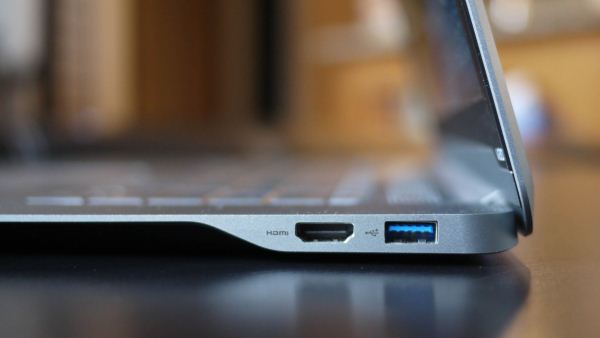 The selection of ports onboard is pretty disappointing as well—two USB 3.0 ports, HDMI, an audio in/out combo jack, and power. That's it. The one omission that really bothered me was an SD card slot, though I'd love to see another USB port as well. I'm someone who can more than live with the lack of stuff like Ethernet and a Kensington lock, but this is a pretty slim assortment.
It's worth noting that we've been shown the successor to this generation of Vizio notebooks already, which is what is driving down the price right now. The successor to this notebook is a quad-core, touchscreen variant with essentially the same chassis except slightly thicker to incorporate the touch digitizer and thicker aluminum panels for better build quality. Those will hit the market sometime this spring for roughly the same $1200 MSRP of the high-end CT15 we're reviewing. (It will also technically not qualify as an Ultrabook given the use of a quad-core standard voltage CPU, not that it really matters.)
The CT15 at $900 has a lot of value. We've seen a dilution of the Ultrabook class with the second generation of devices; now essentially every thin and light machine in the $600-plus range is either an Ultrabook or closely related to one. HP has the Envy 4 and 6 Sleekbooks, featuring both AMD and Intel processors, some of which qualify for Ultrabook status based on processor and storage configurations. Samsung's Series 5 follows this same trend, with the NP530 being an Intel-based Ultrabook and the NP535 using the same chassis with AMD silicon. It's simply cheaper for companies to design one thin-and-light notebook chassis and spec it up or down to meet the various price points. This gives the manufacturers a lot of flexibility, but it also has led to a lot of poor designs and/or mediocre specs in notebooks bearing the Ultrabook label. It's all too common at the $700 pricepoint to find plastic-bodied ULV i3 and i5 systems with mechanical hard drives, small SSD caches, and poor quality displays (touch or otherwise), all marketed under the Ultrabook brand.
The CT15 is truly a premium Ultrabook class machine though, with a completely aluminum chassis and an IPS display in addition to the fully solid state storage solution. At $900, this is fantastic on paper. Does that impression hold up in real life?