Introducing the Toshiba Satellite U845W
It's sometimes very easy to discount Toshiba as an also-ran when it comes to the latest and greatest. They have a strong retail presence as a budget notebook company, and in many ways their first ultrabook, the Portege Z835 maintained that tradition by gaining traction as one of the most affordable ultrabook options available back when Intel first launched the initiative. It's important to note, though, that oftentimes Toshiba has been willing to experiment where others haven't. Toshiba launched a 13.3" version of its Excite tablet to see if the market would be interested in accepting a notebook-sized tablet, and their Portege R700 was an affordable ultraportable option even before ultrabooks themselves became available.
Today we have one of their most compelling experiments on hand. We lament with some regularity the common 1366x768 resolution of notebook screens and its effect on productivity, but vertical real estate continues to be hard to come by. What if we went the other way, though? What if we stretched things out further along the X axis? That's the question Toshiba's asking with their shiny new double-wide ultrabook, the Satellite U845W. This ultrabook is the first widely availabe notebook that features a display with a 21:9 aspect ratio. Was this a wise gamble for Toshiba or a misfire?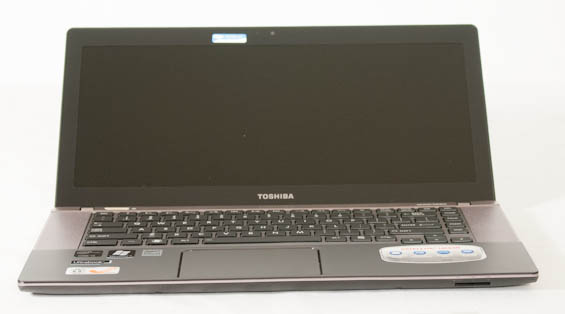 Toshiba only adds a W to the model number to indicate the difference between the conventional Satellite U840/U845 (which we've reviewed here) and this new essentially "double-wide" ultrabook, but the differences between the two designs themselves is massive. As you'll see from the spec table below, the U845W is internally very conventional, but the difference in aspect ratio on the display results in some very tangible changes felt across the entire design.
Toshiba Satellite U845W Ultrabook
Processor
Intel Core i5-3317U
(2x1.7GHz + HTT, 2.6GHz Turbo, 22nm, 3MB L3, 17W)
Chipset
Intel HM77
Memory
4GB Samsung DDR3-1600 + 2GB Samsung DDR3-1600 (on-board)
Graphics
Intel HD 4000 Graphics
(350-1050MHz, 16 EUs)
Display
14.4" LED Glossy 21:9 1792x768
CMN N144NGE-E41
Hard Drive(s)
Hitachi Travelstar Z5K500 500GB 5400-RPM 3Gbps HDD

Samsung PM830 32GB mSATA 6Gbps SSD (cache)
Optical Drive
-
Networking
Atheros AR8152 PCIe 10/100 Ethernet
Intel Centrino 2230 802.11b/g/n
Bluetooth 4.0 + HS
Audio
Realtek ALC280 HD Audio
Stereo speakers
Mic and headphone jacks
Battery
4-Cell, 54Wh (not user replaceable)
Front Side
SD/MS Flash reader
Right Side
Headphone and mic jacks
USB 3.0
HDMI
AC jack
Left Side
Kensington lock
Ethernet port
2x USB 3.0
Back Side
Venting
Operating System
Windows 7 Home Premium SP1 64-bit
Dimensions
14.5" x 7.9" x 0.83"
368mm x 201mm x 21mm
Weight
~4 lbs (1.81kg)
Extras
Webcam
Backlit keyboard
Flash reader (SD/Mini SD, MS/Duo/Pro/Pro Duo)
USB 3.0
harmon/kardon speakers
21:9 aspect display
SSD cache
Warranty
1-year standard warranty
Pricing
$999 MSRP (on Amazon for $700)
Toshiba's internals for the Satellite U845W are fairly conservative. The Ivy Bridge-based Core i5-3317U is a capable enough processor, featuring a nominal clock speed of 1.7GHz across its two cores but able to turbo up to 2.4GHz on both cores or 2.6GHz on a single core. Attached to it is 2GB of DDR3-1600 affixed to the motherboard and an additional 4GB in a non-user-serviceable slot. Storage duties are handled in the typical budget fashion, with a 500GB 5400-RPM mechanical hard disk being sped up through the inclusion of a 32GB SSD cache; Toshiba offers models that do skip the caching and go directly to a 256GB mSATA SSD, but those start at a much pricier $1,249 in retail.
Where things feel unusually skint are in the peripheral ports. Three USB 3.0 ports (and no USB 2.0) are generous, and I can forgive a basic Intel Centrino wireless solution that only has support for 2.4GHz networking, but why in 2012 do we have a dedicated ethernet port capable of only 10/100 speeds? And this is common across the line; there are no gigabit ethernet capable U845W notebooks. Skimping on gigabit ethernet pretty much defeats the purpose of including a dedicated ethernet port; copying our testing suite over through the wireless would take the same amount of time as using a wired connection.
Of course, if you're looking at the U845W it's because of the unique display. Despite being advertised as a 14.4" ultrabook, the U845W is actually an inch shallower than conventional 14" ultrabooks due to the odd aspect ratio of the screen. As for the display itself, that's a relative unknown. It's clearly a TN panel, but we'll have to examine it further to see if it has the same unfortunate specifications that inexpensive ultrabooks typically do.
And speaking of inexpensive, in an effort to make the U845W more accessible, Toshiba has actually made it available in retail at an affordable price. Niche products tend to command higher premiums, but $699 for an ultrabook with an extra-wide display (for the only ultrabook with an extra-wide display) actually seems pretty fair. The $999 starting MSRP doesn't even seem that bad for specs that are relatively within the realm of expectation for an ultrabook alongside its unusual selling point.