Introducing the new Razer Blade
Earlier this year, Razer handed me a Blade evaluation unit and told me to go wild. Considering the company had no previous experience with developing PC laptop hardware, I was skeptical about their ability to transition from a manufacturer of gaming peripherals to a manufacturer of gaming systems. Turns out my concerns were unfounded, as the Blade turned out to be a well-designed, high quality notebook. Granted, the dual-core Core i7 and NVIDIA GT 555M graphics chip were more suited for a high-end 14" system rather than a fully fledged 17" gaming notebook, while the $2799 asking price bordered on obscene, but the Blade was a polished piece of engineering that showed that Razer was capable of producing premium grade hardware.

Fast forward eight months and Razer dropped off the new Blade at my doorstep. (They're a pretty trusting bunch.) The new Blade looks quite similar to the old Blade, but there are some key differences under the hood. Most obvious is the significant upgrade in computing prowess, with the CPU/GPU combination being kicked up to a quad-core Ivy Bridge chip and NVIDIA's GTX 660M graphics, but also a redesigned cooling system and a much more stable software backend to the Switchblade LCD trackpad. It's also gotten a price drop to $2499. Do the improvements make the Blade more competitive with the gaming notebook establishment?
I absolutely enjoyed my time with the original Blade. I used it as my primary portable for a lot longer than I expected to, due to the fact that it weighed the same as the average 15" notebook while looking great and being blazing fast in day to day usage. The combination of the 2.8GHz i7-2640M and the Marvell-based LiteOn 256GB SSD proved to be exceptionally responsive in the real world, resulting in one of the quickest boot times I've measured (15.8 seconds). Unfortunately, at $2799, we expected more. A dual-core i7 and a GT 555M simply did not cut it, not compared to less expensive gaming systems that offered quad-core processors and far more powerful graphics cards, notebooks like the ASUS G74SX, Alienware's M17x, and the Clevo P170. Having specifications that essentially matched the M14x just didn't cut it at a pricetag approaching $3000.
And it wasn't just the internal hardware that gave us pause—one of the key selling points of the Blade, the Switchblade UI, was an interesting concept saddled by inherently unstable software. When it worked, Switchblade was fun, a novel idea that could wow your friends and be useful in very specific scenarios. But it needed more utility, and above all else, more robust drivers and software.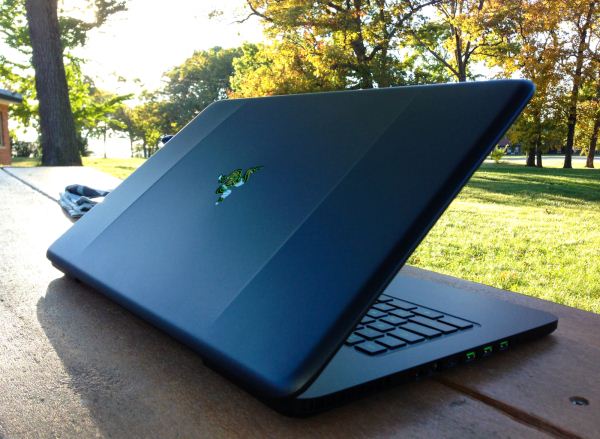 So with this updated Blade (referred to internally as the Blade R2), Razer went about fixing the issues that were brought up. It wasn't just the major stuff though; Razer's CEO Min-Liang Tan told me that they combed through each and every single review and looked at every concern mentioned. This went to the level of minutia—the click sound of the trackpad buttons as well as the backlighting of the secondary functions in the Fn keys were apparently things that the design team had rethought simply because I pointed them out. After the new Blade was announced in Seattle, I had a lengthy discussion with Min about whether the trackpad buttons should have been matte or glossy plastic. It's very rare that you see that kind of attention to detail, particularly at the chief executive level, so it's nice to see how connected Razer is as a company and how serious they are about their PC business.
Razer Blade (late 2012) Specifications
Processor
Intel Core i7-3632QM
(4x2.20GHz + HTT, Turbo to 3.2GHz, 22nm, 6MB L3, 35W)
Chipset
Intel HM77
Memory
2x4GB DDR3-1600
Graphics
Intel HD 4000
(16EUs, up to 1200MHz)

NVIDIA GeForce GTX 660M 2GB GDDR5 (Optimus)
(384 CUDA Cores, 875MHz/950MHz core/boost, 2.5GHz memory, 128-bit memory bus)
Display
17.3" LED Matte 16:9 1080p
AUO B173HW01 V5
Hard Drive(s)
500GB 7200RPM HDD (Hitachi HTS72505)
64GB Lite-On LMT-64M3M caching SSD
(Marvel 88SS9174 Flash controller, NVELO DataPlex caching software)
Optical Drive
-
Networking
Intel Centrino Advanced-N 6235 802.11a/b/g/n
Bluetooth 4.0
Audio
Realtek ALC275 HD Audio
Stereo speakers
Single combination mic/headphone jack
Battery
6-Cell, 60Wh (integrated)
Front Side
-
Right Side
Kensington Lock
Left Side
AC Adaptor Port
Gigabit Ethernet
HDMI
3 x USB 3.0
Headphone/Line-in Combo
Back Side
-
Operating System
Windows 7 Home Premium 64-bit SP1
Dimensions
16.81" x 10.90" x 0.88" (WxDxH)
427mm x 277mm x 22.4mm
Weight
6. lbs
2.99kg
Extras
2.0MP Webcam
Ambient light sensor
Backlit keyboard
Switchblade UI
Ten dynamic LCD keys
4.05" WVGA LCD touchpad (capacitive, multitouch)
Warranty
1-year limited
Pricing
$2499
On spec level, the new Blade stacks up roughly where we thought it would. Near the end of my Blade review, I suggested that we would see the next iteration jump in performance plane: "The more efficient chips open up a lot of possibilities for Razer due to the thermal design; quad-core CPUs and GTX-caliber graphics wouldn't be out of the realm of imagination." With the 35 watt quad-core parts that were introduced with Ivy Bridge, it was a given that we would see one. As such, Razer went with the i7-3632QM, a new 35W quad clocked at 2.2GHz with a max turbo of 3.2GHz.
In addition, the graphics were bumped up to the GTX 660M, a Kepler-based 28nm GPU with a GK107 core, 384 CUDA cores clocked at 875MHz, and 2GB of GDDR5 vRAM. If you've been paying attention to NVIDIA's increasingly convoluted mobile graphics lineup (I won't blame you if you haven't), that's the same GPU as the GT 650M except clocked higher—the GDDR5 variant of the GT 650M is clocked at 735MHz, while the DDR3 version comes with an 850MHz core clock but significantly slower memory—the GDDR5 GT 650M ends up being a fair amount faster than the DDR3 one. The GT 640M and one SKU of GT 640M LE also use the GK107 core and have the same 384 CUDA cores and GDDR5/DDR3 variants, but with even lower clocks (in the 625 to 645MHz range for the GT 640M, and 500MHz for the LE). The other GT 640M LE SKU is a 40nm part that's essentially rebranded from one of the GT 555M's many variants. Confused yet? Yeah, that's what I thought. Thanks NVIDIA, we love you.
Basically, this is all to say that architecturally, there's nothing serious separating the GTX 660M from the GT 650M that can be found in the new MacBook Pros, Samsung Series 7, and the Alienware M14x. Interestingly, the Retina MacBook Pro has a GDDR5 GT 650M clocked at an aggressive 900MHz, which is actually higher than the base clock of the GTX 660M in the new Blade. So here we go again. This isn't to fault Razer—they were kind of stuck between a rock and a hard place with this one. NVIDIA's lineup has basically shaken out such that the only Kepler-based GTX parts up until have been the 660M and the 680M; the 680M's 100W thermal envelope is almost as high as the entire Blade system, which ships with a 120W power adapter, while the 40nm Fermi parts (GTX 670/675M at 75/100W respectively) obviously weren't realistic either, leaving the 660M as the only really viable option. Will we see GTX 670MX/675MX make it into the Blade sooner rather than later? It's possible, but we'll believe it when we see it.
| | | | | | | |
| --- | --- | --- | --- | --- | --- | --- |
| | Razer Blade (late 2012) | Razer Blade (early 2012) | Alienware M17x R4 | Alienware M18x R2 | ASUS G75VW | Clevo P170EM |
| CPU | Core i7-3632QM | Core i7-2640M | Core i7-3630QM | Core i7-3630QM | Core i7-3610QM | Core i7-3720QM |
| GPU | GTX 660M | GT 555M | GTX 660M/680M | GTX 680M SLI | GTX 670M | HD 7970 |
| Thickness | 0.88" | 0.88" | 1.76" | 2.13" | 0.67-2.04" | 1.65-1.89" |
| Weight | 6.60lbs | 6.40lbs | 9.39lbs | 11.93lbs | 9.92lbs | 8.60lbs |
| Price | $2499 | $2799 | $1849/2399 | $3249 | $1399 | $2176 |
Right off the bat, let's address the cost versus performance question that dogged the original Blade. A comparably configured M17x will run you about $1900, though at $2500 you could get the same M17x with a GTX 680M. GK104 is just on a higher performance plane than any other mobile GPU at the moment, so it's worth thinking about. The ASUS G75VW can be had in GTX 660M and GTX 670M flavors and rings up at less than $1500 no matter what configuration you're looking for. Obviously, the Blade and the M17x are more premium products than the ASUS RoG systems, but the Razer is still more expensive than the nearest competitors. It ends up as either a tradeoff between the power of the GTX 680M and the portability of the Blade, or just paying a decent premium for the Blade's design and Switchblade UI. But, at the very least, now it's at least justifiable. The first Blade would have been a difficult value proposition to make even with a 25% price cut.
The other big hardware news is that the 256GB SSD was dumped in favor of a 500GB 7200RPM hard drive paired with a Lite-On 64GB solid state mSATA cache drive. That drive is based on the same Marvell 88SS9174 flash controller as the old Blade's SSD and runs on NVELO's DataPlex caching firmware. Quite frankly, I'm disappointed. I get that with the size of modern video games, 256GB can be on the tight side, but I'm not sure that dumping fully solid state storage for a cached solution is the best way to go. And even with a hard drive, it'd have made more sense for Razer to go for a drive in the 750GB-1TB range instead of a 500GB drive to make it really worth the switch. Another option, if Razer really wanted to let users have their cake and eat it too? Configure the mSATA drive as a separate storage drive and use either the LMT-128M3M or 256M3M (the 128GB and 256GB variants of the current 64GB cache drive). That lets you have a decent sized SSD for the OS and applications, along with a mechanical drive for games and data storage. If I had my run of the place, I think I'd have two SKUs—one with the 64GB cache paired with a 750GB hard drive, and another one with a 256GB SSD offered as a no-cost option. I'd like to see users be given the choice, basically.

Other details include the switch across the board to USB 3.0 ports (there's three of them, all highlighted in Razer green, with nary a USB 2.0 port in sight) and an updated dual-band Intel wireless card that supports Bluetooth 4.0 and WiFi Direct. The display is the same AUO 1080p panel as before, and it's one of the few meaningful internal components that has been retained from the original Blade. The exterior, however, looks pretty similar, and that's a good thing. We loved the original design and it has survived mostly intact, with a bit of additional weight due to the mechanical hard drive and some revised cooling details. The form factor is like nothing else, other than maybe the dearly departed 17" MacBook Pro, and in the world of gaming notebooks, it's just on a different planet. Look at the chart from above, an updated version of the one I had in the original Blade review: half the thickness of the M17x, three and a half pounds lighter than the G75VW. As for performance, we'll look at that in a moment.