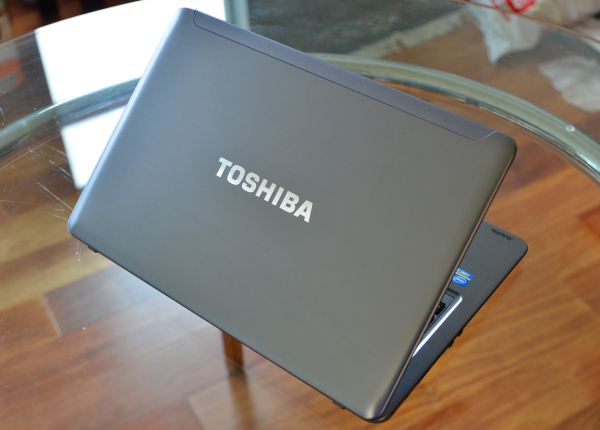 At CES, Toshiba showed us its forthcoming 14" Ultrabook, a system that they said would debut alongside Ivy Bridge in Q3. At the time, it was overshadowed by their new tablets (which hit the market as the Excite series), but true to their word, Toshiba dropped off their new 14" Satellite U845 Ultrabook in our labs and gave us a chance to take a look at it. It's one of the new "budget" Ultrabooks, which hit the low end of Intel's Ultrabook spec for around $800, with designs that are still very thin and light but typically not as premium as class headliners like the Samsung Series 9 and ASUS Zenbook Prime. It's a breed that includes the Samsung Series 5 Ultra, HP's new Envy 4t and 6t Ultrabooks, the Sony VAIO T13, and Lenovo's U310/410.
Toshiba Satellite U845-S406 Specifications
Processor
Intel Core i5-3317U
(2x1.7GHz + HTT, Turbo to 2.6GHz, 22nm, 3MB L3, 17W)
Chipset
Intel HM77
Memory
6GB (4GB + 2GB) DDR3-1600 (Maximum 8GB)
Graphics
Intel HD 4000 Graphics
(16 EUs, up to 1.05GHz)
Display
14.0" LED Glossy 16:9 768p
LG Display LGD033F
Hard Drive(s)
500GB 5400RPM HDD (Hitachi HTS54505)
32GB mSATA caching drive (Intel Smart Response Technology)
Optical Drive
-
Networking
Intel Centrino Wireless-N 2230 2.4GHz 802.11b/g/n
Bluetooth 4.0+HS
Atheros AR8152 10/100 Ethernet
Audio
Realtek ALC269 HD audio
Stereo speakers
Headphone/mic combo jack
Battery
6-Cell, 54Wh
Front Side
-
Right Side
SD/MMC card reader
2 x USB 2.0
Ethernet 10/100
Left Side
Kensington Lock
Power/AC Adaptor
HDMI
USB 3.0
Line-in/microphone jack
3.5mm headphone jack
Back Side
-
Operating System
Windows 7 Home Premium 64-bit SP1
Dimensions
13.4" x 9.1" x 0.79"
340.4mm x 231.1mm x 20.1mm
Weight
3.90 lbs
1.77 kg
Extras
VGA webcam
Warranty
1-year limited international
Pricing
$879 MSRP, Online starting at $600
The U845 follows the usual pattern here, with Ivy Bridge ULV processors, a mechanical hard drive paired with an SSD cache, Intel's onboard graphics, a ho-hum 14" 1366x768 display, and a 3.9lb/0.8" thick form factor. With an MSRP starting price of $749 (our evaluation unit goes for $879), it's a pretty good representative of the budget Ultrabook market, essentially matching the price and specsheets of the competing Series 5 Ultra and Envy 4t. Of course, that's assuming you have to pay MSRP, and right now the U845 is going for much less than $879: $600 (plus tax) for the i5-3317U equipped version. How's that for a discount?
You get a so-so collection of ports, with HDMI, a single USB 3.0 port, two USB 2.0 ports, and a 10/100 Ethernet jack. At nearly $900 the lack of Gigabit LAN is rather sad; I'd have liked to see Toshiba go with GigE and a second USB3 port. I suppose that it's not all that common for Ultrabooks to have Ethernet connections anymore, so maybe we should just be thankful for what we were given. As noted above, however, $600 is far more pallatable for such hardware and we're willing to forgive the omissions.

There are three SKUs for the U845, and all of them look pretty similar. The base model U845-S402 comes with an SNB i3-2377M, 4GB memory, and 16GB SSD cache in addition to the 500GB spindle, with an MSRP of $749. Office Depot lists it at $449 with a current $300 discount, however that doesn't show up as being available for purchase right now; B&H has it going for $625. The lack of Turbo on the i3 line plus the use a a previous generation SNB CPU (and HD 3000 graphics) makes the 2377M's 1.5GHz clock speed look painfully low, so I'd recommend avoiding it. The mid-level U845-S404 model adds $100 to the MSRP and bumps it to the i5-3317M (1.7GHz, with a max Turbo of 2.6GHz), but it's currently the most expensive of the three models at $700 online, so there's no reason to even look at it. Our top shelf U845-S406 model has the same CPU but with a 32GB SSD cache and 6GB RAM, with online pricing starting at $600 at Office Depot, or $680 at B&H.
Before we even get to the performance, it's worth a short tangent to note the drastic price cuts seen on Toshiba's entire U845 line—and such cuts aren't limited to Toshiba Ultrabooks. A quick search on Newegg turns up nine Core i5 Ivy Bridge Ultrabooks priced under $800, with the cheapest Lenovo U310 going for $600. Intel had big plans for Ultrabooks when they first hit the scene last year, but they're not selling all that well with pricing closer to $1000. It's not clear if Intel is helping to reduce the pricing by dropping CPU costs or with other incentives, or if the manufacturers are just trying to move inventory, but $600 is a far more realistic starting point. The U845 we have now hits that same mark, so let's see how it performs along with a subjective evaluation.