Introducing the iBuyPower Valkyrie CZ-17
The overarching recommendations we've had for big gaming notebooks these days have been pretty simple: ASUS G7x series if you're on a budget, Alienware M17x if you're not. Clevo and MSI are alternatives, but really gamers have been best served by one of these two lines, and it's been that way for some time now. I originally brought in iBuyPower's Valkyrie CZ-17 because it's an ODM notebook that's been rebranded by a boutique that's gradually growing almost too big to be considered a boutique anymore, and worth at least a little attention.
As it turns out, the CZ-17 is worth more than a little attention. Sourcing a notebook from MSI instead of Clevo is actually a good start to differentiating your brand from other boutiques, but the real surprise is just how strong of a competitor this gaming notebook is. For the first time in some time, the old Alienware design is starting to really lose its lustre.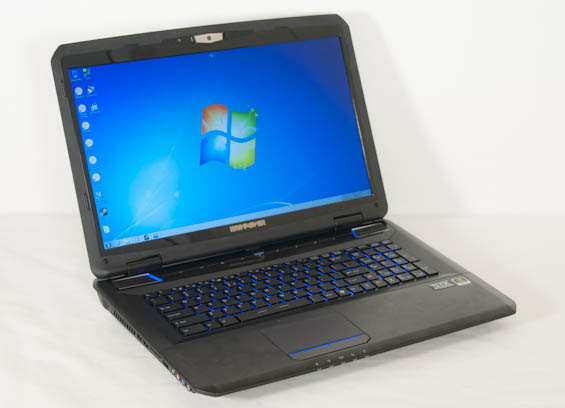 While it's not much to look at, the CZ-17 has a little more verve and style than Clevo's notebooks. The NVIDIA GeForce GTX 675M feels warmed over (it's just a rebranded GTX 580M) but still a powerful GPU, while even an entry level Ivy Bridge quad core is going to feel plenty fast. Yet the underlying hardware isn't the whole story with notebooks, and the CZ-17 has to be tested to truly be appreciated. There are some surprises here.
iBuyPower Valkyrie CZ-17 Specifications
Processor
Intel Core i7-3610QM
(4x2.3GHz + HTT, Turbo to 3.3GHz, 22nm, 6MB L3, 45W)
Chipset
Intel HM77
Memory
2x4GB G.Skill DDR3-1333 (Maximum 32GB)
Graphics
NVIDIA GeForce GTX 675M 4GB GDDR5
(384 CUDA cores, 632MHz/1265MHz/3GHz core/shaders/memory clocks, 256-bit memory bus)

Intel HD 4000 Graphics
(16 EUs, up to 1.1GHz)
Display
17.3" LED Matte 16:9 1080p
Chi Mei N173HGE-L11
Hard Drive(s)
Seagate Momentus 7200.5 750GB 7200-RPM SATA 3Gbps HDD
(one open 2.5" bay)
Optical Drive
BD-ROM/DVD+-RW Combo Drive
Networking
Killer Networks e2200 PCIe Gigabit Ethernet
Intel Centrino 2230 802.11b/g/n
Bluetooth 4.0
Audio
Realtek ALC892 HD audio
Four speakers
Mic, headphone, line-in, and line-out jacks
Battery
9-cell, 87Wh
Front Side
Speaker grills
Right Side
2x USB 2.0
Optical drive
Left Side
Vent
3x USB 3.0
SD card reader
Mic, headphone, line-in, and line-out jacks
Back Side
Kensington lock
AC adapter
Ethernet
D-SUB
eSATA
HDMI
Vent
Operating System
Windows 7 Home Premium 64-bit SP1
Dimensions
16.9" x 11.3" x 2.2"
429.3mm x 287mm x 55.9mm
Weight
6.9 lbs
3.1kg
Extras
Webcam
USB 3.0
Card reader
THX TruStudio PRO audio
Backlit keyboard
Warranty
1-year limited and lifetime phone support
Pricing
$1,459
Just about everything but the GPU is fairly entry level for a gaming notebook, but that's not necessarily a bad thing since this is about the lowest price I've ever seen a GTX 580M/675M at. The Intel Core i7-3610QM is Intel's bottom rung quad core processor, but still able to turbo up to an impressive 3.1GHz on all four cores, 3.2GHz on two cores, and 3.3GHz on a single core. This is more than enough processing power for most tasks.
Even if the NVIDIA GeForce GTX 675M existed essentially as a stopgap for NVIDIA to release the GTX 680M (review impending), it's still a very formidable GPU. The 675M is a rebranded GTX 580M, but ours is running at very slightly higher clocks than spec; 632MHz instead of 620MHz on the core clock, resulting in a corresponding 1265MHz on the CUDA cores instead of 1240MHz. It's not really a noticeable difference, but remember the 580M was basically last generation's top of the line mobile GPU and it still has a lot of fight left in it.
As I mentioned, though, the rest of the system is less exciting. The lack of any SSD is going to cripple the base CZ-17 in our PCMark tests and certainly doesn't help it feel more responsive, while the 8GB of DDR3-1333 is standard if unexceptional. Users looking to upgrade RAM will have to remove the keyboard to do so or replace the existing DIMMs with 8GB sticks. At least iBuyPower includes a blu-ray combo drive standard, and the Killer Networks e2200 gigabit ethernet (complete with connection management software) is a nice touch.