A Powerful 11.6" Laptop
Well, this is the part everyone has been waiting for. I'll just let the numbers speak for themselves here. The Monster is fast by notebook standards, phenomenally so when compared to other machines in this size class. It's just an order of magnitude faster than just about anything else in the 11-13" range. The M14x R2 is probably the closest you're going to get, and that's a solid two pounds heavier than the Monster.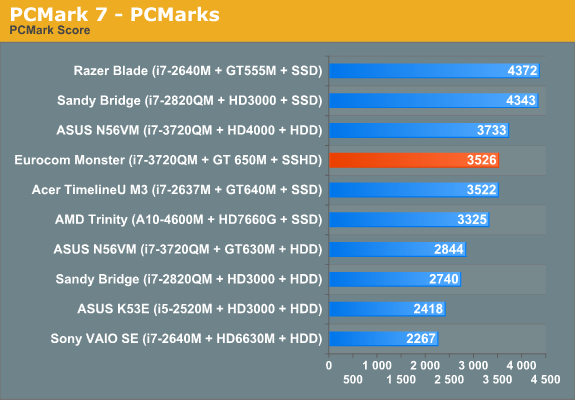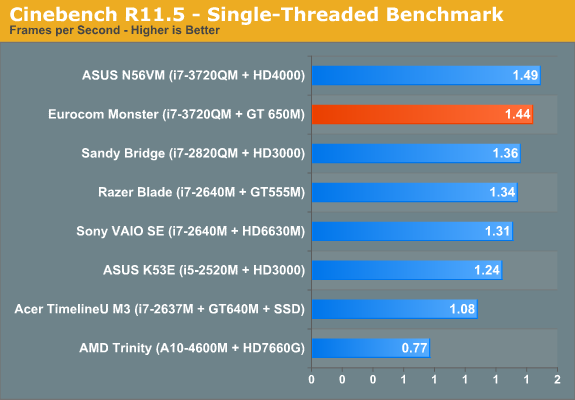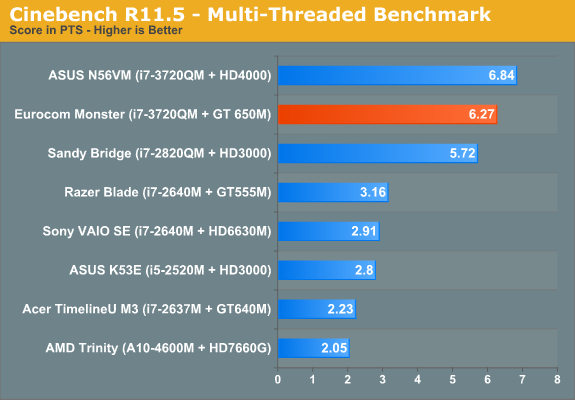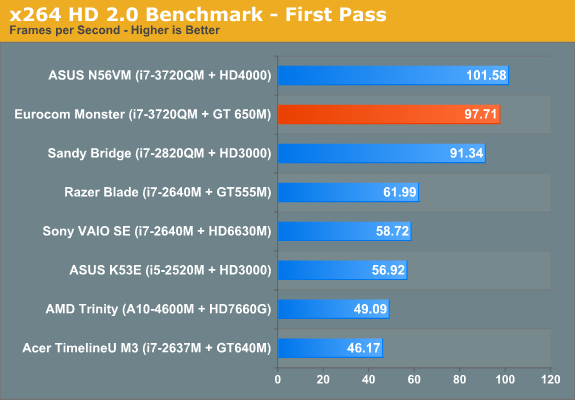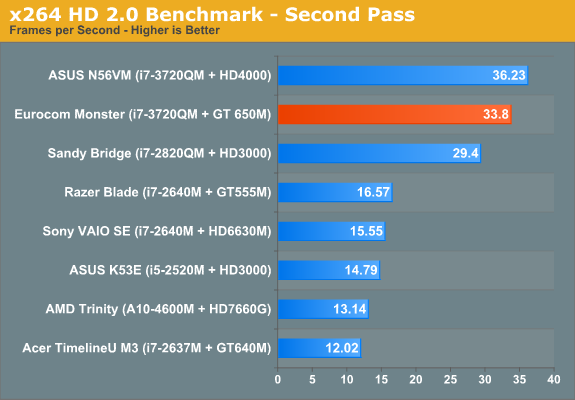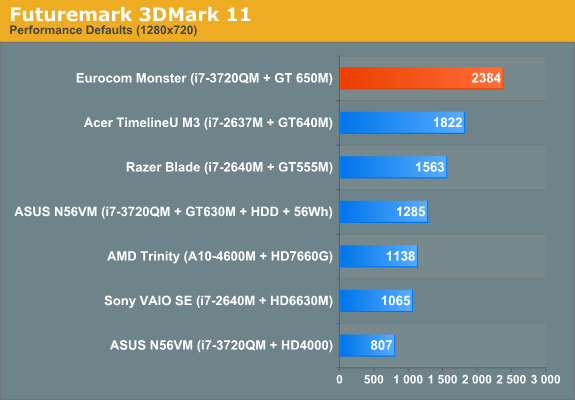 Jarred did a deep dive into the performance of the mobile IVB quad-core chips in the Mobile Ivy Bridge Performance Preview, so you can take a look at more benchmarks and the improvements in Quick Sync and the integrated GPU there. The ASUS N56VM we looked at in that piece had the same i7-3720QM processor as our Monster evaluation unit, so results are very comparable.
IVB is considered a tick+, bringing new lithography along with an architectural overhaul on the GPU side, but the CPU microarchitecture in IVB is pretty similar to SNB. As we noted in the performance preview, raw CPU performance hasn't really improved that much over SNB, with differences in the 10-20% range. It's decent, but not life-changing in the same way as the jump from Clarksfield to SNB.
A note on hybrid hard drives—if you're looking for consistent SSD-like performance, you're going to be disappointed. Which might sound obvious, but I'm not talking about it in the numbers sense; other than boot times, the Momentus XT just doesn't feel as consistently responsive as an SSD tends to be. In fact, it doesn't feel particularly more responsive than a typical 2.5" 7200RPM hard drive. The problem is down to the fact that the NAND cache isn't predictive, so the first few times you do anything, it feels like a standard 7200RPM drive. Over time, it'll eventually store the most frequently read data into cache and deliver near-SSD performance for that data, but until that happens, along with any workflows outside of the cached data, the drive will feel agonizingly slow. On a system that has this level of raw compute horsepower, the hybrid drive is a serious bottleneck. You're better off with any newer SSD, and relying on a USB 3.0 external hard drive if you need extra storage space. With 120GB SF-based drives starting to go lower than the $1/GB mark, there's no reason not to do it anymore.