Performance and Screen Quality
What GeChic hasn't changed is the panel used in the On-Lap 1302; both the 1301 and 1302 list the same panel model, which is detected as "MTC6655." Once again we have a 13.3", 1366x768 TN panel that they again rate for 200 nits and 500:1 contrast. For the most part GeChic is honest about the remaining specifications, though, listing very limited viewing angles and 262,000 colors.
I measured that the 1302's backlight does seem to have improved on the 1301, interestingly enough. Where the 1301 at maximum brightness only rated 142 nits, the 1302 goes up to 186 nits. The flipside is that the increase in backlight intensity has resulted in a corresponding increase in black levels; the 1301's black level was measured at 0.7 nits while the 1302's measures at 1.19 nits. Our net result is a marginal improvement in contrast, going up to a still middling 156:1 and well short of the 500:1 contrast quoted.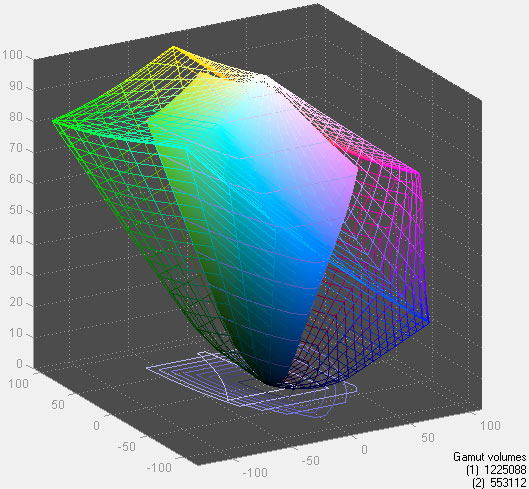 Color gamut and delta-E remain essentially unchanged, which is expected given it's the same panel used in the 1301 and near identical backlighting.
Given the increased backlight intensity, it stands to reason the GeChic On-Lap 1302 might also be a bigger strain on the battery. Since I didn't have the Acer TravelMate I used in the previous review on hand anymore, I opted to test it with the HP Folio 13 I have in house. In our internet usage test, the Folio 13 lasts for 425 minutes before going into hibernation. With the On-Lap 1302 connected, set to its maximum brightness (its default), and configured to mirror the Folio 13's internal display, the Folio 13's running time was reduced to just 236 minutes. That's still a cut under four hours, and you can definitely eke more battery life out of the 1302 by reducing the brightness.
It's pretty clear the increased default brightness of the 1302 can take its toll on running time, but given the otherwise identical configuration, you should be able to adjust it to the point where the hit is more manageable. Still, we're talking about driving an entire second display off of the notebook's battery when the internal display was already one of the biggest power hogs in the system.