Introduction
Just about anyone can put together a solid computer using a decent midtower and the right parts. What we don't see as often is just how fast a computer can be assembled in a small form factor. More and more, too, the term "fast" isn't an all-encompassing one; as the GPU becomes increasingly important, the definition gets foggier and foggier. Today, all of these considerations collide as we test two top end configurations from Puget Systems against each other.
On the outside it looks we have two systems assembled in Antec's ISK-110 enclosure, but on the inside, we have a showdown between Intel and AMD's best and brightest at 65 watts. The more cynical (and admittedly informed) reader may already have an idea of where this is going, but there are definitely some surprises in store.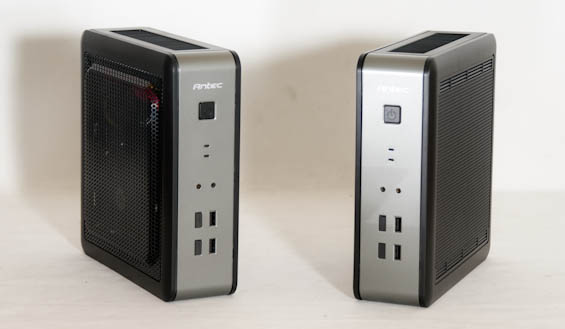 The Antec ISK-110 is a mini-ITX enclosure with exactly enough space for the motherboard, CPU, memory, and two 2.5" drives located on the opposite side of the chassis, underneath the motherboard tray. There's no space inside for a power supply, and indeed each enclosure comes with the necessary tools to mount it to a monitor's VESA mount, effectively hiding the entire system. As a result, the ISK-110 employs an 80-watt external power supply—good for saving space, bad for driving powerful hardware. Puget Systems faced a very real limit as to how much power could be crammed inside this chassis, but we felt like it would be a good opportunity to see just how powerful a system could be built in it...from both AMD and Intel.
In an effort to keep things fair, Puget Systems tried to use as many of the same components as they possibly could between the two builds. In practice things didn't quite work out that way, as you'll see later.
In the Blue Corner...
Expectations for our Intel-based system are set appropriately; Intel's been leading AMD in terms of CPU performance-per-watt for quite some time now and there's no reason to expect anything to change here, especially with the bulk of the Llano desktop chips sporting 100W TDPs that remove them from contention for this build. Here's what we're testing in the Intel configuration:
Puget Systems Echo I (Intel Edition) Specifications
Chassis
Antec ISK-110 VESA
Processor
Intel Core i7-2600S
(4x2.8GHz + HTT, Turbo to 3.8GHz, 32nm, 8MB L3, 65W)
Motherboard
ASUS P8H67-I Deluxe Rev. 3.0
Memory
2x8GB Patriot DDR3-1333 SO-DIMM
Graphics
Intel HD Graphics 2000
(6 EUs, 850-1350MHz)
Hard Drive(s)
Intel 520 240GB SATA 6Gbps SSD
Western Digital Scorpio Blue 1TB 5200 RPM SATA 3Gbps HDD
Optical Drive(s)
-
Power Supply
80W external
Networking
Realtek PCIe Gigabit Ethernet
Atheros AR9285 b/g/n Mini-PCIe Wireless LAN
Bluetooth v2.1+EDR
Audio
Realtek ALC892
Speaker, mic, and line-in jacks, optical S/PDIF
Front Side
2x USB 2.0
Headphone and mic jacks
Top
-
Back Side
4x USB 2.0
2x USB 3.0
PS/2
DVI-D
VGA
HDMI
Optical out
eSATA
Ethernet
Speaker, mic, and line-in jacks
Operating System
Windows 7 Home Premium 64-bit SP1
Extras
SSD
Wireless-N
Bluetooth
Warranty
1-year parts, lifetime labor and support
Pricing
Starts at $852
Priced as configured: $1,756
First of all, Puget Systems opted to equip their Intel version of the Echo I (the Echo II line can handle higher TDPs and includes an optical drive, but in a slightly bigger chassis) with the fastest CPU that Intel offers at a 65W TDP: the Core i7-2600S. The i7-2600S is able to turbo up to as fast as the regular 95W i7-2600 can on three cores, two cores, or even just one core, but on all four it peaks at 2.9GHz. For all intents and purposes, that's not a huge hit in exchange for being able to fit inside the power envelope this enclosure's power supply requires.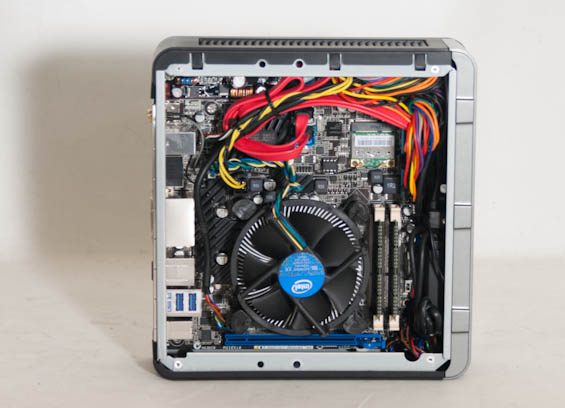 That's a lot of heatsink for a small chassis!
Where things do get a little bit dicier with the i7-2600S is the integrated graphics processor: the i7-2600S uses Intel's cut-down HD 2000 graphics that sports half the shader cores the HD 3000 does. This is actually a small change of pace for us; the HD 2000 is actually fairly rarefied in review systems we test, as on the notebook side [nearly—mobile Celeron and Pentium have lesser GPUs] every CPU's IGP has all twelve shaders, while the desktops we test almost never run the IGP.
Instead of full length DIMMs, the ASUS P8H67-I Deluxe uses a pair of SO-DIMM slots that admittedly prevent our comparison from being completely fair. Keeping with maximizing these configurations, Puget Systems filled both slots with 8GB DDR3-1333 SO-DIMMs from Patriot. The PCIe x16 slot is left unoccupied (and there's really no room for a GPU in this chassis), while the board's wireless duties are handled by an Atheros AR9285 controller.
Finally, storage is handled by an Intel 520 series SSD with a 240GB capacity as the system drive, while a slow 1TB Western Digital Scorpio Blue running at just 5,200 RPM handles mass storage. You can actually configure the system with a 750GB Scorpio Black for a bit less money, and that drive runs at the full 7,200 RPM, making it potentially a more ideal choice unless you absolutely must have the extra space.