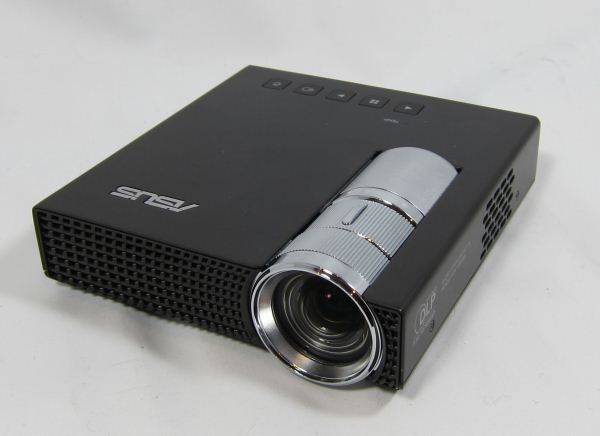 As someone that used to do a lot of traveling for implementation and training work, I was always at the mercy of the projector that companies would provide me for training. Usually this was fine, but sometimes I got stuck with an ancient projector that only did 640x480 resolution, which couldn't even handle the applications I was trying to train people on. Trying to pack and lug a projector across the country was out of the question as it was an expensive, and backbreaking, proposition.
Thankfully technology moves on and improves, and today we have solutions for these situations. One solution is the ASUS P1 Portable LED Projector. Using a DLP chip and an LED light source, this sub-1 pound projector manages to put out 1280x800 pixels and 200 ANSI lumens, and it would even fit inside the bag that holds my 11.6" MacBook Air. Most projectors that I use are for home theaters and have lenses that are larger than the P1, so I was a bit skeptical of it when I first saw it, but eager to give it a try.
The P1 is very simple on the outside, with a single focus control but no zoom for the lens, a few buttons to control an on-screen menu system, and ports for the PSU and a break-out cable. The only inputs supported are VGA and Composite Video, with no digital video inputs available. A variety of resolutions are supported, but as mentioned the native resolution of the DLP chip is 1280x800 and other resolutions may result in scaling and artifacts. Using a MiniDP to VGA adapter I hooked up my MacBook Air to the P1 in my living room, as the lighter colored walls and ambient light there were similar to what I found when traveling. Using a white wall, or a projection screen, would result in a better image but with a projector like this, you often don't have such luxuries.
The closest resolution the MacBook reported as supporting was 1280x768, which results in a 34-pixel crop at the bottom of the screen, but otherwise there's no scaling or other issues. One concern that people will have when they see this is the 200 lumens rating, as that seems quite small in comparison to other projectors. Since the P1 uses an LED light source, you can expect those lumens to be very constant throughout the life of the projector, unlike conventional projection bulbs that can easily lose 25% or more brightness in less than 500 hours of usage. Also, the P1 is likely to be used in smaller rooms and settings than a 2,000 lumen monster, and typical screen size will be closer to 60" than 150", so for business use you will probably find this to be enough light.
In my less than ideal setup, I was around 5' from the nearest wall and the projected image was certainly bright enough to clearly see with all the room lights on and some sun shining in. The 50" plasma next to it was certainly brighter, but I can't throw it into my bag and carry it with me. The short throw ratio of the P1 meant the image I had on the wall was right around 62" diagonally, which was nice and large. Bringing up a spreadsheet and a presentation it was easy enough to read the cells and the information, though adding a little bit of zoom inside of Excel helped. Darker material, such as nighttime video, was a little bit hard to make out, but for business use you won't have an issue seeing anything.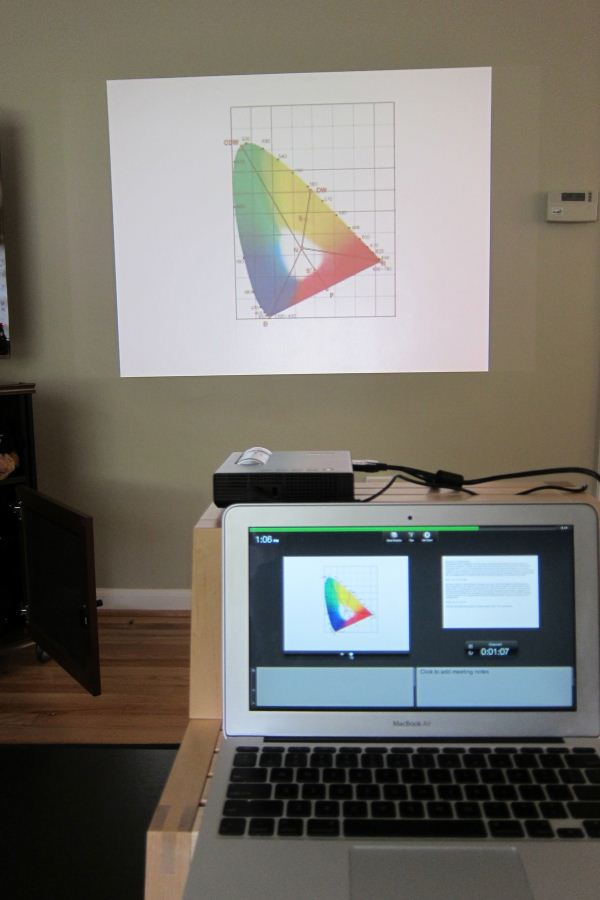 A nice feature in the P1 was automatic keystone correction when the flip-stand under the projector is enabled. While any sort of image correction like this will add some artifacting if you look, it wasn't clearly noticeable when just using a spreadsheet or other business application, and it happened transparently when adjusting the P1. This can be adjusted in the menu system as well, but the automatic nature of it was nice and easy.
For the most part the P1 worked very well for its intended use. It's very small and easy to pack, and puts out a bright enough image that you can get a very reasonable size in a lit room that people can easily see. However, it wasn't without some faults that I would like to see improved in the future.
I would like to see a digital video input of some sort in the future, either DVI or Micro HDMI or DisplayPort would be nice; an MHL port for phones and other devices that are starting to implement those would be useful as well. Secondly, with the lightweight nature of the P1, the breakout cable for VGA and Composite video was fairly heavy and was enough to easily shift the projector around on my table. Either a lighter cable, a tackier material on the bottom of the projector, or positioning the cable at the rear where it is less likely to cause a shift to one side would be good.
The fan noise in the standard mode was a bit loud, though that is the case for a lot of projectors. LEDs are power efficient, but they do seem to generate a lot of heat and something has to dissipate that. The rated sound output is only 29dB, but that is in Theater mode that dims the output so not as much cooling is required. Finally, an option in the menu system to change the On Screen language would be nice. This is something that would almost never occur to me, except that the unit I received seems to be in German and reading the English manual revealed no way to change that on my own. Doing a Reset All allowed me to pick a language, but this wasn't mentioned in the manual, so hopefully this will be addressed.
While not without some minor quibbles that I find in almost any product, the ASUS P1 wound up being a pretty nice little projector to use. The only other LED projectors I had used in the past were $30,000 units so I had no idea what to expect from one selling for $500, but for the price it was a decent little unit. The output was nice and sharp, though with any projector with text you'll want it a bit bigger than you would on your normal display. It was small and compact enough to throw into the included bag and carry around with me, and light enough that I wouldn't notice the extra strain on my shoulders. For someone that travels a lot, or needs a projector they can easily move around all the time, the ASUS P1 is definitely worth a look.
Specifications of ASUS P1 LED Projector
Resolution
1280x800
Throw Ratio
1.12
Lumens
200 ANSI
Contrast Ratio
2000:1
Weight
0.91 lbs.
Dimensions (WxHxD)
4.94" x 1.32" x 5.12"
Price
$499