Dell Vostro V131: What's in a Name?
We've reviewed just about every line of laptops that Dell makes over the years, but we haven't had a chance to look at the Vostro line until today. Vostro is essentially Dell's entry-level business laptop brand, with an emphasis on business-class options while maintaining a lower price point than the Latitude line. What that means is you give up some of the performance options of Dell's consumer lines, but you get a default 1-year warranty with next business day service along with a matte LCD. The V131 we received for review is also quite thin, nearly at ultrabook levels, which raises an interesting question: how does an $800 business laptop compare with ultrabooks and other thin-and-light laptops?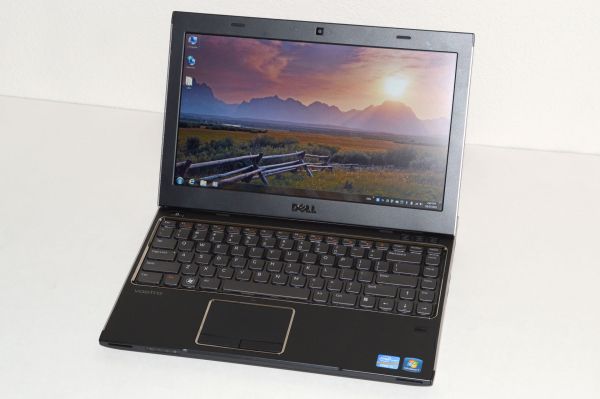 Let's start with a brief overview of what makes something an ultrabook, as we can then easily see where the V131 falls short. We've covered this before, but here's the short version: an ultrabook needs an SSD (or at least SSD caching), it needs to be "secure" (e.g. include Intel's Identity Protection Technology), it needs to be at mainstream prices (under $1000), and it needs to be thin—really thin—0.8" thick or less to be precise. The Dell Vostro V131 already hits most of these areas, but it doesn't have an SSD and even with the stock 4-cell battery it's 0.83" thick. So, it's not an ultrabook, but does that even matter?
If you put an SSD in a 4-cell V131, I'd say it's close enough for all practical purposes. The problem is that the 6-cell extended capacity battery bumps the thickness up to 1.25"; it's one thing to compare 0.83" with <0.8" thick, but when the comparison becomes 1.2" vs. ultrabooks there's a noticeable increase in size. Still, I find the V131 to be "thin enough" for my purposes, particularly when we factor in the improved battery life. As for SSDs, you can't configure the V131 with an SSD from Dell, but they're easy enough to add on your own—and you also get to choose which particular brand/model of SSD you want rather than going with whatever Dell selects. What will be more interesting to see over the coming months is how much of a difference the ultrabook features and specs make compared to "regular" laptops like the Vostro.
Here's the full overview of our test system features and specifications. We were shipped a higher-end configuration, and we've bolded the component choices where applicable in the following table. Other Vostro V131 models come with lower cost (and lower performance) CPUs, HDDs, and memory configurations.
Dell Vostro V131 Specifications
Processor
Intel Celeron ULV 847 (dual-core, 1.10GHz, 2MB L3, 17W)
Intel Core i3-2310M (dual-core + HTT, 2.10GHz, 3MB L3, 35W)
Intel Core i3-2330M (dual-core + HTT, 2.20GHz, 3MB L3, 35W)
Intel Core i5-2410M (dual-core + HTT, 2.30-2.90GHz, 3MB L3, 35W)
Intel Core i5-2430M (dual-core + HTT, 2.40-3.00GHz, 3MB L3, 35W)
Chipset
Intel HM67
Memory
2GB (1x2GB DDR3-1333, 1 free SO-DIMM)
4GB (2x2GB DDR3-1333)
6GB (1x4GB + 1x2GB DDR3-1333)
Graphics
Intel HD Graphics (Celeron)
Intel HD 3000 Graphics
Display
13.3" WLED Matte 16:9 768p (1366x768)
(LG 133WH2)
Hard Drive(s)
320GB 7200RPM HDD
500GB 7200RPM HDD (Toshiba MK5061GSYN)
Optical Drive
N/A
Networking
Gigabit Ethernet(Realtek RTL8168/8111)
802.11n WiFi + Bluetooth 3.0 (Intel Wireless-N 1030)
WiDi Ready
Optional 3G/4G Mobile Broadband
Audio
Stereo Speakers
Headphone jack
Battery
4-cell, 44Wh
6-cell, 11.1V, ~5.7Ah, 65Wh
Front Side
N/A
Left Side
Memory Card Reader
Exhaust vent
1 x USB 2.0
HDMI
Right Side
Headphone Jack
2 x USB 3.0
VGA
Gigabit Ethernet
Back Side
AC Power Connection
Kensington Lock
Operating System
Windows 7 Professional 64-bit
Dimensions
4-Cell: 12.96" x 9.36" x 0.63-.83" (WxDxH)
(329.3mm x 237.6mm x 16.1-21.0mm)

6-Cell: 12.96" x 9.36" x 0.72-1.25" (WxDxH)
(329.3mm x 237.6mm x 18.3-31.8mm)
Weight
4.03 lbs (6-cell) / 1.83kg
Extras
1MP Webcam
86-Key backlit keyboard
Flash reader (SD, MS, MMC)
MS Office 2010 Starter
65W Power Adapter
Warranty
1-year warranty with NBD on-site service standard
Up to 3-year extended warranties available
Pricing
Starting Price: $499
Reviewed Configuration: $859 (with 6GB RAM)
($659 with coupon code HCQL82SHPFRSC$)
Now that we've listed the specs, let's clarify a few things. First, the 4-cell battery is quoted as an option on the spec sheet, but it doesn't actually show up on the current four configurations. The 6-cell battery lifts the back of the laptop up about half an inch, making it quite a bit thicker. We pulled out some measuring tape and found that the front was a bit higher off the table surface than the quoted .63", but more importantly the back is 1.25" thick with the 6-cell battery. (Measuring without the battery, the back of the laptop is 0.81" thick.) So it's definitely thicker than an ultrabook, and the bulkier 6-cell battery really pushes it out of ultrabook contention, but otherwise the specs look pretty good on the $800 model.
The CPU offerings cover quite a wide spectrum, and your choice of CPU also influences other elements. The base model $500 V131 comes with a Celeron ULV 847 and 2GB RAM, with no option to upgrade either component (though you can still do so on your own). The Celeron 847 is a 17W part, which sounds good from a battery life perspective, but with a clock speed of 1.1GHz and only two cores it's not going to be much faster than the old Pentium SU4100. The next bump up costs $100 more but gives you a 2.2GHz clock on the i3-2330M, plus Hyper-Threading; you also get the ability to customize the RAM and hard drive configuration.
The top-end configuration comes with an i5-2430M, 4GB RAM, and a 500GB hard drive. Our review unit is slightly out-of-date and comes with an i5-2410M, but that shouldn't matter much, and it also has a $60 upgrade to 6GB RAM. Normally priced at $859, Dell is currently running a coupon code on the top-end model that drops the price $200. Needless to say, $659 for the i5-2430M configuration is a very reasonable price, particularly when you consider the warranty.
As a business class laptop, the Vostro line comes with next business day (NBD) on-site service standard. I've supported Dell systems in the past, and their NBD service worked very well. Unless something has changed, you basically call up and give them a description of the problem, and the next day someone shows up with either replacement parts (or potentially a replacement laptop). I never had issues with their local service provider, and compared to the runaround you often get with consumer support it's hard to overstate the importance of fast service for business users. If you're at a company that's large enough to have an IT department, it probably doesn't matter much, but for smaller companies minimizing downtime is critical. Bumping up to a 3-year NBP warranty is also priced at just $80; that compares to a $119 charge to do the same on an Inspiron 14z, or $299 (WTF!?) to get a 3-year warranty on the XPS 15z. (Note: all of those prices I just quoted are liable to change, sometimes by a large amount, at any given time.)
While the specs may not be enough to set the world on fire, business generally aren't interested in the bleeding edge. Instead, they want a well-built laptop that will stand the test of time, and while the Vostro V131 may not include the spill resistant keyboard or magnesium alloy frame of a Dell Latitude, the V131 does try to strike a nice balance between features, build quality, and cost. It also looks unassuming (unless you get the red version), which is what most companies prefer. So how successful is the V131 at maintaining that balance? Let's dig a little deeper.