Pretty much ever since the iPhone 4 with retina display was launched, resolutions have played a major role in smartphone market. In September, Samsung unveiled Galaxy S II HD LTE, which sports a 4.65" 1280x720 display. That was the first smartphone with HD resolution (720p). Now there are already a few phones with HD resolution, for example Samsung Galaxy Nexus and LG Optimus LTE. Higher resolutions are not only courtesy of smartphones as "retina" displays are coming to tablets as well. On May, Samsung showed off a 10.1" panel with resolution of 2560x1600 - resolution that's only seen in high-end 30" monitors.
Toshiba is taking the resolution battle one step further by releasing a 6.1" LCD with 2560x1600 resolution. In terms of pixels per inch (PPI), that is 495. Below is a table comparing displays and their PPIs.
Comparison of display PPIs
Screen Size
Resolution
PPI
iPhone 4/4S
3.5"
960x640
329.65
Samsung Nexus
4.65"
1280x720
315.83
Samsung's Unreleased Tablet Panel
10.1"
2560x1600
298.9
Toshiba's New Panel
6.1"
2560x1600
494.9
As you can see, Toshiba's new panel is a clear winner, and its PPI is 50% greater than iPhone 4/4S's, which has the second highest PPI. There is no word on the panel type but the viewing angles are 176 degrees, which hints toward IPS. Toshiba also claims 1000:1 contrast ratio and 61% NTSC color gamut.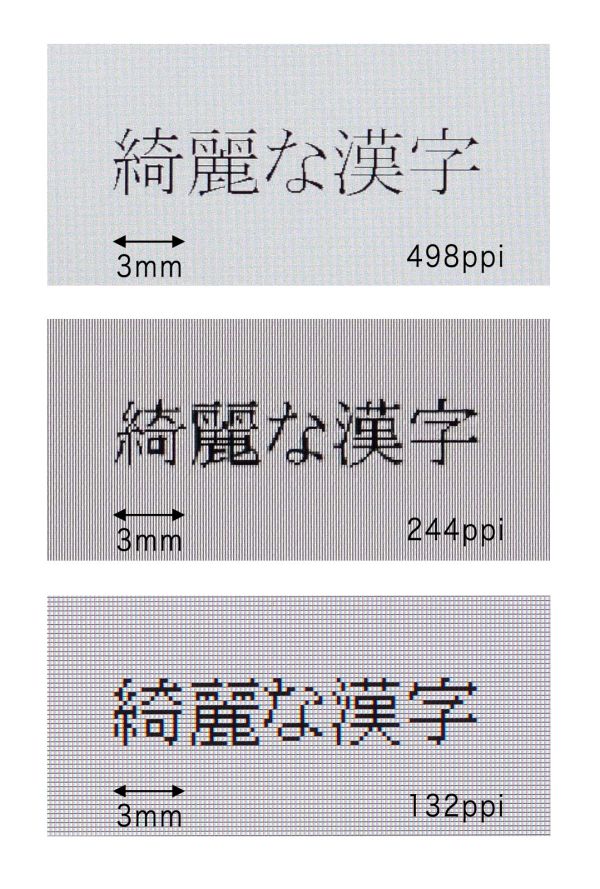 The image above summarizes the advantage of high PPI. ~500PPI is starting to be close to the limits of human eye because even at very close range (like in the image), seeing the individual pixels is nearly impossible. At normal viewing distance, it would be impossible to see individual pixels.
However, the big question is, what is the use for 6.1" display? 4.5" is more or less the maximum for smartphone (although there are a few bigger ones, such as Samsung Galaxy Note). Bigger than that won't fit in most people's hands or pocket comfortably. Tablets, on the other hand, usually begin at 7". 6.1" is in the middle - it's too big for a smartphone and too small for a regular tablet.
It's possible that this is just for trying out what today's technology can produce and we may never see the display in a consumer product. If it's aimed for a certain product, then the only product that makes sense would be a small tablet, unless Toshiba or any of its partners have something special in mind.
Source: Toshiba Mobile Display