Introducing the HP Compaq 8200 Elite Ultra-Slim
If you've been following along for a while, it should be pretty clear that around here, we're fans of doing a little computing. Awkward turns of phrase notwithstanding, we thought we'd seen the smallest HP had to offer when we tackled the Z210 SFF desktop not too long ago. But we were wrong, and today we present you with the smallest desktop computer in HP's enterprise lineup. Wearing its power supply on the outside, meet the HP Compaq 8200 Elite Ultra-Slim.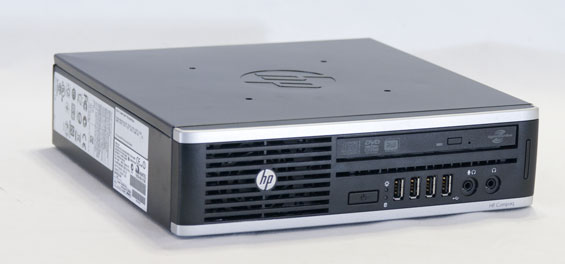 Get a load of that. Admittedly consumer desktops (and nettops) can get just a bit smaller, but the HP Compaq 8200 Elite Ultra-Slim is still pretty impressively diminutive. Once you get this small it's very hard to include any kind of real graphics hardware, so even the entry level Quadro found in the Z210 is absent here, but other than that you'll see it's a surprisingly fully-featured little computer.
HP offers several pre-configured variants of the 8200 Elite Ultra-Slim, and they shipped us the top XZ788UT model. They also have custom-build options available, with a much larger selection of parts on tap. Here's what we received in our review sample.
HP Compaq 8200 Elite Ultra-Slim Specifications
Chassis
HP Custom
Processor
Intel Core i5-2500S
(4x2.7GHz, 32nm, 6MB L3, turbo to 3.7GHz, 65W)
Motherboard
HP Proprietary Motherboard with Q67 chipset
Memory
1x4GB Samsung DDR3-1333 SO-DIMM (expandable to 16GB)
Graphics
Intel HD Graphics 2000
(6 EUs, 850-1100MHz)
Hard Drive(s)
Western Digital Scorpio Black 250GB 7200-RPM 2.5" SATA 3Gbps HDD
Optical Drive(s)
HP DVD+/-RW Combo Drive
Networking
Intel 82579LM Gigabit Ethernet
Intel Centrino Advanced-N 6205 802.11a/b/g/n
Audio
Realtek ALC662 HD Audio
Speaker, mic/line-in jacks for stereo sound
Front Side
4x USB 2.0
Headphone and mic jacks
Optical drive
Card reader
Top
-
Back Side
Speaker, mic/line-in
2x PS/2
6x USB 2.0
1x Ethernet
1x DisplayPort
VGA
AC adaptor
Operating System
Windows 7 Professional 64-bit SP1
Dimensions
9.9" x 10" x 2.6" (WxDxH), 6.8 lbs.
251 x 254 x 66 mm, 3.1 kg
Extras
SD Card Reader
87% Efficient PSU with active PFC
Warranty
3-year parts, labor, and onsite service
Pricing
MSRP starts at $679; review configuration at $914
Available online starting at $770
You can immediately tell from the specs that the 8200 Elite Ultra-Slim is the kind of system designed more for mass deployment than any kind of serious, high performance computing. HP includes an MXM slot and Mini-PCIe slot inside the chassis for expansion, and for those that really want some for of discrete graphics a $61 upgrade to an AMD Radeon HD 5450 is available. With 80 Stream Processors, that's not a major upgrade from Intels HD 2000; it's a little dated but it's there if you need it. There's also no USB 3.0 support, but at least HP includes DisplayPort connectivity.
Moving to the CPU, the Intel Core i5-2500S is no slouch. Rated for a TDP of 65 watts instead of 95, it still manages to boast the same impressive top turbo core speed as its non-S-series counterpart. Other options range from basic Pentium CPUs all the way up to the i7-2600S. HP backs the CPU up with two SO-DIMM slots (and no ECC support), one of which is occupied in our review unit by a 4GB DDR3-1333 DIMM.
Keeping up with the "notebook in a desktop shell" motif is the 2.5" Western Digital Scorpio Black 7200-RPM mechanical hard drive and a slimline DVD+/-RW drive. (Note that SSDs are available in the custom configurator if desired.) HP also includes integrated wireless in the form of the Intel Centrino Advanced-N 6205 wireless chipset, which supports 802.11a/b/g/n connectivity. The 87% efficient PSU is an external power brick rated for 135 watts, more than enough to support this configuration.
None of the specs are going to set the world on fire, but being a business class system there are a few other extras we need to discuss. The major selling point for systems such as this is the warranty and support. The HP Compaq Elite 8200 comes standard with a 3-year onsite warranty, and in our experience business class systems are built and supported better than consumer offerings. Remember also that while HP is talking about selling off their consumer PC division, they want to keep the (more lucrative) business and enterprise lines.