The Logitech Z305 in Theory
Before we get into the nitty-gritty of reviewing the Z305 proper, it's important to get a couple of things out of the way. First, this is a subjective review. It's simply too difficult to justify getting together the necessary equipment (not to mention space) to do proper objective measurements of sound hardware, especially when you're sharing a tiny apartment with someone. That, and this is a $59 speaker, so anyone looking for hard-hitting coverage of a consumer-grade kit designed solely to replace crappy laptop speakers may take their sound a little bit too seriously.
Second, this is our last audio review for a while. You spoke: we listened. Subjective reviews are all we're really equipped to handle and that seems to infuriate exactly half of our readership. Since we actually like you and really want you to come back and continue reading, audio reviews are falling by the wayside for the foreseeable future. If and when we take another shot at audio, we'll be adding the necessary equipment and expertise to do it right.
Now, all that out of the way, down to business. The Logitech Laptop Speaker Z305 is essentially a pair of speakers in a single barrel that clamps to the top of a laptop screen similar to a webcam, and from there they connect via a short USB cable that handily folds into the body of the speakers. Setup is quick and easy and no drivers need to install. There's an additional minijack in the body of the barrel for connecting outside audio sources, but the Z305 is still going to require power from the USB port.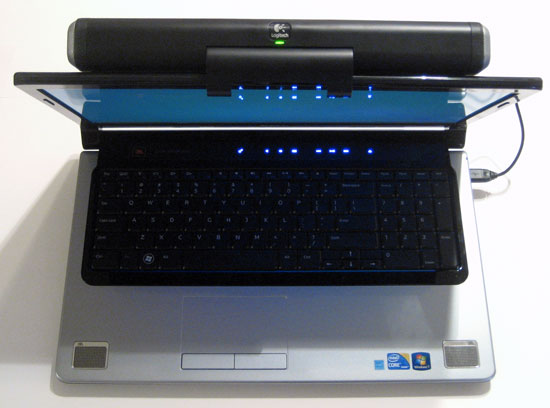 On the whole, the Z305 is a fairly elegant solution. The volume buttons built into the bar are basically just shortcuts for the software-controlled volume level in Windows. It's all plug-and-play, very seamless, and in many ways the clamp-on solution actually seems more logical than the wireless Z515 speakers we reviewed. Truthfully when we were offered the Z515 and Z305 to review, this was the product I really wanted to check out. At $60 MSRP it's much less glamorous, but it also struck me as being the more practical of the two. So how does it sound?