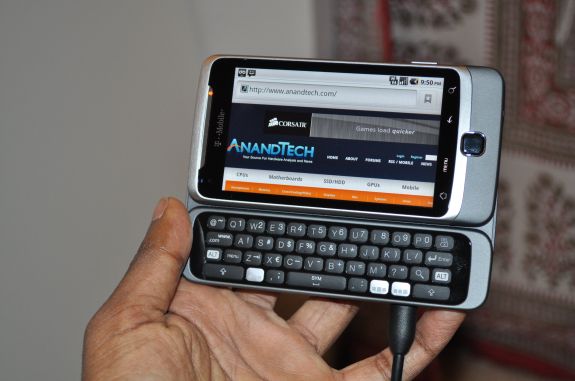 So, the son of G1 is now out and open for retail consumption, and it's certainly an interesting device. This is one of the first high end GSM HTC Android devices in a while, so it's been understandably hyped. The keyboard is another unique factor - this is HTC's first Android device with a physical keyboard since the original G1, and the G2, along with the Samsung Epic 4G and Droid 2, is currently the one of the few high end Android devices with a physical keyboard.
Physical Comparison
Apple iPhone 4
HTC EVO 4G
Samsung Epic 4G
Motorola Droid 2
T-Mobile G2
Height
115.2 mm (4.5")
121.9 mm (4.8")
124 mm (4.9")
116.3 mm (4.6")
119 mm (4.69")
Width
58.6 mm (2.31")
66.0 mm (2.6")
63.5 mm (2.5")
60.5 mm (2.4")
60.4 mm (2.38")
Depth
9.3 mm ( 0.37")
12.7 mm (0.5")
15.2 mm (0.6")
13.7 mm (0.54")
14.16 mm (0.56")
Weight
137 g (4.8 oz)
170 g (6.0 oz)
155 g (5.47 oz)
169 g (5.9 oz)
180 grams (6.35 oz)
CPU
Apple A4 @ ~800 MHz
Qualcomm Snapdragon QSD8650 @ 1 GHz
Samsung Hummingbird @ 1 GHz
Texas Instruments OMAP 3630 @ 1 GHz
Qualcomm Snapdragon MSM7230 @ 800 MHz
GPU
PowerVR SGX 535
Adreno 200
PowerVR SGX 540
PowerVR SGX 530
Adreno 205
RAM
512MB LPDDR1 (?)
512MB LPDDR1
512MB LPDDR1
512 MB LPDDR1
512 MB LPDDR1
NAND
16GB or 32GB integrated
8GB micro SD
1 GB integrated, 16 GB microSD preinstalled
8 GB integrated, preinstalled 8 GB microSD
4 GB integrated, preinstalled 8 GB microSD
Camera
5MP with LED Flash + Front Facing Camera
8MP with dual LED Flash + Front Facing Camera
5 MP with LED Flash and autofocus
5 MP with dual LED flash and autofocus
5 MP with auto focus and LED flash
Screen
3.5" 640 x 960 IPS
4.3" 480 x 800
4.0" 480 x 800 Super AMOLED
3.7" 480 x 854
3.7" 480 x 800 Super LCD
Battery
Integrated 5.254Whr
Removable 5.5Whr
Removable 5.55 Whr
Removable 5.2 Whr
Removable 4.81 Whr
The G2 comes with a Qualcomm MSM7230 SoC, an 800 MHz part based on the 2nd generation Snapdragon core. It's now on a 45-nm manufacturing process (the original Snapdragon QSD8x50 parts are 65nm) and has an updated Adreno 205 GPU. Beyond the die-shrink, the CPU seems to be relatively unchanged compared to the first gen-Snapdragon, just running at an 800 MHz frequency. The lower clock speed is probably to keep power consumption and yield in check for Qualcomm's first 45nm SoC. The Adreno 205, on the other hand, seems to be a pretty big improvement over the previous generation Adreno 200. The 205 adds hardware acceleration for Flash, SVG vector graphics hardware acceleration, and significantly improves shader performance over the Adreno 200. Performance is expected to be far more competitive to the PowerVR SGX 530 and 540 than the Adreno 200 ever was. So even though it doesn't break the magical 1GHz mark, the MSM7230 is still a very potent SoC, especially in a device that forgoes the burden of a custom UI layer on top of Android.
The MSM7230 in the G2 has support for 3GPP Release 7, which includes HSPA+ and Evolved EDGE support. The G2 supports HSDPA class 10 for a maximum theoretical downstream rate of 14.4 megabits/s, and HSUPA class 6 for a maximum theoretical upstream rate of 5.76 megabits/s. Qualcomm's MSM7x30 series SoC comes in another flavor - the MSM7630 - which packs HSPA+ support alongside CDMA voice and data.

Rounding out the other specs, we've got 512MB RAM (also part of the SoC), 4GB internal NAND with an 8GB microSD card preinstalled (more on this later), a 3.7" Super-LCD TFT display with an 800x480 resolution, a 5 megapixel camera with autofocus and an LED flash, 720p video recording at 30fps, and a removeable 4.81 Wh (1300 mAh) battery. Oh, and one of the weirdest hinges out there right now.