We just looked at i7 memory scaling performance and now it is time to chill a few processors to see what those DDR3-2000+ kits are capable of for the serious overclocker. As it turns out that was the opening to our original article, which we planned to launch in conjunction with the DDR3 memory-scaling article.
However, the best plans of mice and men sometimes go awry. Unfortunately, we met delay after delay as every one of our Elpida "Hyper" based kits failed on us in some form or fashion over the past few weeks. At times, a single module would fail and eventually the whole kit in certain instances. Eventually our patience wore thin as even warranty replacements started failing and we knew this was not an isolated problem.
In fact, this problem has become widespread in the extreme overclocking community. Admittedly, widespread in this particular group means a few hundred users. Nevertheless, this audience purchases these extreme memory kits with prices tags reaching the $500+ level at times and expects like performance and quality in return. Certainly, the performance is there, quality we are not so sure about right now.
We could attribute the demise of our modules to the elevated voltage levels we have used for this article and normally we would go that direction and stop for the day. However, we had modules die on us using no more 1.50V VDimm and stock VTT settings in a variety of boards. We are not the only ones, as it seems a number of users have also been through the RMA process (a few more than once) regardless of voltage settings.
The "official" cause of death is unknown at present, while the usual suspects, such as manufacturing errors, motherboard voltage/ user over voltage issues and temperature related deterioration are the obvious perpetrators. The "unofficial" cause of death is simply a quality problem with the Elpida "Hyper" based ICs according to various sources we have spoken with the past couple of weeks. Granted, the other factors can and probably do account for a certain failure rate, but the randomness of our failures along with others, especially at first POST or during stock benchmarking lead us to believe that the quality of the IC is the primary factor at this point.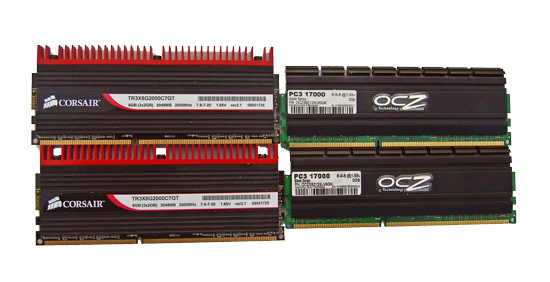 We have contacted Elpida about the problem but do not have an "official" response from their engineering group yet. However, the problem is serious enough that Corsair informed us earlier today that they asked their retailers to return any kits in the channel. They will not be selling kits based on the Elpida Hyper ICs until an enhanced manufacturing and testing process is in place to ensure the quality of this particular product before shipment. We applaud Corsair for being aggressive in regards to this problem and we expect/hope other suppliers to follow suit.
Most of the suppliers have reported that a relatively small percentage of kits appear to be affected. Just how small is unknown. Based on our own numbers and those of other users it appears to us it is significantly more serious than we were lead to believe a few weeks ago. We are now at the point of just saying that you are better off avoiding Elpida Hyper kits due to the 'frequently random' level of failures with modules. However, at least for now, all of the suppliers are fully backing their warranties. If you need the available benchmarking performance generated by these kits then it is worth the risk. Just make sure of the warranty terms before purchase, or simply put, buyer beware.
When we speak of failures, there are two types, a catastrophic failure where the module dies instantly and one of deterioration. One or more of the modules failing to map fully to the operating system usually marks the first sign of deterioration. Moving the modules around between the slots can work around some of this, although from our experience this is a primary sign that things are beginning to go downhill fast. This phenomenon is not to be confused with the i7 memory controller skipping to map a module because of insufficient voltages for the applied clocks.
The next step is when the module no longer clocks up at stock voltages or given voltage limits like 1.65V VDimm. We have witnessed modules not clocking above 1900MHz or so regardless of voltages and slowly dropping to 1200MHz before total failure.
With all that said, we decided to complete the article as there are users out there that have not experienced any of the issues at all or those still wishing to take a chance on these kits. Two of the kits we have been pushing for raw bandwidth over the past few weeks are Corsair's Dominator GT 7-8-7-20 6GB kit and OCZ's Blade 2133 8-9-8-24 6GB kit. We have tested other kits, but these are the last two standing in the labs although both of them are now showing signs of deterioration.
Corsair chose to stick with the tried and tested 2000MHz CAS 7-8-7-20 formula while OCZ gives up the tighter CAS rating in a bid to woo the market with a 2133MHz kit at 8-9-8-24 timings. On the face of it, we would say that both kits should be capable of similar results assuming that SPD and PCB differences between the two are not massive. OCZ and Corsair tell us their respective top end kits represent the top 1% of the Elpida Hyper yield.
We're keeping it simple today, running a few of the preferred benchmarking programs in a bid to find maximum frequency limits for the modules along with a small comparison of scores at the same CPU frequency. We have already shown that these kits are not really needed by the general enthusiast and typically do not improve application performance significantly enough to warrant the increased cost. However, they do provide a certain degree of flexibility when overclocking and allow for very tight latencies at a variety of memory speeds.