Test Setup-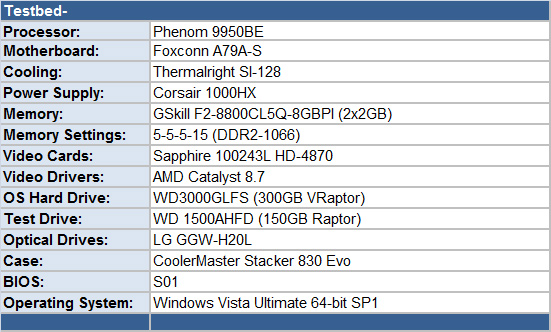 We figured this particular setup would offer a generous amount of heat output in the case and it just happened to be the configuration we were testing in our Cooler Master Stacker 830 Evo case at the time. We performed our base test in the Evo's drive cage with and without the standard 120mm fan operating. We then removed the drive, installed it in our iSURF II hard drive cooling system, placed it in the bottom external 5.25" drive bay, and tested with the onboard fans in both an on/off state.

We performed our test scenario five times for each setup. We throw out the low and high scores and average the remaining three. We let the drives idle for 20 minutes for the idle results and then loop the PCMark Vantage HDD test suite three times for our load temperature results. We utilized both Active Smart 2.6 and HD Tune Pro 3.10 for our temperature readings. We also utilized a thermal sensor to ensure the results from the software applications were accurate. Our test room was kept at a constant 23 Degrees Celsius during the entire test routine.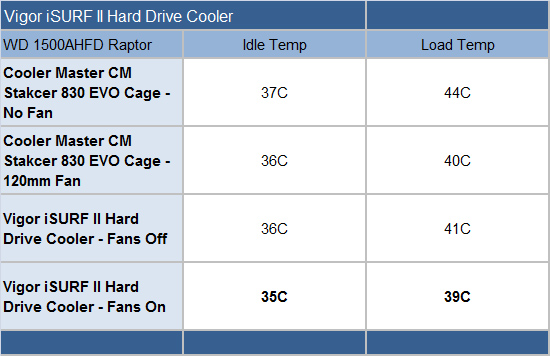 The iSURF II out performs our 120mm drive cage fan slightly by offering a measured 1C drop in both the idle and load temperatures. While this may not seem like much, the actual temperature between the two installation points varied by 0.6C with the higher case temperature measured where the iSURF II was installed. Factoring in this difference, the unit offered a 1.6C improvement in temperatures.
What was most surprising is the result between the cage without the fan on and the iSURF II without its fans turned on. Our test unit offered a 1C advantage at idle and 3C during load operations indicating a robust thermal design by Vigor. We did not install rubber mounting grommets when we attached the iSURF II unit to the case, but acoustics did not differ from the isolated Evo drive cage in sound or tone.
We recommend the Vigor iSURF II Hard Drive Cooling system to those users needing to install an additional drive in an external bay based on the aesthetics and performance of this product. Of course, any Battlestar Galactica fans needing a Cylon theme will also benefit from the front bezel and blue LED design. In all seriousness, those users seeking improved hard drive thermals with case designs that do not offer hard drive cooling options will benefit the most from this product. For users in that particular situation, we would not hesitate to recommend spending $24.99 (or less) for the iSURF II. In fact, we already have for several test bed machines.