BIOS
As we've seen across numerous of MSI's motherboards over recent years, its firmware of choice is Click BIOS 5. This is useful for keeping uniformity and familiarity for users consistently sticking with MSI models over multiple generations, including both Intel and AMD. The Click BIOS 5 firmware uses a primarily black background, with red highlights and white and grey text. MSI also includes two modes for users of varying experiences with firmware, an EZ mode for novice users and an advanced mode for the more experienced.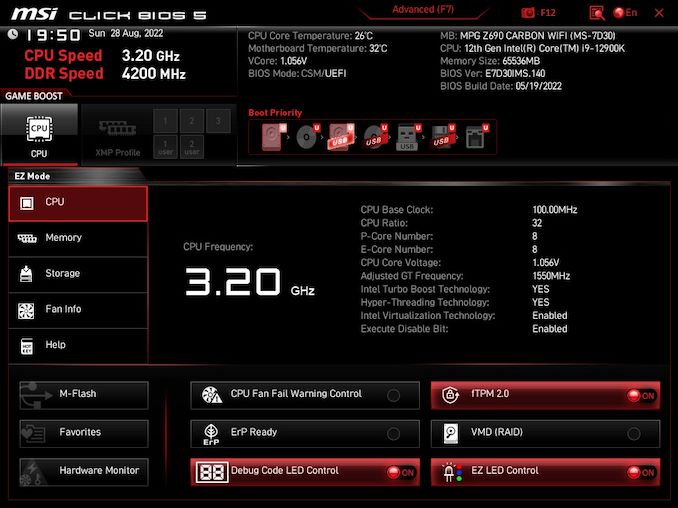 Accessing the board's firmware can be done by pressing either the Del or F2 key during system POST. For the first POST, users will be guided to the EZ mode, which features a list of one-click solutions for enabling things like X.M.P memory profiles, disabling or enabling TPM 2.0, and MSI's EZ LED control. In the center panel of the EZ mode is a list of information on the selected component which can be achieved by clicking on the appropriate component from the list on the left-hand side.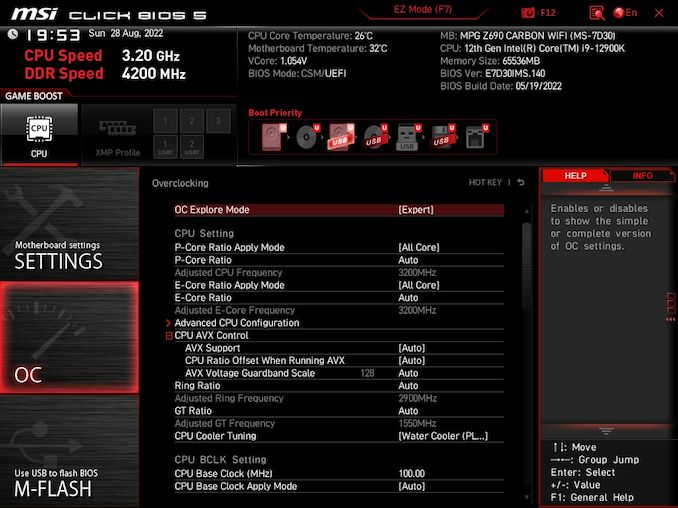 Users can access the advanced mode by pressing the F7 key, and this opens up a whole host of customizations on both hardware and chipset levels. The biggest and by far the area with the most options available to tweak is the OC section, where users can overclock the processor, memory, and even the integrated graphics on supported chips. MSI includes a wide variety of overclocking options, including P-Core and E-Core ratio overclocking, BCLK (base clock) adjustment, CPU AVX core offsetting, and CPU voltage options.
For memory, users can simply enable X.M.P profiles on compatible memory, or manually overclock memory by adjusting the frequency, selecting the desired Intel Gear Mode (1:1, 1:2, or 1:4), as well as fine-tune memory latencies with tonnes of primary, secondary, and tertiary latencies available to select from. MSI also allows users to select between three cooling profiles, which will determine the level of CPU power enabled based on the type of cooling being used. This includes a boxed cooler (stock) with a 241 W PL1/2 limit, a tower air cooler with a limit of 288 W, and a water cooler setting that essentially removes any power limitations (4096 W).
MSI's Click BIOS 5 firmware is intuitive, and it has plenty of options for both novice and advanced users too. As we've mentioned, we've used numerous MSI boards with Click BIOS 5 over the last couple of years, and we've had no issues with navigation, USB input device recognition, or any instabilities while testing with this board.
Software
Another familiar element we've seen with MSI's motherboards over the last year is a more streamlined and uniform software package being offered. At least for Z690, MSI has amalgamated all of its usual software applications such as Mystic Light, LAN Manager, MSI Companion, True Color, and its Hardware Monitor all into one easy-to-navigate MSI Center application.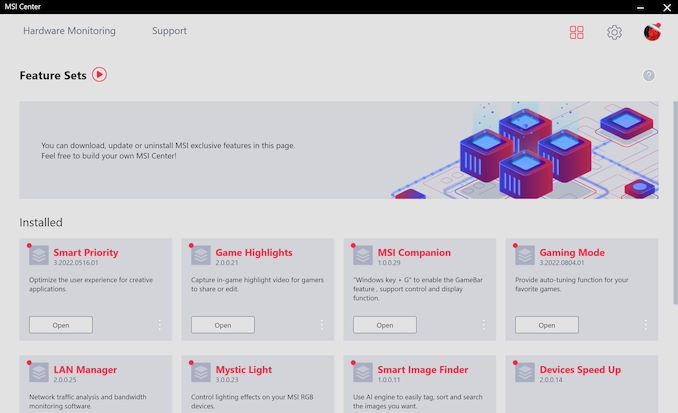 Looking at the MSI Center software, it acts as a central hub for all of MSI's included software applications. This includes functions such as Live Update where users can download and update the systems drivers and applications to the latest versions over an internet connection. Another software application is Mystic Light which allows users to customize the integrated and external RGB devices for a uniform or custom-themed aesthetic.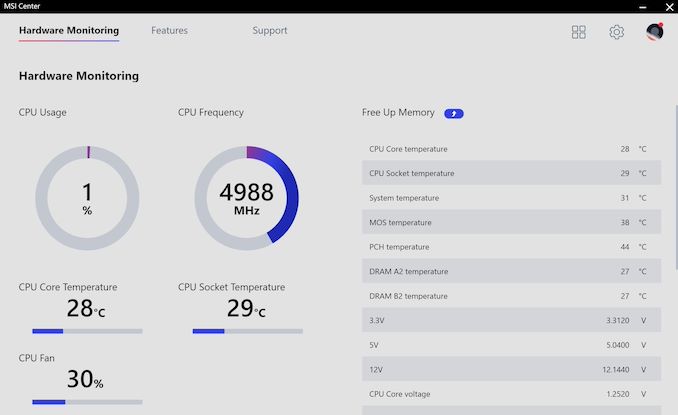 The software also comes with an integrated hardware monitor which keeps tabs on multiple sensors across the board including the CPU itself, the LGA 1700 socket, power delivery, and memory slots. Users can also monitor and track various voltages in real-time including CPU VCore, CPU Aux, and DRAM voltages.
Overall MSI's software package has plenty for users to sink their teeth into, although MSI hasn't included any overclocking software with its models of late. This is likely due to Intel and AMD both having their own software for users to download, which has actually been getting better year on year. This includes Intel's Extreme Tuning Utility (XTU) and AMD's Ryzen Master software which both work really well.
The only downside to the software is that users looking to make auditory adjustments will need to download the associated Realtek software directly from the Microsoft Store, although MSI does provide the drivers on the USB flash drive included with the accessories.