System Performance
The comparison of the Snapdragon 888 to the Dimensity 1200 is interesting as we don't tend to get to compare MediaTek devices very often. In theory, the Snapdragon has much more oompf to it given its higher performance X1 core, but things also depend on software.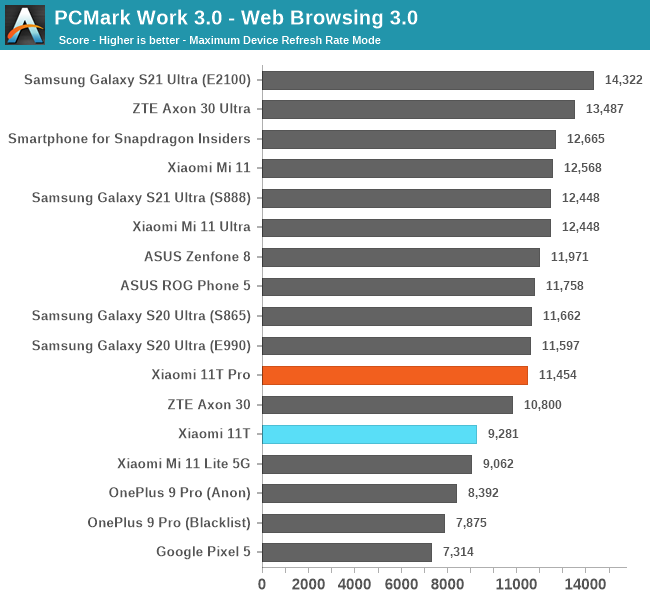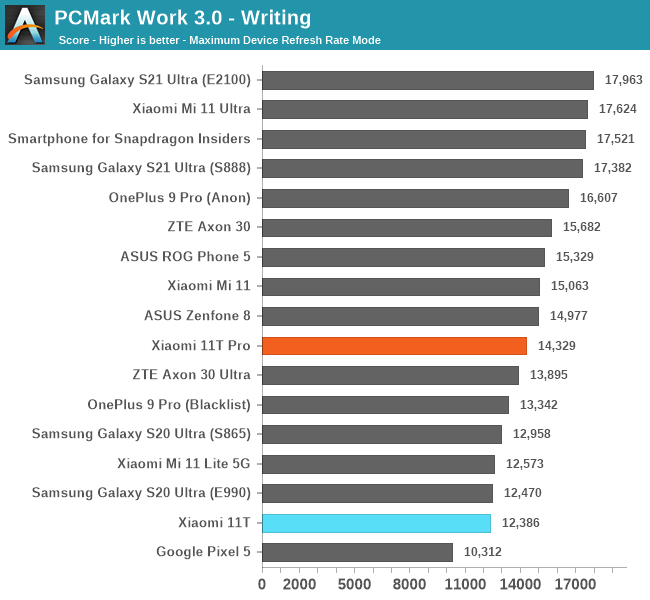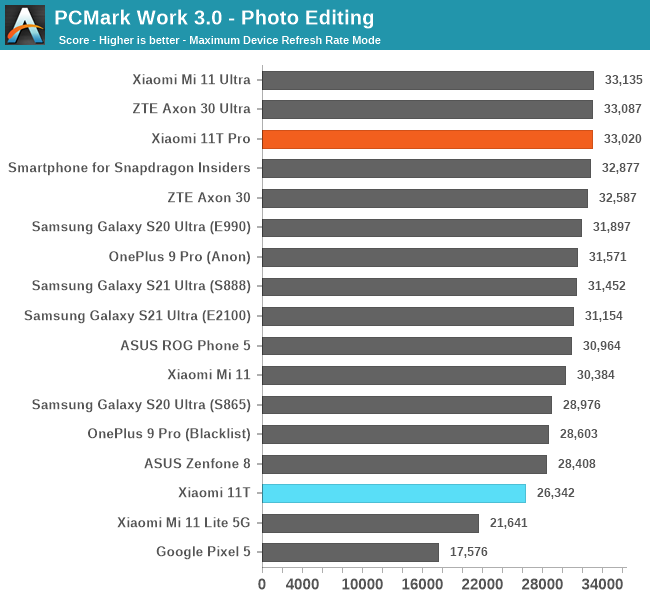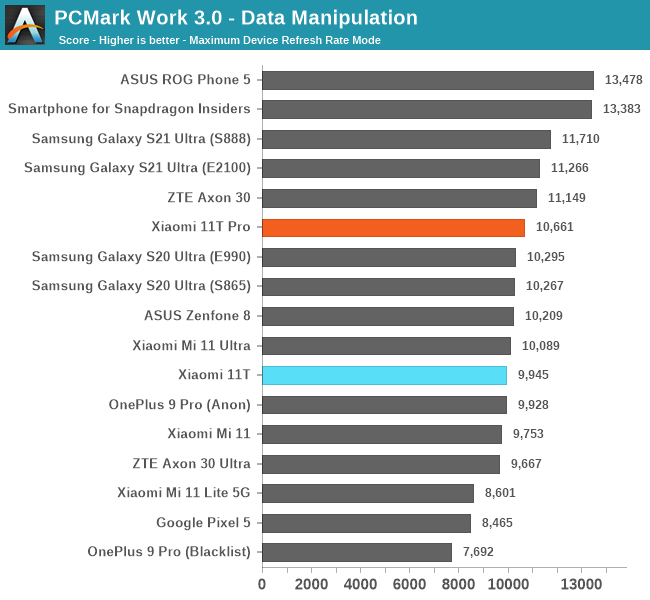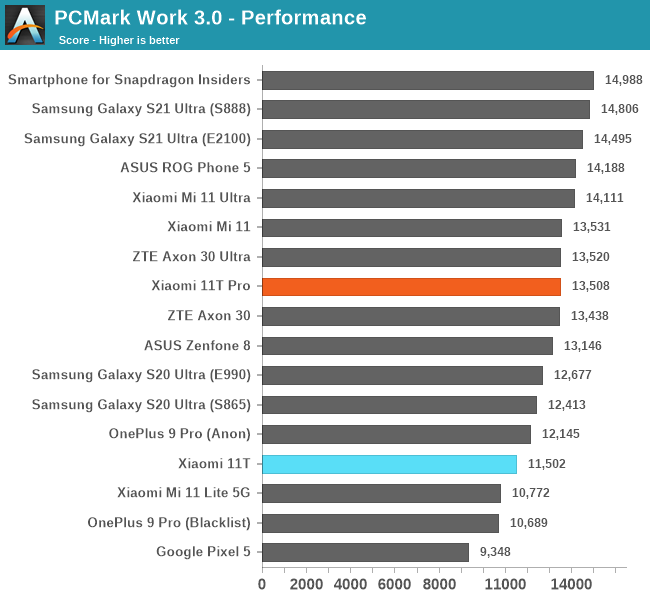 In PCMark, as expected, the Qualcomm powered 11T Pro has no issues in performing quite ahead of the MediaTek powered 11T. It seems that the SoC as well as software stack allows for more aggressive responsiveness on the larger SoC – which is to be expected.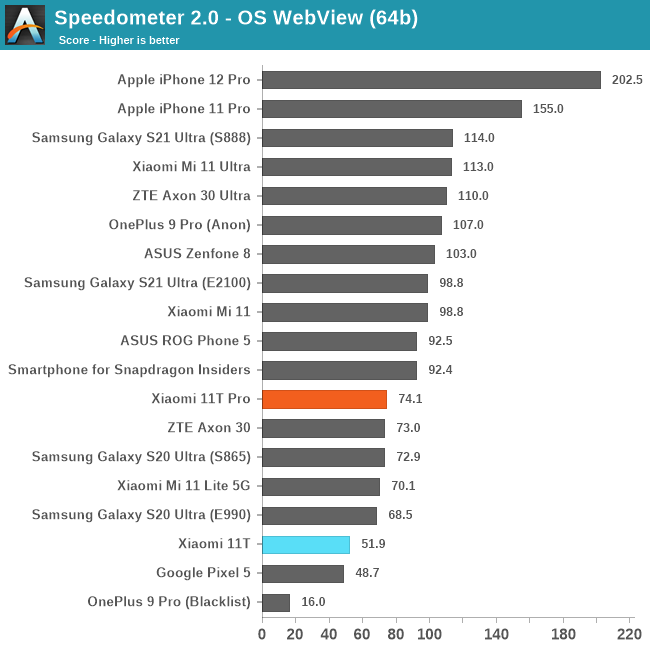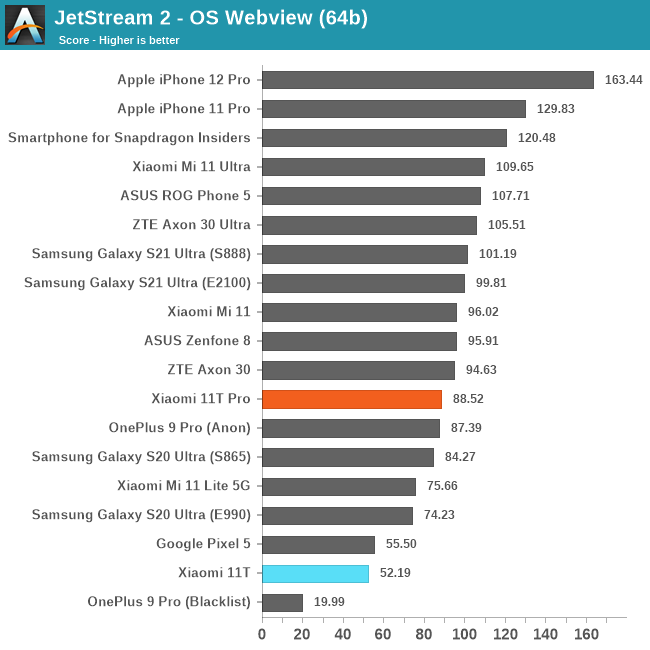 When it comes to the web tests, we also see the 11T Pro easily outperform the 11T, by quite some significant margins even.
What's a bit weird here is that both devices are actually performing below expectations, and here is where things get very shady:
The Snapdragon 888 in the 11T Pro in these benchmarks is never using the Cortex-X1 cores of the SoC. Instead, pretty much the totality of the tests is being performed on the 2.41GHz A78 cores. If this sounds familiar to you, it's because we saw some kind of similar behaviour on the OnePlus 9 Pro.
What's happening on the 11T Pro is that indeed it seems any anonymous workload on the phone is mostly unable to be scheduled on the X1 cores, unless there's multiple threads which causes spill-over. Without CPU affinity in my SPEC harness, the load gets also scheduled on the A78 cores. If I limit it to just the X1 core, it only goes up to 2.15GHz. In GeekBench, the ST workloads do go up to 2.84GHz even in an anonymised variant of the test, however in the MT load the X1 cores again are limited to 2.15GHz. The X1 cores are still being used here and there in scenarios such as opening apps, but otherwise rarely so.
I can't really tell if it's extreme battery optimisation or not, but it's quite aggressive and the Snapdragon 888 here is definitely handicapped in terms of behaviour.
On the MediaTek Dimensity 1200, the chip fares normally in steady state workloads, however in more interactive workloads such as the above web tests, the DVFS and scheduling behaviour is all over the place with the chip not consistently having the workload on the performance core. I'm also seeing bursts of the other cores needlessly going up in frequency. In general, we don't have too much experience with MediaTek's latest software stack, so this would require a bit more investigation, but generally, the phone doesn't perform quite as well as the raw CPU performance would indicate.
Both phones are fluid at 120Hz, and the 11T Pro is still very responsive, however the 11T doesn't feel quite as fast.