Pricing and Accessories
One of the key markers for any device is the price. To quote our founder Anand, he once coined the phrase 'there are no bad products, only bad prices'. This means that regardless of the cost of materials, if the price is good enough (or even negative), all products might be used by someone. In this case, as a smartphone, ASUS' pricing seems quite competitive.
So imagine, a Snapdragon 855+ smartphone, with a 2340x1080 AMOLED display capable of 120 Hz and theoretical 10-bit HDR support, with 12 GB of DRAM, 512 GB of storage, an in-screen fingerprint sensor, a Sony IMX586 rear camera, a second ultra-wide camera, support for Wi-Gig 60 GHz, a 6000 mAh battery, and an optimized version of Android for performance. How much would you pay? Slam most of those features into a device and you get something like the Huawei Mate 30 RS, co-designed with Porsche Design, which retails for $2099.
ASUS is giving all of this smartphone away for $899 (some Asian markets have an 8GB/128GB version for $549). It comes in at just cheaper than most current flagships, you do have to give up some extra weight, but adding that all together makes for one compelling purchasing option. Even before we go to the exact benchmarking numbers or battery life indicators, ASUS is pricing this unit very aggressively and it will sell like hot cakes based on that alone.
For comparison with other gaming smartphones on the market, the Razer Phone 2 (S845, 120 Hz, dual front speaker, 8GB/64GB, 4000 mAh) is $749-799. The Xiaomi Black Shark 2 Pro (S855+, 90 Hz, dual speaker, 8GB/128GB, 4000 mAh) is around $550. The Nubia Red Magic 3s (S855+, 90 Hz, dual speaker, 8GB/128GB, 5000 mAh) is around $550.
If we assume that ASUS is making some money on the smartphone, where it will make a good chunk of change is in the accessories. ASUS has evolved its offerings from the first ROG Phone into an array of docks, connectivity options, and gaming accessories such that buying them all would be in the region of $1220, more than double the actual unit. ASUS' reasoning here is based on its tactics in the PC space, where gaming accessories like programmable keyboards, large fast displays, mice, headsets, even chairs, have large markets in their own right. In the same way that users can spend $1000 on a good gaming PC, they can also spend $1000 on some high quality peripherals to go with it. This is ASUS' thinking.
For our review, ASUS did ship us all of the accessories, however due to time constraints we have only been able to test a couple. We may do a follow on article going over them all, but this is what is on offer.
ASUS TwinView Dock II: $330 MSRP
The accessory I ended up using the most for this review was the TwinView Dock. This unit adds another 6.6 inch AMOLED 120 Hz display in a Nintendo DS-like fashion with phone, enabling dual screen interaction and gaming. With this in mind, users are limited to horizontal gaming, but the goal here is to take advantage of those air triggers. The dual screen setup allows for either a single application to be split across the screens, or for two applications to run side by side.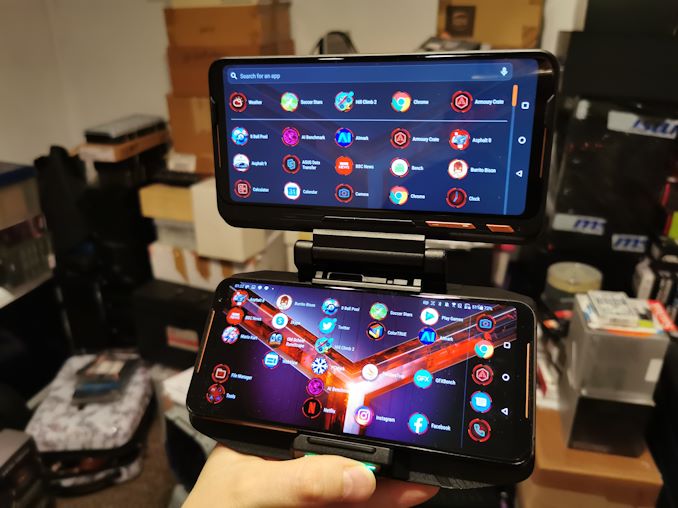 There are some limitations. Some applications only work on the bottom screen, and it is up to the game developer to support dual screen environments, and you can imagine that not a lot of them will unless ASUS adds in some development funds to some of the big titles. The secondary display does come with a 5000 mAh battery built in, so it won't detract from the battery in the smartphone.

At $330, it is a bit pricey if I'm honest. The unit is well built, and that's a top end display, but at almost half the phone it doesn't quite sit right. However, ASUS believes that users looking into these sorts of devices have money to spend, so it will be interesting to see the adoption rate.
ASUS Desktop Dock: $220 MSRP
Now this is something worth investing in. For users who want to have a desktop like experience, either for working or gaming, the dock is like a normal PC/laptop dock: plug it in and gain access to USB ports, video outputs, microSD, and Ethernet networking.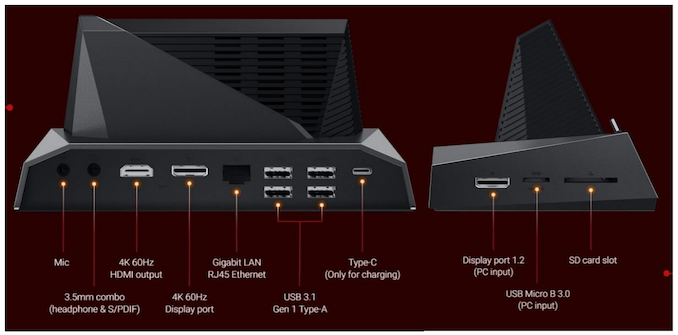 The main comparisons here are with things like Samsung's DeX and Huawei's Desktop Mode. While those two are geared towards a desktop experience for workflow and business use, ASUS wants to push its dock and desktop mode forward for gaming. It enables users to map any key on a keyboard to the equivalent of a specific click on the screen, which given that mobile games are built with touchscreens in mind is very important.
It would be interesting to see some of the world's best PC gamers on games like Fortnite use this mobile mode to compete against the best mobile gamers.
ASUS Pro Dock: $120 MSRP
The Pro Dock is a smaller version of the Desktop Dock, allowing an input from the phone and outputs to display and USB. It is smaller and thus more portable, but doesn't support actually putting the phone into a dock.
ASUS WiGig Display Dock: $330 MSRP
With the smartphone equipped with a Wi-Gig module and 21 antennas to support it, the inclusion of Wi-Gig on the phone is an odd one given that deployments of Wi-Gig are low except in specific business areas. ASUS has gone down the Wi-Gig route in order to enable a separate display dock that allows users to wirelessly stream the display to a large TV with low lag.
This means that instead of looking at the phone, it is more like a console controller and the user is looking at the TV. While this is an impressive use of the Wi-Gig technology, it doesn't really come across as that useful: for $330, users might as well buy a console that comes with a wireless controller. The $330 cost is high just because Wi-Gig still commands a premium. Also, most consoles use other Wi-Fi standards for connectivity, namely because they're not also sending video over the air – Wi-Gig does have shortened range, which make come into play.
Out of all the accessories, while I love the technology, I think this one takes the biscuit. With the phone being such good value, this Display Dock is pretty much the opposite.
ASUS ROG Kunai Gamepad: $150 MSRP
There have been a number of attempts in the smartphone space to add some sort of physical keys in order to make gaming more enjoyable and more haptic, allowing users to actually adjust the rate at which they turn in a game using an analog stick rather than just tapping on a screen. Most solutions to date have been third party, with poor support. Being first-party developed hardware ASUS' Kunai Gamepad has the best chance to be one of the best examples in the market.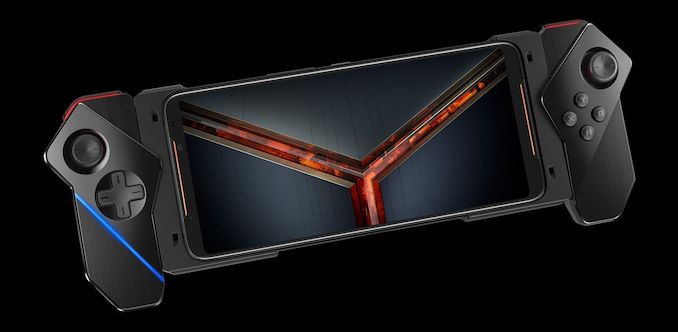 Now don't get me wrong, this accessory adds some significant bulk to the smartphone – it's not something that is going to be easily portable outside the house. But the Kunai Gamepad adds in a directional pad, two analog sticks, two shoulder buttons, and a standard diamond of buttons on the right. All of these keys need to be mapped per game to give users the full control, but for those games with a lot of options (e.g. Oldschool Runescape), it could be very helpful.