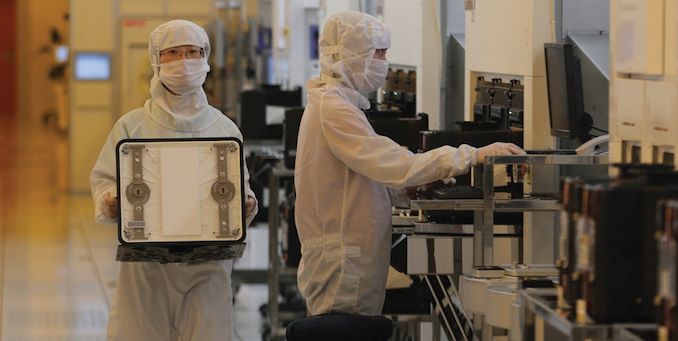 Amidst the ongoing trade conflict between Japan and South Korea, there is some good news to close the week out. The Japanese Ministry of Economy, Trade and Industry has approved a new shipment of industrial chemicals to South Korea, which the latter country's high-tech manufacturers rely on for the ongoing production of processors and other components. This is the first of shipment to be approved since early July, when a diplomatic conflict between the two countries broke out. If South Korean manufacturers get the materials on time, it will help to avoid a painful disruption in the manufacturing and shipping of various tech components, including DRAM, NAND flash, LSI chips, and display panels.
Starting as of early July, Japanese producers must now get approval for individual exports to South Korea of polyimides (used both for LCDs and OLEDs), photoresists, and high-purity hydrogen fluoride (used to make chips, such as LSI, DRAM and NAND devices). The major Japanese manufacturers — JSR, Showa Denko (SDK), and Shin-Etsu Chemical — not only control the lion's share of the global supply for these chemicals, but they also are among the only suppliers that can meet the quality needs that companies like LG, Samsung, and SK Hynix have built their manufacturing lines around.
Export reviews in Japan may take up to three months, whereas South Korean makers typically only keep one to two months' worth of materials in stock because they are highly toxic and uneasy to store. Luckily, the first individual exports was approved by the ministry in about four weeks. The review by the officials concluded that the shipments will not be used for military purposes. However, the ministry did not disclose what specific chemicals are set to ship. Presumably, the South Korean giants will get their needed materials shortly.
Here is what trade minister Hiroshige Seko told local journalists.
"Usually we do not make an announcement when any single export is approved. But in extraordinary circumstances, in which the South Korean government unjustly called our measures an export ban, we decided to make an announcement."
One thing to keep in mind is the starting from July all individual exports from Japan to South Korea will have to be approved separately, which means these shipments will have to pass export review procedures every few weeks.
Related Reading:
Source: The Japan Times