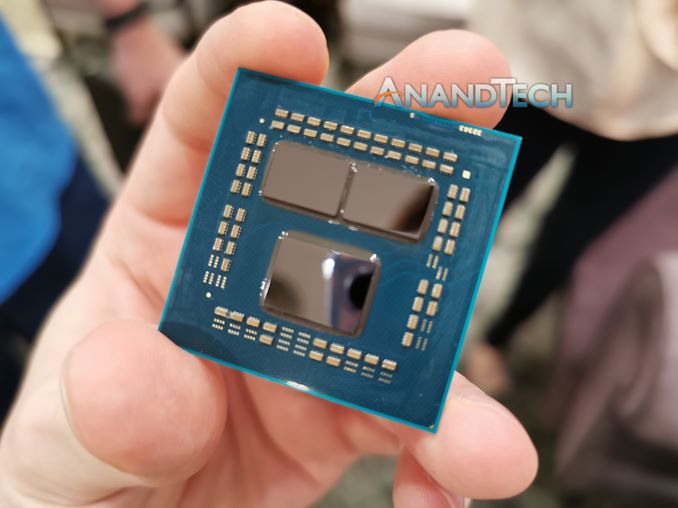 One of the questions that was left over from AMD's Computex reveal of the new Ryzen 3000 family was why a 16-core version of the dual-chiplet Matisse design was not announced. Today, AMD is announcing its first 16 core CPU into the Ryzen 9 family. AMD stated that they're not interested in the back and forth with its competition about slowly moving the leading edge in consumer computing – they want to launch the best they have to offer as soon as possible, and the 16-core is part of that strategy.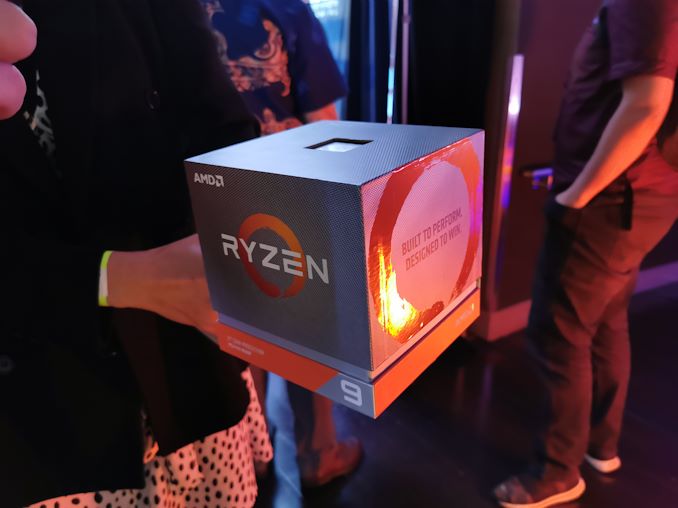 The new Ryzen 9 3950X will top the stack of new Zen 2 based AMD consumer processors, and is built for the AM4 socket along with the range of X570 motherboards. It will have 16 cores with simultaneous multi-threading, enabling 32 threads, with a base frequency of 3.5 GHz and a turbo frequency of 4.7 GHz. All of this will be provided in a 105W TDP.
AMD 'Matisse' Ryzen 3000 Series CPUs
AnandTech
Cores
Threads
Base
Freq
Boost
Freq
L2
Cache
L3
Cache
PCIe
4.0
DDR4
TDP
Price
(SEP)
Ryzen 9
3950X
16C
32T
3.5
4.7
8 MB
64 MB
16+4+4
?
105W
$749
Ryzen 9
3900X
12C
24T
3.8
4.6
6 MB
64 MB
16+4+4
?
105W
$499
Ryzen 7
3800X
8C
16T
3.9
4.5
4 MB
32 MB
16+4+4
?
105W
$399
Ryzen 7
3700X
8C
16T
3.6
4.4
4 MB
32 MB
16+4+4
?
65W
$329
Ryzen 5
3600X
6C
12T
3.8
4.4
3 MB
32 MB
16+4+4
?
95W
$249
Ryzen 5
3600
6C
12T
3.6
4.2
3 MB
32 MB
16+4+4
?
65W
$199
AMD has said that the processor will be coming in September 2019, about two months after the initial Ryzen 3rd Gen processors, due to extra validation requirements. The chip uses two of the Zen 2 eight-core chiplets, paired with an IO die that provides 24 total PCIe 4.0 lanes. By using the AM4 socket, AMD recommends pairing the Ryzen 9 3950X with one of the new X570 motherboards launched at Computex.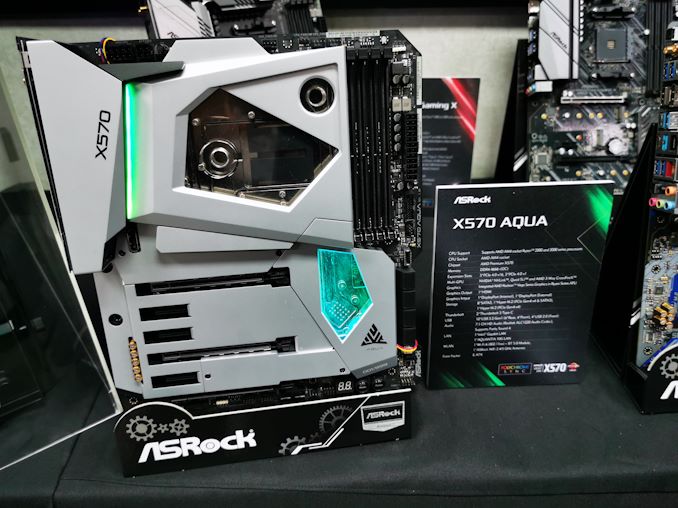 With regards to performance, AMD is promoting it as a clear single-thread and multi-thread improvement over other 16-core products in the market, particularly those from Intel (namely the 7960X).
There are several questions surrounding this new product, such as reasons for the delay between the initial Ryzen 3000 launch to the 3950X launch, the power distribution of the chiplets based on the frequency and how the clocks will respond to the 105W TDP, how the core-to-core communications will work going across chiplets, and how gaming performance might be affected by the latency differences going to the IO die and then moving off to main memory. All these questions are expected to be answered in due course.
Pricing is set to be announced by AMD at its event at E3 today. We'll be updating this news post when we know the intended pricing.
Update: $749
Related Reading