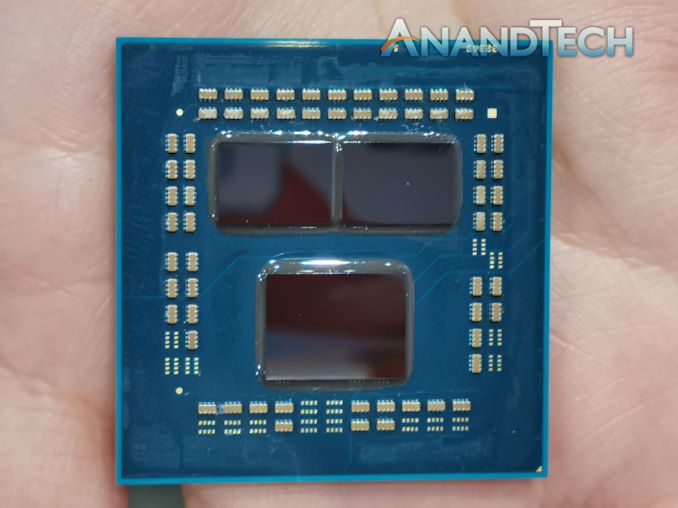 Today at Computex, AMD CEO Dr. Lisa Su is announcing the raft of processors it will be launching on its new Zen 2 chiplet-based microarchitecture. Among other things, AMD is unveiling its new Ryzen 9 product tier, which it is using for its 12-core Ryzen 9 3900X processor, and which runs at 4.6 GHz boost. All of the five processors will be PCIe 4.0 enabled, and while they are being accompanied by the new X570 chipset launch, they still use the same AM4 socket, meaning some AMD 300 and 400-series motherboards can still be used. We have all the details inside.
A lot of people have been after details about AMD's next generation Ryzen platform for several months, ever since AMD teased the Matisse Ryzen 3000 design at CES back in January. Most of that information is coming out today, with Ryzen 9, Ryzen 7, and Ryzen 5 processors in the mix. All of these processors will be officially launched on July 7th (which is 7/7), correlating with the fact that the core chiplets of these products are built on TSMC's 7nm process. This is technically a Sunday, but AMD doesn't mind too much. In reality, it means users might even get them in the mail on the following Monday.
Before talking about features, let's go straight into the CPU list, as that's what most of you are here for.
AMD 'Matisse' Ryzen 3000 Series CPUs
AnandTech
Cores
Threads
Base
Freq
Boost
Freq
L2
Cache
L3
Cache
PCIe
4.0
DDR4
TDP
Price
(SEP)
Ryzen 9
3900X
12C
24T
3.8
4.6
6 MB
64 MB
16+4+4
?
105W
$499
Ryzen 7
3800X
8C
16T
3.9
4.5
4 MB
32 MB
16+4+4
?
105W
$399
Ryzen 7
3700X
8C
16T
3.6
4.4
4 MB
32 MB
16+4+4
?
65W
$329
Ryzen 5
3600X
6C
12T
3.8
4.4
3 MB
32 MB
16+4+4
?
95W
$249
Ryzen 5
3600
6C
12T
3.6
4.2
3 MB
32 MB
16+4+4
?
65W
$199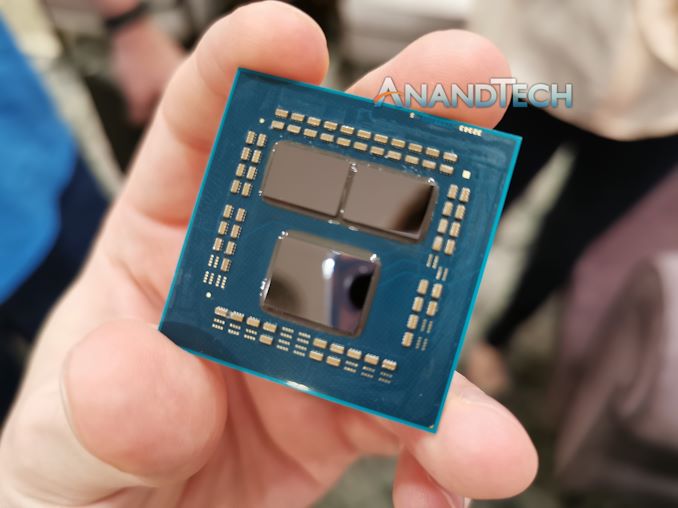 The New Flagship: Ryzen 9 3900X
The Ryzen 3000 series will debut a new product tier for AMD: Ryzen 9. In this case, the Ryzen 9 3900X will be AMD's first mainstream desktop 12-core processor. The processor is the only one of the group that uses two chiplets, in a 6+6 configuration. The 3900X will have a base frequency of 3.8 GHz, a turbo frequency of 4.6 GHz, and line up with 6 MB of L2 cache and 64 MB of L3 cache. This confirms that each chiplet has 32 MB of L3 cache, doubling what we saw on the first generation of the Zen microarchitecture. This CPU has a TDP of 105W, which for AMD processors is usually a good measure of all-core power consumption, and will be enabled with 24 PCIe 4.0 lanes (16 for GPU, 4 for storage, 4 for the chipset).
AMD 'Matisse' Ryzen 3000 Series CPUs
Ryzen 9
AnandTech
Cores
Threads
Base
Freq
Boost
Freq
L2
Cache
L3
Cache
PCIe
4.0
DDR4
TDP
Price
(SEP)
Ryzen 9
3900X
12C
24T
3.8
4.6
6 MB
64 MB
16+4+4
?
105W
$499
The Ryzen 9 3900X will have a suggested e-tail price of $499, and it will come with a cooler (more details in the coming weeks). AMD compared this processor in its presentations to Intel's 12-core HEDT processor, the Core i9-9920X, which has an MSRP of $1199 and doesn't come with a cooler.
In this comparison, AMD provided Cinebench R20 performance data comparing the two processors (it should be noted that we can't confirm these results at this time). AMD states that in single thread performance, the 3900X beats the 9920X by +14%, and also wins in multi-threaded performance by 6%, all while having a lower TDP (165W vs 105W).

The Ryzen 9 3900X is the new mainstream desktop flagship, although AMD clearly has enough headroom on this design to enable a full 16 cores. Most users will expect this to come in the future, so it will be interesting to see if AMD will strategically play this card.
Mainstream Madness: Ryzen 7 at 65W
For the Ryzen 7 lineup, AMD is keeping this for the 8-core versions. These CPUs only have a single chiplet inside, and no dummy chiplet. Of the two CPUs in this segment, the one that gets a big shock from us is actually the cheaper model.
AMD 'Matisse' Ryzen 3000 Series CPUs
Ryzen 7
AnandTech
Cores
Threads
Base
Freq
Boost
Freq
L2
Cache
L3
Cache
PCIe
4.0
DDR4
TDP
Price
(SEP)
Ryzen 7
3800X
8C
16T
3.9
4.5
4 MB
32 MB
16+4+4
?
105W
$399
Ryzen 7
3700X
8C
16T
3.6
4.4
4 MB
32 MB
16+4+4
?
65W
$329
The Ryzen 7 3700X is an eight core, sixteen thread CPU with a 3.6 GHz base frequency and a 4.4 GHz turbo frequency. It has 4 MB of L2 and 36 MB of L3 (half the L3 compared to Ryzen 9, because it only has one chiplet), but the amazing thing is that this chip has a TDP of just 65W. Just on paper, it looks like this processor is one of the most efficient x86 performance desktop processors ever made. This is likely the CPU configuration that AMD used in its Cinebench R20 demo back at CES, where it showed R20 equivalent multithreaded performance for 40% less system power. And the price for all this performance? Only $329. If I put my reviewer hat on and look at these specifications at a high level, the Ryzen 7 3700X promises to be the mainstream chip of choice for a substantial number of high-performance PCs this year.

Like with the Ryzen 9 3900X, AMD also ran a Cinebench comparsion with the 8 core Ryzen 3700X versus Intel's mainstream Core i7-9700K. Here they scored 4806, verus 3726 for the 9700K in R20's multithreaded test.
The other CPU in this bracket is the Ryzen 7 3800X. This is going to be the direct upgrade from the current Ryzen 7 2700X, comes with eight cores and sixteen threads, with a base frequency of 3.9 GHz and a boost frequency of 4.5 GHz. It doesn't seem overly impressive compared to the 3700X with its larger 105W TDP for only a few hundred MHz more on the base frequency, however as we've seen with the 2nd Gen Ryzen, that extra TDP headroom usually helps with technologies like XFR that manage the boost frequencies. AMD hasn't said anything new about how XFR or Precision Boost works in the new generation yet, we have to wait until nearer launch for that information. However the extra frequency and extra TDP will cost an extra $70: the Ryzen 7 3800X will retail for $399.
Budget Builds: Ryzen 5 with Six Cores
Not mentioned during the keynote, but discussed in the press release, AMD also gave information about its new Ryzen 5 processors.
AMD 'Matisse' Ryzen 3000 Series CPUs
Ryzen 5
AnandTech
Cores
Threads
Base
Freq
Boost
Freq
L2
Cache
L3
Cache
PCIe
4.0
DDR4
TDP
Price
(SEP)
Ryzen 5
3600X
6C
12T
3.8
4.4
3 MB
32 MB
16+4+4
?
95W
$249
Ryzen 5
3600
6C
12T
3.6
4.2
3 MB
32 MB
16+4+4
?
65W
$199
These are still very competitive – users can now buy a six-core processor for under $200. The processor frequencies are commensurate with the position in the stack, along with the pricing, and both CPUs will support all the same technologies (PCIe 4.0, etc) as the bigger chips. These chips still use a single chiplet, not a dual chiplet design.
Performance Numbers
AMD provided some performance numbers to compare AMD to Intel CPUs. All of these tests are using Cinebench R20, which should be noted is a floating point rendering test that AMD already does well on, but there aren't any specific optimizations here for each CPU.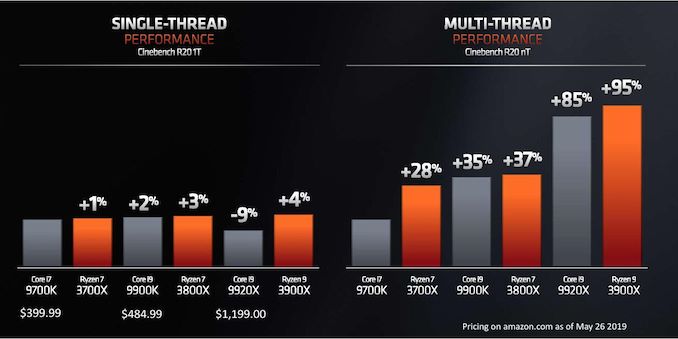 Direct chip to chip comparisons put AMD's single thread performance against Intel at +1%. Though it should be noted here that something like the Ryzen 7 3800X, which boosts to 4.5 GHz, is being compared to an Intel CPU that boosts to 5.0 GHz. That would put IPC on this test firmly in the hands of AMD. Multi-threading results are a similar scenario, although the margin of difference tends to drop the more cores that AMD has access to, perhaps because more cores are fighting to get to the memory with a slightly extended memory latency compared from Intel.
Comparing Zen 1 to Zen 2, AMD is promoting that the Ryzen 9 3900X offers +32% better single threaded performance over the Ryzen 7 1800X. Given that we saw a 40-52% IPC increase from pre-Zen to Zen 1, another +32% on single threaded performance is a good amount to have, although that 32% does include frequency uplift. When we get the chips in, we'll do an obvious comparison test to find the IPC difference. In multi-threaded results, AMD is promoting +100% multithreaded performance, which is helped by +50% more cores, 2x better FP throughput per core, and higher frequencies.
Other Features and X570 Motherboards
Aside from the 7nm chiplets, and the monumental price comparison to Intel, there are some other features to mention. AMD is promoting a +15% direct IPC increase from Zen 1 to Zen 2, due to microarchitecture improvements and cache size doubling on the L3. The CPU has 24 PCIe 4.0 lanes: sixteen for the GPU (or other PCIe cards), four for storage, and four for the chipset. The four for storage will likely be linked to the top M.2 slot. Given that some companies are advertising PCIe 4.0 SSDs here at Computex, we expect more to follow in due course.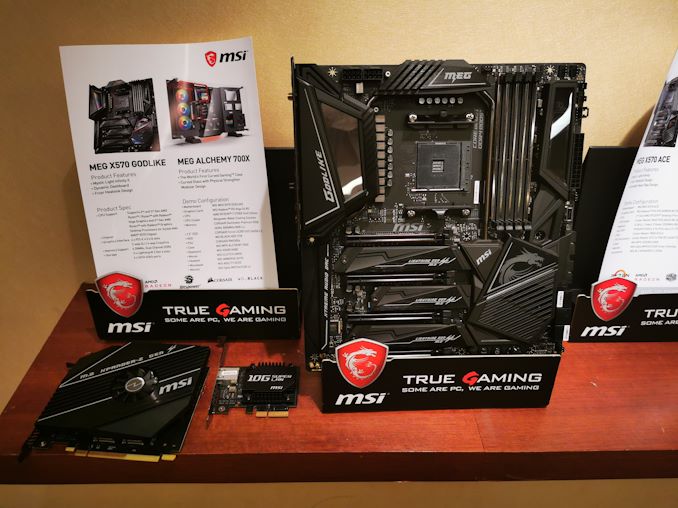 The new X570 chipset has 16 lanes, four for the upstream connection to the CPU, and twelve downstream for other devices. There is some discontinuity here – we heard from partners that AMD actually removed four PCIe lanes from the chipset design in order to bring the TDP of the chipset down from 15W to 11W; but the full-fat 15W version will be on the next editions of the high-end desktop (which would suggest that Threadripper isn't dead, contrary to a lot of reporting – this is a question we will be asking Lisa Su later today). We have already seen a number of X570 motherboards ready to enter the market, and we expect around 25 new X570 models in total. It is clear that motherboard manufacturers are now getting serious on AM4 – some of these boards are likely to retail up to $600. These manufacturers are clearly expecting AMD to hit Intel hard, and have designed the motherboards to match the best that they make for Intel's CPUs.
One bit of information not disclosed is memory support, however given our discussions with AMD's partners, this is likely to be DDR4-3200 in one module per channel mode. This is a small bump over 2nd Gen Ryzen, but still a welcome one. It will be interesting to see how the memory controller works on this design for pushing that frequency. The memory frequency and Infinity Fabric frequency are still linked as before, so bumping up the memory frequency has additional benefits.
Finally, the release date for all these CPUs is going to be July 7th. We're waiting on AMD to disclose the sampling time frame, but our aim is to get our review up on day one. Suggestions for the review are most welcome.

We also have access to Dr. Lisa Su directly after the keynote today, and will write up our Q&A in due course. Stay tuned for that.
Want to keep up to date with all of our Computex 2019 Coverage?

Laptops

Hardware

Chips
Follow AnandTech's breaking news here!